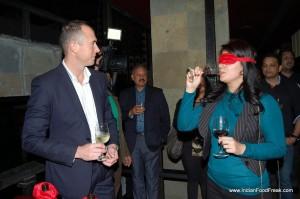 New Delhi, 26th February 2014 – Shiro, a venue that combines the finest Oriental cuisine and innovative cocktails with quality entertainment in association with Jacobs Creek and Brancott Estate presents an exquisite 'Wine Soiree of Pairing & Partaking' dinner with Brand Ambassador Steve Meckiff. On his second visit to India, Steve Meckiff is visiting Mumbai, Bangalore, and Kolkata from 23rd February to 1st March 2014 to showcase a whole new way of enjoying wine, steering blind tastings among wine appreciators and conducting a WSET1 Level certification course for employees and specific associates across the country. WEST1 is an international certification for Wine that allows the front line field force to accelerate wine sales.
Jacob's Creek & Brancott Estate, a part of the Premium Wine Brands from Pernod Ricard are now introducing to the Indian consumer a taste from Australia and New Zealand that is enjoyed all over the world. Shiro's dramatic setting provided the perfect ambience to complement the evening. The event witnessed an interesting wine trivia quiz lead by the expert – Steve Meckiff, indulging light conversations and interesting anecdote alongside blind tasting.
Dhiren Pawar, Regional General Manager, Shiro, commented on the occasion, "We are delighted to be associated with Jacob's Creek and Brancott Estate for this exquisite event marking the perfect fusion between food and wine as Shiro's delectable menu is paired with a premium selection of wines from Jacob's Creek. Shiro, as a venue has always been a favorite for such events and it's our constant endeavour to provide the best to the patrons in terms of service, quality and entertainment."
The wine soirée was started with Jacob's Creek Chardonnay Pinot Noir served with hors d'oeuvres. The Blind wine tasting station saw guests making their best shot at guessing the varied array of wines and winning interesting prizes.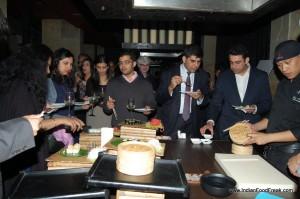 Shiro's Executive Sous – Chef Lok Thapa and Steve served up elegant Sushi (options of Kappa Maki, spicy avocadoi, spicy tuna and spicy chicken shiitake maki) paired with Brancott Estate Sauvignon Blanc, Marlborough, New Zealand. The menu included various options of Dim sums like chi chow style, zucchini and coriander dumplings, chicken gyoza and Sui mai which were beautifully paired with Jacob's Creek Reserve Chardonnay, Adelaide Hills, South Australia. The Grill segment offered elegant combinations of Chicken Satay and Teriyaki Mushroom skewers paired with Jacob's Creek Reserve Shiraz, Barossa, South Australia. To add to wine lovers delight, Shiro presented main course over Teppenyaki which included options of Chicken, Lamb, Fish and assorted vegetarian, all magically paired with Jacob's Creek Reserve Shiraz, Barossa, South Australia and Brancott Estate Pinot Noir, Marlborough, New Zealand. Deserts such as Chocolate Sushi & Coconut and Pecan tart were paired with Jacob's Creek Rose` sparkling.
To make for a perfect end to the meal, Martell VSOP, a complex and smooth cognac made from carefully blended mature "eaux-de-vie was served to the guests.
Steve Meckiff is the Global Wine Ambassador – Australia, based in Sydney. With a degree in Viticulture from Charles Sturt University (1999), he joined the Premium Wine Brands team with over 15 years of international wine industry experience in viticulture, winemaking and general management.  He has previously worked for Wyndham Estate, Treasury Wine Estates, LVMH and spent 3 years working in New Zealand where he also gained his helicopter pilot license to facilitate "extra-curricular" activities. When not traveling the world for work, he enjoys winter skiing, summer sailing and exploring new countries, cultures, cooking and destinations in the sun.
About Jacob's Creek
In 1847, a young Bavarian immigrant called Johann Gramp missed the wine he used to drink in his home land. Instead of changing his habits, he decided to start growing grapes and attempt to make the wine himself. It was a way of adapting to a new country, but still staying true to his character. What he didn't know was that when he planted the Barossa Valley's first commercial vineyard along the banks of Jacob's Creek, he was also planting the seeds of one of the most popular wine brands in the world that would be named after the waterway. Today, Jacob's Creek remains one of the most well-known, trusted and enjoyed Australian wines around the world. It delivers fresh, elegant and great tasting wines that show true varietal character. The philosophy of Jacob's Creek is to offer a range of wines that suit all occasions.
About Brancott Estate
Brancott Estate were the first to plant and create the world's first Marlborough Sauvignon Blanc wine – a style that has since changed the course of New Zealand's wine industry. Beginning in 1934 as Montana Wines and then later known as Brancott Estate inspired by Brancott Vineyard – the original Marlborough vineyard and home. From the very beginning, the connection to the land and commitment to its care and preservation remains central to the winemaking philosophy. While we are known for Marlborough, we also craft wines from other renowned winegrowing regions of New Zealand – wines that continue to be judged among the best in shows the world over, and most importantly – by wine lovers.
About Martell
In 1715, Jean Martell, a young merchant from Jersey, started a business in Cognac on the banks of the Charente River, finding the very first of the major cognac houses. He is known for his elegant cognacs whose delicate, subtle aromas possess an exceptional complexity that is typical of eaux-de-vie from the Borderies growths. The careful blending of delicate yet powerful eaux-de-vie from the Cognac region's prestigious growths, helps to create well-balanced cognacs which display 'Complexity, Elegance & Balance. Martell is available in India in the variants – VS, VSOP & XO.