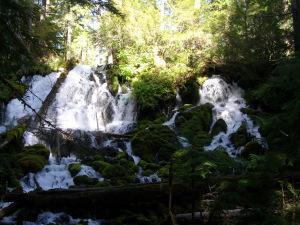 "And all his sons and all his daughters rose up to comfort him; but he refused to be comforted; and he said, For I will go down into the grave unto my son mourning. Thus his father wept for him." (Genesis 37:35)
Something is strangely familiar about the scene of the sons of Jacob presenting the blood-stained coat of many colors to their father. A deliberate misidentification, a tricked father, even the scent of goat that lingered on the coat. The incident bears a striking resemblance to the deception of Isaac by Jacob himself carried out so many years prior and recorded in Genesis 27. This time, Jacob is on the receiving end of the deception and he is the one being tricked into believing his own son has been killed by wild animals. The Scriptural law of reaping and sowing is a recurring theme throughout the Book of Genesis. Jacob had dealt dishonestly with his father, and now his sons are dealing the same way with him. That no one ultimately gets away with their sinfulness is a lesson in this book that cannot be missed.
Before moving on to Chapter 38, we notice the condition in which Jacob is left after hearing the news of Joseph's supposed demise. "For I will go down into the grave unto my son mourning", he laments. He is obviously absolutely devastated by the report of his dearest son's death and remains completely inconsolable.
The loss of a child is an incomparable tragedy for any parent to go through. Regardless of the age, no parent is ever prepared to outlive their own children. Those who have endured such a horrific loss can certainly sympathize with what Jacob must have been going through. Yet it is at times such as these that we are all reminded of the hope that we have in the Lord. Paul encouraged the Church at Thessalonica:
"But I would not have you to be ignorant, brethren, concerning them which are asleep, that ye sorrow not, even as others which have no hope. For if we believe that Jesus died and rose again, even so them also which sleep in Jesus will God bring with him." (1 Thessalonians 4:13-14)
This is not to say that grieving does not have its place, but we are not to grieve as the world grieves. Of course, it was appropriate for Jacob to mourn the loss of his son, but to conclude that his own life was now without worth seems to be grieving like those who are without hope. We all may feel such a sense of devastation to one degree or another, especially when the wounds of our loss are still new. But the time comes when we must lay the burden of our grief in the loving hands of our precious Savior. The time comes when we must look to Him to show us the way to carry onward; to continue to live the life that He has called us to live.
To Jesus Christ goes all glory. In service to Him,
Loren
[This post was originally published September 12, 2010]
All Scripture quotations in this post are taken from the King James Version (KJV) of the Holy Bible
[If you do not know the Lord Jesus Christ or you are not certain where you are headed when this life ends, I invite you to read the article "Am I Going To Heaven?"]
Advertisements
&b; &b;