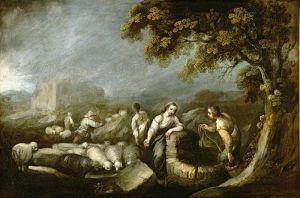 "And it came to pass, when Jacob saw Rachel the daughter of Laban his mother's brother, and the sheep of Laban his mother's brother, that Jacob went near, and rolled the stone from the well's mouth, and watered the flock of Laban his mother's brother." (Genesis 29:10)
Genesis 29 opens up on the same high note which Genesis 28 closed with. "Jacob went on his journey", the King James Version tells us. The Hebrew literally reads that he "lifted up his feet", conveying the idea that Jacob is refreshed now and filled with a newness of strength and purpose. His direct encounter with the Lord God Who visited him through his dream the night before has definitely made a powerful impression on Jacob. He is not timid and lonely anymore, but seems to proceed with a fresh spring in his step; the heaviness of the fear of Esau now giving way to the encouragement that can only come from the confidence that God's mercy rests upon him.
In some ways, I wish that Genesis 29 was but a single verse in length because things go downhill from there. How many people have we known who have left a Sunday church service with a renewed zeal and purpose, their faces glowing with a revitalized passion for the things of God, only to return to business, as usual, come Monday morning? Even worse, the pricking of their own conscience and the convicting work of the Holy Spirit are now muffled by the illusion that all is well within them. For many, there is little doubt that the former state is preferable to the latter; since a solitary feasting at a banquet does little more for the starving man than satiate him for a short time, all the while further callousing his sensitivity to the hunger pangs by which he perishes.
But we are convinced of better things concerning Jacob. For God will call Jacob back to Bethel and will revive the wayward prodigal to Himself. But for now, unfortunately, Jacob must pass through some difficulties resultant of his reliance on self rather than trusting in the provision of God. Verse 2 of Genesis 29 begins to paint a familiar, yet somewhat dissimilar scene to one we read about in Genesis 24. A meeting at a well, a beautiful young girl, a man in search of a bride. But something is strangely absent this time, something is different. The humility and quiet determination of Eliezer, Abraham's servant, has been replaced by the headstrong recklessness of Jacob, Abraham's grandson. The observance of polite etiquette which Eliezer demonstrated stands in stark contrast to Jacob's brashness. Jacob presumptuously refers to strangers as "my brethren" (v.4), and then proceeds to instruct them in how they ought to be conducting their business affairs (v. 7). To top it all off, Jacob takes it upon himself to move the stone guarding the well without being bidden or permitted to do so (v. 10)!
I am sure that more than a few of the onlookers were a little shocked when this stranger threw himself upon Rachel and began to loudly sob (v. 11). It is obvious that Jacob was very enthusiastic and emotional about having arrived at his destination, but there seems to be more than mere social impropriety during Jacob's encounter with Rachel that set it in great variance to Eliezer's encounter with Rebekah years before:
"And [Eliezer] said O LORD God of my master Abraham, I pray thee, send me good speed this day, and shew kindness unto my master Abraham…And [Eliezer] bowed down his head, and worshipped the LORD." (Genesis 24:12, 26)
Now, there is absolutely no doubt whatsoever that it was God's will for Jacob to marry Rachel, but I wonder if things might have ended a little more pleasantly for Jacob if he had been trusting more in God and less in his own abilities? Perhaps Jacob was relying on the direction of the Lord more than we are told in the narrative, but it sure doesn't look like it. God led Jacob to the exact spot where he ended up at the exact time he ended up there, but it doesn't appear that Jacob was fully understanding just how much God was directing things. Even Jacob's vow back in Genesis 28:20-21 seems a little "wishy-washy." "If God will do this, if God will take care of me, if God will bring me back to my father's house…" God had already promised that He would do these things (Gen. 28:15)!
So, Jacob comes to the well where Rachel was bringing her father's herds filled with confidence and determination, but it sure doesn't seem to be a humble determination in God like Eliezer had. It looks a lot more like self-assuredness than a firm faith in God. But have we not all been guilty of such from time to time? We reach a spiritual mountaintop and have a very intimate encounter with our Lord, and then we come down from that mountaintop fully energized to face the trials of our lives. That is, face them in our own strength! God never told Jacob "I will be with you so that you can do what I have spoken to you", no, He said "Behold I am with thee…I will not leave thee until I have done that which I have spoken to thee of" (Gen. 28:15 emphasis added). God doesn't tell us that He is going to strengthen us to accomplish His will in our lives, He tells us that He is going to accomplish His will in our lives. God did not appear to Jacob just so that Jacob would become a little more confident in his own abilities, to have a little greater trust in his own ingenuity. God appeared to Jacob in order that Jacob would be confident in the Lord's abilities and not continue to trust in his own. He does the same with us.
To Jesus Christ goes all glory. In service to Him,
Loren
[This post was originally published June 10, 2010]
All Scripture quotations in this post are taken from the King James Version (KJV) of the Holy Bible
[If you do not know the Lord Jesus Christ or you are not certain where you are headed when this life ends, I invite you to read the article "Am I Going To Heaven?"]
Advertisements
&b; &b;