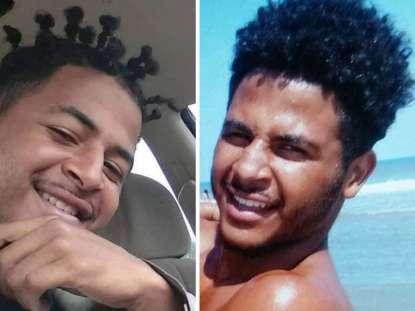 Edgar Robles


Local news
A laughing teen gunman being hunted on charges of shooting two girls on a Jacksonville school bus Thursday has been identified as a 16-year-old nomad angry about being spit on as he and two friends readied to fight some other passengers, police said.
The two 16-year-old victims, one shot through both cheeks and the other in the back of the head, remained hospitalized in fair condition Friday. 
The Westside attack on a bus carrying students from three alternative schools occurred shortly after 4 p.m. on 118th Street just outside the front gate of Ringhaver Park. 
Police early Friday afternoon identified the gunman as Edgar Robles, 16, who is charged in arrest warrants with two counts of attempted murder and one count of throwing a deadly missile. Police were hunting him citywide and said he is known to live roaming from place to place in the city, said Sheriff's Office Director Tom Hackney.
I thought they weren't allowed to use a picture of a minor?
My main question is  where did the gun come from.  As Baldr always says, every gun in the hands of a kid has to pass through the hands of an adult.  I would go even further.  Every gun used in a crime started out the legal property of some lawful gun owner.  Because these guys enjoy such loose gun laws, and because they are so irresponsible, their guns flow into the criminal world like the mighty Mississippi.