When Jack Nicklaus talks, golfers listen and, this past week, his words helped Patrick Cantlay cruise to victory at The Memorial Tournament.
Can you apply his sage advice in the heat of a tournament and come out victorious?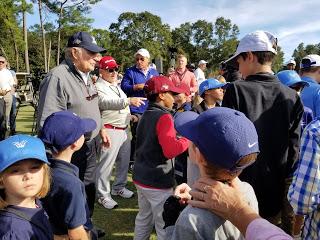 When Mr. Nicklaus visited Pawleys Plantation, (one of my company's golf courses), his audience was filled with both executives and children from The First Tee Program, all hanging on his every word. How many times has any of us had the opportunity to be up close and personal with the Golden Bear?
Whether he was regaling us with stories of his wins or helping the next generation of 'Tiger Woods golfers' how to grip a club, Mr. Nicklaus imparted some golf wisdom which we will not soon forget.
This week at the Memorial, however, the advice offered to Cantlay was parlayed into victory. What advice did he tell the young PGA Tour golfer?
Nicklaus said to Cantlay, "You need to go out there, have a good time. Look around when you're out there. Look at all the people having a great time. And then you need to have a great time and realize that that's why you're there, and relax and go have fun and go win the golf tournament."
What? No thoughts on how to play the holes, how to avoid trouble, what clubs work best at Muirfield Village, aka "Jack's Place"?
According to Mr. Nicklaus, two years ago Patrick Cantlay came to him seeking course strategy and advice but this time, the advice had a more comforting and joyful tone.
Sage advice from the master! How many times have you gotten bogged down in the details instead of just enjoying the day, the round, your clubs, the trees? How many times have you just gone and played golf for the fun of it?
Cantlay said that he gave the idea a lot more thought because it came from Jack Nicklaus, so here is your chance to read the Jack Nicklaus advice that won Cantlay the Memorial Tournament. Give it a chance to resonate the next time you are out with your mates and, instead of getting frustrated the next time you hit a bad shot, remember that we all hit wayward shots and, instead, enjoy the walk.
How has Jack Nicklaus inspired you? Let us know in this golf blog and on Twitter @Golf4Beginners.