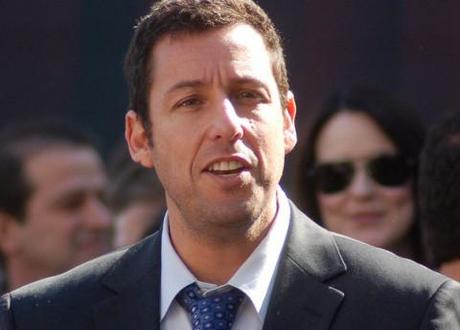 Adam Sandler. Photo credit: Sharon Graphics
The Oscars may be over but the 2012 awards season isn't quite done and dusted. A day after the Oscars, the Golden Raspberry Foundation announced the nominations for the annual Razzie awards, which recognize the year's poorest performances in film. Worst picture nominees are Bucky Larson: Born to be a Star,
 Jack and Jill
, New Year's Eve
, Transformers: Dark of the Moon
, and The Twilight Saga: Breaking Dawn – Part 1.
The Razzies, or Golden Raspberry awards, were created in 1980 as an antidote to the Oscars. They are usually held on the eve of the Academy Awards, but this year are moving to 1 April.
US funnyman Adam Sandler, a firm favorite with Razzie voters, has received a record-breaking 11 nominations for the annual awards. Announcing the nominations on its website, the organisation hailed Sandler's achievement: "With three critically-panned movies released by his Happy Madison Productions, 2011 was A Berry Bad Year for Adam Sandler, who now totally dominates the list of contenders for The 32nd Annual RAZZIE® Awards. Sandler has more than doubled Eddie Murphy's old record for the most nominations accrued by an individual in a single year. As an actor, writer and/or producer on JACK & JILL, BUCKY LARSON and JUST GO WITH IT, the former SNL star has amassed a whopping 11 RAZZIE® nods, dis-honoring last year's Worst Achievements in Film."
"And Adam Sandler is laughing all the way to the bank. Who cares what critics think, he is one of the funniest people on the planet," posted RJ, a commenter at Deadline Hollywood. "Adam Sandler really is one of the bigger sell outs in Hollywood so this is completely deserved. He takes half-baked, dumb ideas then hires his slacker friends to develop, then hires his actor friends as supporting cast and then everyone just goofs off and cashes checks. Meanwhile, the rest of America has to work for a living," countered Ben.
Ben Child of The Guardian considered Sandler's haul a "fairly staggering indictment." In the film, Sandler plays his own twin sister, and Al Pacino plays himself, madly in love with the female Adam Sandler. "Traditionally, stars do not turn up to collect their awards, but good sports over the years have included Paul Verhoeven in 1996 (worst director and worst picture for Showgirls), Halle Berry for 2005′s Catwoman and Sandra Bullock for 2010′s All About Steve," remembered Child.
"The saddest thing is that over the 32 years that we've been doing the Razzies, original bad, like original good, has just fallen by the wayside," sighed John Wilson, founder of the Razzies.
"Truly bad movies can sometimes be more entertaining, and enlightening, than high art," argued Kate Dailey at the BBC News Magazine. "There are two types of bad movies: boring films with lacklustre scripts and ho-hum acting, or outlandish, offensive bombs with over-the-top performances, awful jokes and unbelievable plot lines. The former are instantly forgettable … But the latter incite anger in some fans and enthusiasm in others, drawn to the size and scale of the cinematic disaster. Take Human Centipede II, which takes grossout horror to a new level." Dailey said that some films are "so terrible that they gain a cult of devoted followers. It's those films that fans say can enhance our understanding and enjoyment of all movies, and provide some much-needed relief from the predictability of the film industry."