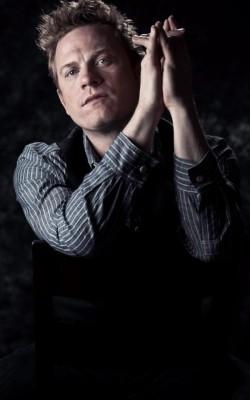 We all know that Jace Everett is the writer of True Blood's theme song, "Bad Things." As far as I'm concerned, that song describes the essence of True Blood and Jace was truly inspired when he wrote it. However, he has written other great music as well and is currently on tour in Europe with his latest album, "Terra%20Rosa">Terra%20Rosa" target="_blank">Terra Rosa" where he sat down with nottinghampost.com to talk about his career and answer a few questions. Below is part of that interview with Jace who will be in the UK until May 2 and then goes on to France and Spain. Check out his tour schedule here.
How do you describe your music?
I guess I'd ask folks to listen to determine for themselves. It's definitely not a specific genre. It has elements of country, rock, blues and gospel. My hope is that it is unique to me. I'm not much for joining up. I do my own thing.

What does music mean to you?
Music is very much sacred to me. Which is why I don't care much for pop music. I like music that feeds my brain and soul.

Who has influenced you?
Well, a lot of folks both in and out of music really. Musically my heroes are Johnny Cash, Nick Cave, Leonard Cohen, Waylon, Howlin' Wolf, Tom Waits… it's an endless list.

Who are you listening to at the moment?
On this last tour I've been bouncing back and forth between Brian Eno's Music For Airports and Chris Whitley's Weed. Eno records help me travel! There's also an American band called Dawes that I'm digging right now.

Were you surprised at the success of Do Bad Things To You?
Of course! It failed a few times before it succeeded. I was very lucky, no two ways about it.

Where do you get your inspiration from?
Anywhere and everywhere. This new record, Terra Rosa, is 11 songs inspired by Bible stories. It's not a gospel record at all, but the Bible has so many incredible stories to start from.

Tell us something about yourself that might surprise us
I'm color blind. Red and green mean nothing to me. I never ride in my car in a city.
 
I was privileged to meet and interview Jace at Philly's World Cafe back in 2010 and it was a real treat to see him perform. Click here to see the interview and the videos I took of his performance.
 
And, last November, Jace Everett released a vinyl limited edition 12″ of his hit single "Bad Things." Click below to purchase.. Now that we're almost at the end of True Blood, don't you want to add this version of Bad Things to your vinyl collection?
 
Vinyl Standard MP3 Standard CD Standard MP3
source: nottinghampost.com