Friday, April 25, 2014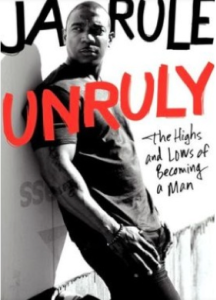 Ja Rule May Some Jail Stories To Share With His Fans ;-/.The Rapper Is Ready To Open Up About His Prison Time, His Drug Use And A Few Other Demons In His Upcoming Book 'Unruly: The Highs and Lows of Becoming a Man" Set To Release On July 1st .
The Cover Art Was Released Today And The Book Itself Is Available For Pre-Order On Amazon . The Company Described The  Book As Two stories That Offer One Complete Picture Of A Man And His World , The Angry Fatherless Rapper Who Was Raised By The Streets And The Insightful Reflective Loyal Father & Husband Who Learned The Hard Way To Be A Man'.
Any Die Hard Murder Inc Fans Out There willing To Read This ?