The Latest by J.A. Belfield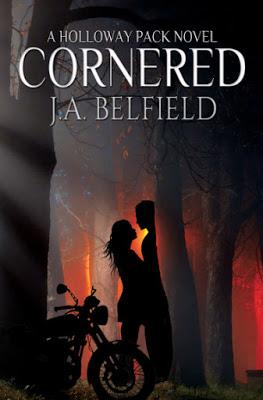 Daniel Larsen is playing a dangerous game, and he doesn't even know it.
A two-wheeled speedster. A little redhead in a bar. Evenings spent away from his pack. Innocent enough for most, but for Danny, the combination leads down a path of destruction and straight to a hell he doesn't even see coming.
Entangled in a nightmare that started with his own brother and the Before long, Danny's integrity gets questioned. His loyalty gets questioned. Hell, he even questions himself.
On top of that, just when he believes life might be going a little better, he gets served the roughest shot he could never have imagined-not even in his worst nightmares-and Danny has no idea how to come back from a hit like that.
he brought into their home, Dan's driving himself toward a solitary existence-except for the curvaceous Olivia Fanella. Seduced by his new companion, and happy to ignore the divide growing between himself and the pack, Danny is oblivious to the trap being laid out for him.
**Cornered contains scenes that some readers might find upsetting**
CORNERED is Now Available!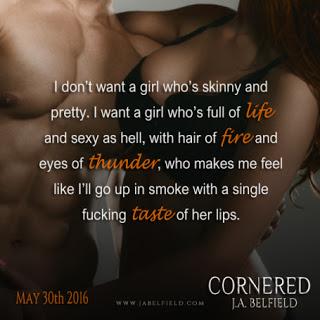 "the most spectacular sex scene I've ever read! And I mean ever!" ~ Maghon, Happy Tails & Tales
Meet Daniel Larsen and fall in love a little!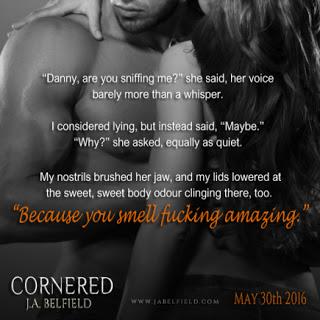 Other titles by J.A. Belfield:
GIVEAWAY!
1 winner will win the Holloway Pack!
Titles included: Darkness & Light, Blue Moon, Resonance, Caged & Unnatural.
If I did not have to eat or sleep I would have read in one seating.
Once again, J.A. Belfield has blown me away!
Resonance is the WAY TO SHORT, heart breaking, hungering, pulse fastening, amazing, loving, tear jerking [...], fairytale ending, plot twisting, novella to keeps us [...] satisfied until Caged gets published.
CAGED is more than just a pretty cover-this book tastes as good as it looks!
This book will knock your socks off.
For your chance to win all of these titles in ebook, simply fill in the Rafflecopter!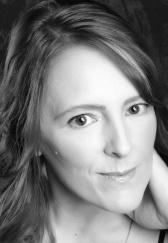 Best known for her Holloway Pack Stories, J. A. Belfield lives in Solihull, England, with her husband, two children, two dogs she treats like babies, and a cat that drives her nuts. She writes paranormal romance, with a second love for urban fantasy.
Find her here:
Amazon | Website | Facebook | Twitter | Goodreads | Instagram