As the 4G network expands in India, the mobile companies are in race to make available 4G capable handsets to Indian consumers. So far, most of such handsets fell in premium or high-end segment. However, 4G smartphones have now started trickling out for even the mid range segment. Recently, Samsung unveiled two new 4G capable Galaxy smartphones that fall between the mid range price bracket. These latest smartphones by Samsung are Galaxy J5 and Galaxy J7. Both these smartphones are being termed by Samsung as gaming devices. They are big screen smartphones that promise more immersive gaming experience with their big superAMOLED HD display which is also fingerprint smudges resistant. And their 4G capability can ensure better and faster connectivity to aid in multi-person gaming. However, as both the devices have only 1.5 GB RAM, I do wonder how well they will be able to deal with more heavy-duty games.
Overall, the specifications of both phones look good and do make these devices a good alternative as midrange smartphones.
Samsung Galalxy J7 is a phablet device with big 5.5" HD sAMOLED Display (720X1280). The smartphone runs on Android 5.1 Lollipop operating system and has the processing power of 1.5 GHz Octa-Core Exynos processor. It has 16 GB internal storage which is expandable with microSD up to 128 GB. The RAM is 1.5GB. J7 is powered by 3000 mAh battery. As for camera, it has 13 MP AF w/ LED Flash primary and + 5 MP w/LED Flash secondary camera.
Samsung Galalxy J5 has 5" HD sAMOLED Display (720 x 1280) and the operating system is Android 5.1 Lollipop. It is equipped with 1.2GHz Quad Core Qualcomm Snapdragon processor and 8GB (ROM) expandable with microSD up to 128 GB. RAM, as mentioned earlier, is 1.5GB. The phone is powered by 2600 mAh battery. It has 13 MP AF w/ LED Flash primary camera and 5 MP w/LED Flash secondary camera.
These days, more and more mobile companies are launching their smartphones exclusively on some ecommerce website. This saves in dealer margin and allows the companies to reduce the price of their products. Keeping in line with this trend, Samsung too has launched J5 and J7 exclusively on Flipkart. They have also partnered with Airtel and so Airtel 4G SIM cards will come bundled-in with J5 and JS. Airtel has also announced some attractive offers for the users of J5 and J7. These offers include double data plan and Rs. 594 worth of free download through Wynk music app. These offers can be availed even on an old Airtel 4G SIM.
Consumers can also avail a limited time discount offer on the purchase of flipcovers for J5 and J7. The buyers of Samsung Galaxy J5 and J7 can also enjoy the in app credit of Rs. 3200 from Gameloft.
It is evident that Samsung has tried hard to make J5 and J7 attractive and value for money option for the costumers. Galaxy J5 is priced at INR 11,999 and J7 is priced at INR 14,999. It is great that the devices come equipped with superAMOLED display, good processing power and 13MP primary camera even at this price point. However, 8GB internal storage of J5 and 1.5 GB RAM of both is a little disappointing.
Galaxy J5 and J7 are available in white, black and gold colour options. I personally liked the gold colour best. It looks nice and not at all flashy. Overall, the devices look nice and slim and are comfortable to hold.
With many new smartphone companies entering Indian market, there is no dearth of options for smartphone buyers. And the competition is probably hottest in the mid range price segment. Some devices from smaller brands already provide a better sounding set of specifications at a lower price. They don't yet enjoy the brand prestige that Samsung enjoys, but the rapidly increasing popularity of smaller brands like Xiaomi, Micromax makes it evident that Samsung will have to fight harder now to maintain its supremacy. At such a time, it will be interesting to see how Samsung's these two new offerings perform.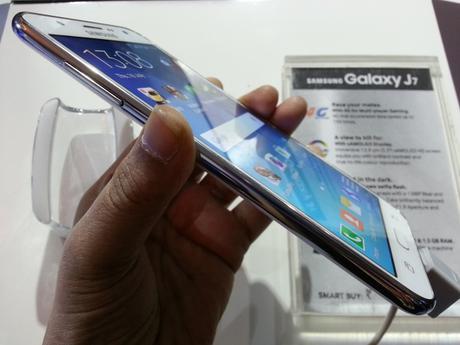 Important Specifications and Price of Galaxy J7 and J5:
*Affliated links