Jackets are one of the most useful and versatile garments you may have in your wardrobe.   A more formal jacket will make an outfit more formal or professional by adding a collar.   A casual jacket can dress down more formal attire.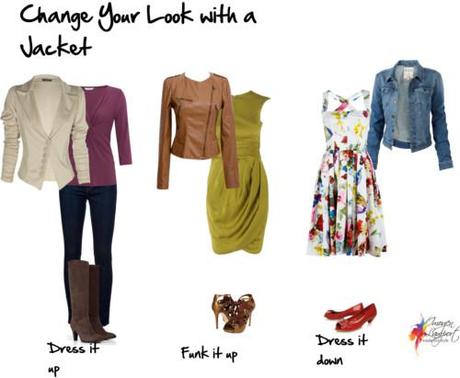 Change your look with a jacket by
imogenl
featuring a biker jacket
Jackets can act as the Third Piece, plus add that layer to cover all your assets that you may not always want to flaunt.
The jacket I'm wearing here is one of my favourites.  I love it because it's creative in its construction – a boiled wool combined with a smooth fabric with sheen.  I love the asymmetrical closure and the collar detail.  Finding a jacket that wasn't too formal but had interesting detail was on my 'list' for two years before I found it.  But I knew as soon as I saw it, this jacket was the missing piece from my wardrobe.
There are lots of different styles of jackets.   From casual jackets like a bomber, through to classic, via relaxed and comfortable drape jackets and the feminine peplum.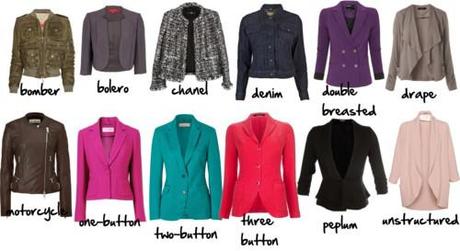 jacket glossary by
imogenl
featuring a mink jacket
A higher buttoning or closing jacket is better for those with a smaller bust.
Draped lapels tend to overwhelm petite's.
Unstructured jackets suit those who are more relaxed in their style and O shapes.
A wider collar will balance wide hips.
Jackets also express information about your personality.  As you can see in the picture below that a jacket can express your personality.  The fabrication, construction and detail all combine to create a message.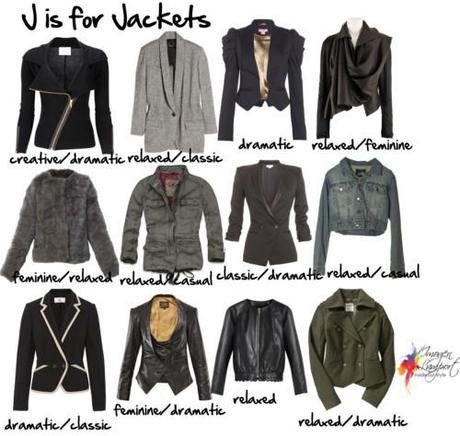 jackets personality by imogenl featuring a military jacket
And there are lots of different collar details to consider, which both express personality style, and also can work with or against your body shape and features.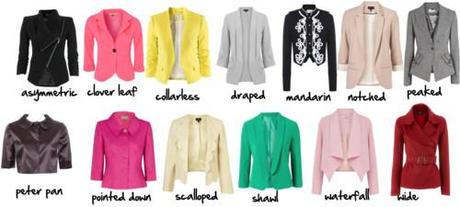 collar glossary by imogenl featuring a grey jacketFor example:
A peaked lapel draws the eye upwards and is great for petites.
A clover leaf lapel is curved and looks great with people who have more curved facial features such as a curved jaw, full lips, large round eyes.
An asymmetric collar looks great on someone who is creative, or someone who has asymmetric facial features, or uneven shoulders.
A scalloped collar is feminine in it's personality style.
A mandarin collar is great for I shapes and those with a small bust.
A high notched lapel is classic in its styling and universally easy to wear.
Do you have a favorite jacket?