I'm quite proud to say that my gorgeous wee 21 month old princess is more or less potty trained. Well at least at home she is anyway.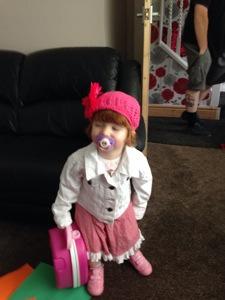 I first introduced Izebella to the potty back in May when she was 19 months. I received the My Carry Potty to review and this proved to be a very welcome, useful product in assisting her. She is carrying the potty in her hand in the photograph above. She likes to take it everywhere and it looks just like a little case.
At 19 months she was a little young and had more accidents. The potty wees were just by pure luck of catching them. So I left it for a while but still left the potty out in the living room so she could see and play with it as she wished.
Then an amazing unusual thing happened. The Sun started to shine in the UK. For once in a long long time we actually have what we can call Summer weather. This being the perfect opportunity for potty training and drying washing quickly.
At the end of last month (June) I tried again. I started by simply leaving Izebella with no pants around the house and trying her on the potty every half hour or so. Yes we had a few small accidents but she seemed to get the hang of it very very quickly. She picked it up fast both for pees and poops.
A few weeks on and we now have very few mistakes. However instead of saying "Wee Wee" or "Potty" she will shout "Quick Quick" and everyone seems to jump to her command to help her out. She still sometimes needs a little help to position herself correctly and lift her dress out of the way but she is doing so well. She even tells me if she has had an accident. She will say "Oh oh done it on floor" yes she is also an excellent talker for her small age too.
I have tried knickers but we are not always fast enough getting them down in time. That's our next challenge throughout the Summer holidays I think; to get her used to big girl pants and also take the big step of going out without a pull up on. Not too sure how that will go.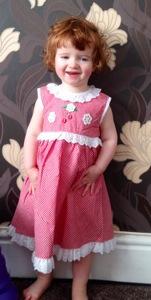 I am very proud of my little girl. I can't believe how fast she is growing up. I was at one point a very worried mommy as she did not walk until almost 17 months. She is now just 21 months and runs around, talks in sentences, has conversations, knows what everything is, who everyone is and where things go and she can use a potty/toilet too.