Kuala Lumpur was a beautiful city that was multi-cultural, efficient, and had plenty to offer for anyone. Kuala Lumpur was one of the countries I went to during my 10 day, 3 country trip. I wanted to do more things while in KL, but the 4 days and 3 nights were enough to cover a lot of places. I spent a lot of time transiting in and out of Kuala Lumpur and I liked how efficient everything was. It was easy to get anywhere from the airport to your next destination.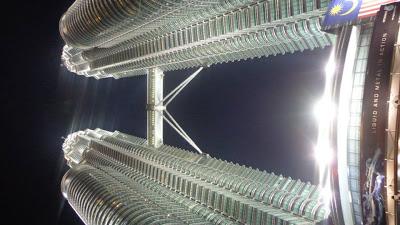 Here is a breakdown of my expenses during my 4 days and 3 nights trip to Kuala Lumpur:
*I quoted the expenses in Malaysian Ringgit, the exchange rate to Philippine Peso would be at 13.5 for 1 Ringgit.
MYR 101.4 - Food & water
MYR 41.5 - Transportation
MYR 116.2 - Hostel for whole stay
MYR 45 - Hop On, Hop Off Buss
MYR 16.5 - Miscellaneous (printing, storage, etc.)
MYR 6.2 - Souvenir  
MYR 326.5 - Total expenses for my entire stay in Kuala Lumpur
*P4,408 spent for the trip excluding airfare and taxes.
Accommodations
Red Palm Hostel
I stayed in a dorm room for MYR30 per night. The hostel was ok and provided good Internet connection for whenever I had to go online and work.
Red Palm Hostel
is a basic accommodation fit for budget travelers and backpackers. 
Moon Eleventh 
I stayed in Moon Eleventh because of its proximity to the bus and train station that went to the airport. The dorm room costs MYR43.1. This small guesthouse had great Wi-Fi connection and also served some cookies for snacks. Jessy, the owner, also picks up customers whenever they get down at the Salak Tinggi Station.
You can contact Jessy through
[email protected]
.
Itinerary
Day 1
Arrival from Manila
Walk around the city at night
Day 2
Hop On, Hop Off bus tour
Days 3 and 4 were mostly for transit when I went to Myanmar and Laos. I wanted to visit more places and do more things, but I would reserve those places for another time.
Kuala Lumpur is an efficient city that is easy to go around in; everything is easy to get to via public transport. The city scape changed at night, everything was aglow. The different sections of the city told their own story. Walking the streets of Chinatown, Little India, and the old streets that housed old colonial architecture and buildings depicted Kuala Lumpur's past, present, and future perfectly. This part of my trip was just as enjoyable as the other two which were Myanmar and Laos.