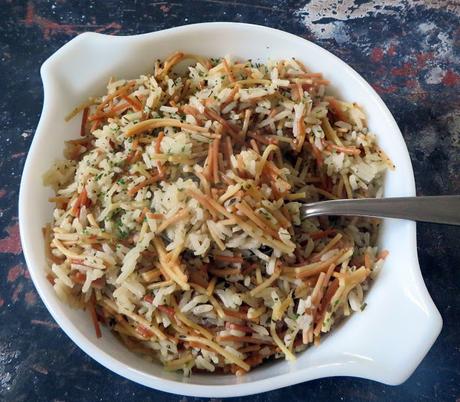 When I was younger, ie. a child, I used to love Rice-a-Roni.  It was the San Francisco treat!  I loved the commercials on the television with the San Francisco Trolley and its bell.
It was not something we had very often actually. I probably served it more when my own children were growing up. It came in a variety of flavours.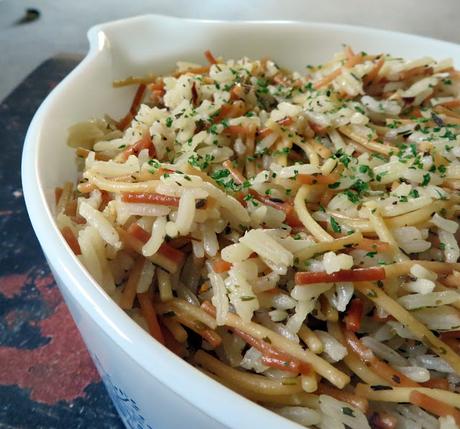 Basically it was a rice dish combined with pasta. You browned the rice and pasta in a skillet and then added water and a seasoning packet. I am sure it was pretty high in salt and artificial flavours and ingredients.
These days I prefer to make it from scratch.  Its not very hard to make from scratch when it comes right down to it. Is quick, easy and delicious.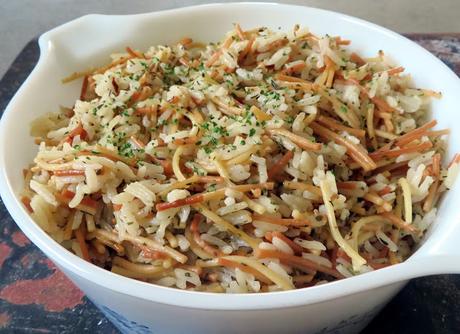 These days I prefer to call it a Pilaf . A Pilaf is a rice dish that originated in the middle east. It usually involves browning or toasting some rice (and in this case vermicelli) and then adding seasonings, vegetables and stock.
You can also add bits of meat or fish.  This version is meant to be a side dish and I have added Italian flavours.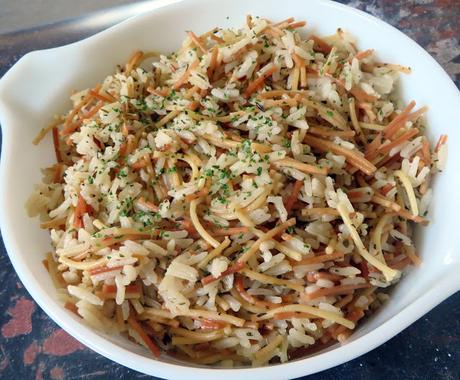 Normally I would use vermicelli, which is a very thin pasta.  I did not have any of that today. Today I used broken up spaghettini. It worked well.
You can also use orzo.  Orzo is a rice shaped pasta.  All work in this. You are going to toast it in some butter. This adds flavour, color and interest.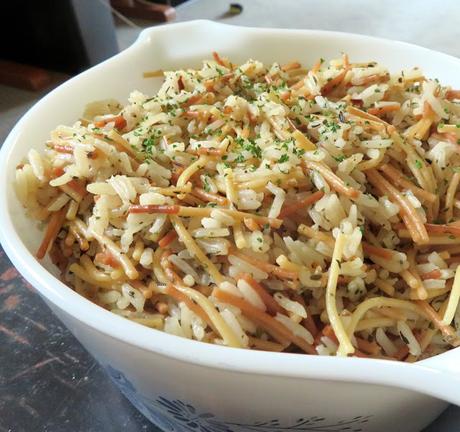 You brown the pasta in some butter and then toss in the rice.  I used Jasmine rice.
I love Jasmine rice. You sometimes will see it called popcorn rice. It is a long grain rice and is perfect for things like pilaf. It has a delicate floral and buttery scent.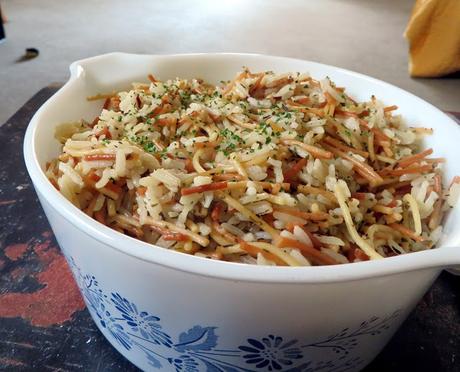 Once you have coated the rice in the butter you then add water and a mix of herbs and seasonings. Today I added Italian flavours.
Basil, oregano, thyme, rosemary,  parsley, etc. You can use fresh if you like.  Just double the amounts. I had no fresh today so I used dried.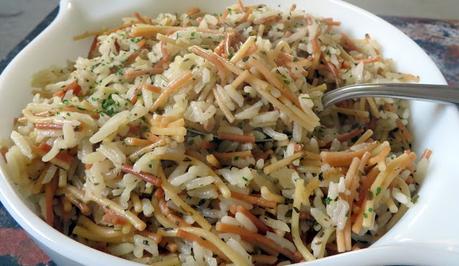 In the olden days fresh herbs were a real rarity. My mother never used fresh herbs. not ever.  Except perhaps fresh chives of parsley.  And even that was once in a blue  moon.
Parsley was meant as a garnish.  My father grew a pot of chives. He liked them in his bologna sandwiches.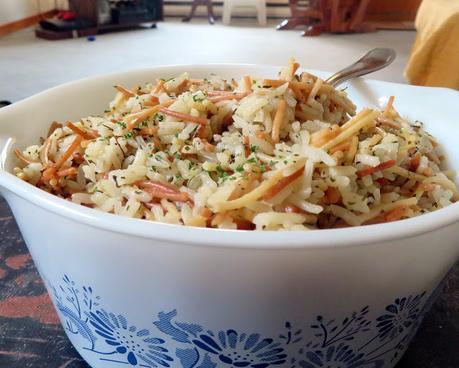 My mother didn't use a lot of herbs at all. My father didn't (and doesn't) like wildly flavoured food. He likes things simple. My mom used salt and pepper.
When I was a teenager she discovered oregano. Before we knew it she was sneaking dried oregano into everything!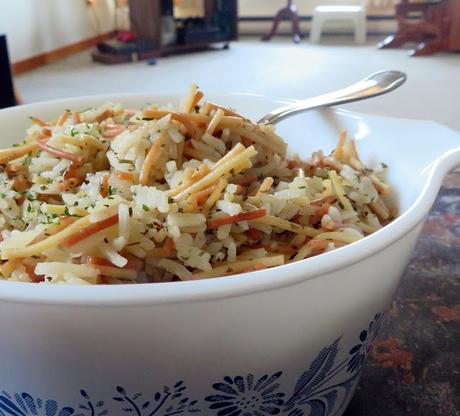 When I say everything, I mean literally everything. Nothing was safe from her bottle of Oregano. it ended up in our soups, stews, BBQ sauce, Chili, everything.
Bless her heart. She was actually living life on the edge with this discovery. For her anyways.  My father accepted the oregano and peace reigned.  He is always reminding me however, that he likes simple things.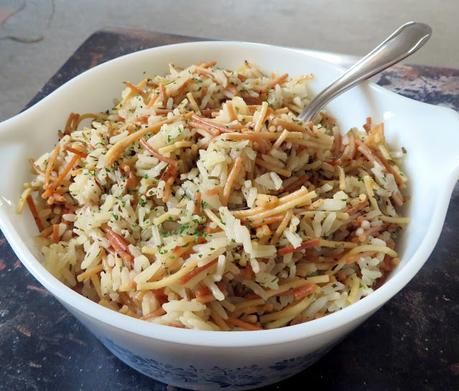 I am not sure if he will like this or not.  We shall see. I hope that he will.  I happen to love it.
It goes together really quickly and has fabulous flavours.  Flavours that go together with just about anything.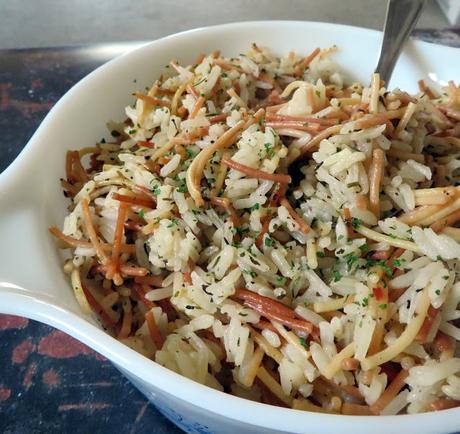 I especially love it with grilled salmon.  Salmon is one of those fishes that demands strong flavours to accompany it.
Salmon can be quite a strongly flavoured fish . You want something on the side that will stand up to it, but not overcome it. You want it to complement it.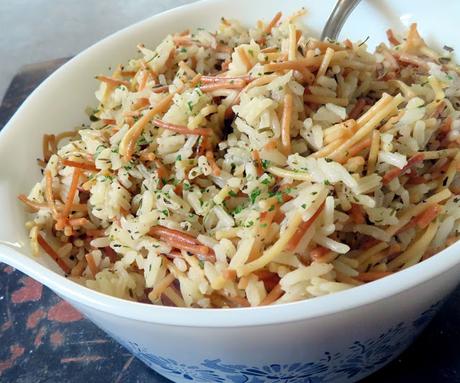 If you wanted to you could turn this into a main dish by adding some cooked meat or fish to it. It would be kind of like a fried rice then I suppose.  With Italian flavours.
I was trying to describe how to make this to my daughter earlier. She thought it sounded really delicious.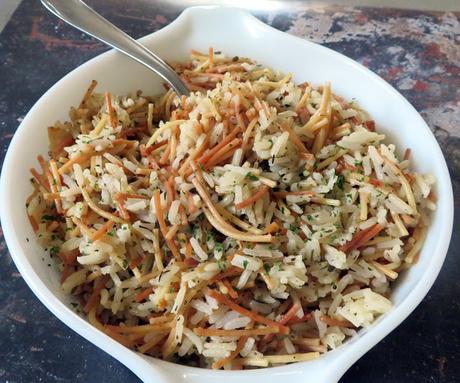 My oldest daughter is developmentally challenged. I always try to write my recipes so that anyone can cook them. I try to explain them in simple terms.
I try to write them so that she can make them. Generally speaking that is my criteria. If I think she can cook them.  That way I know most people can have success with them.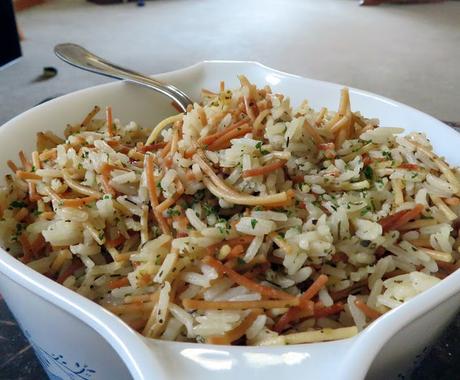 I really get perturbed when someone tries one of my recipes and they say it didn't work for them.  They will say, I cut down this, and I added that and I left out whatnot, but it didn't work! 
Like its the recipe's fault.  Cooking is very subjective and very much a matter of taste.  What I present here have always been tested and tried.  I have had success with them, as written.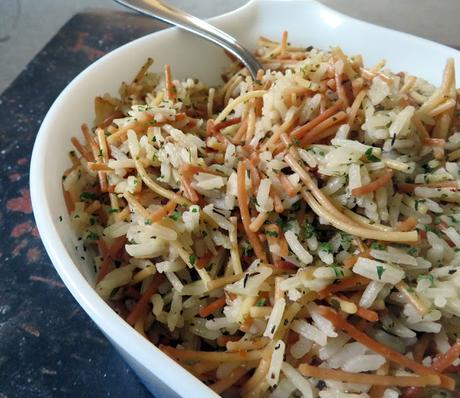 Anything else is a matter of taste.  And we all like different things.  In any case, I hope you will make it and enjoy it.  
It makes a great midweek side dish and the leftovers reheat very well.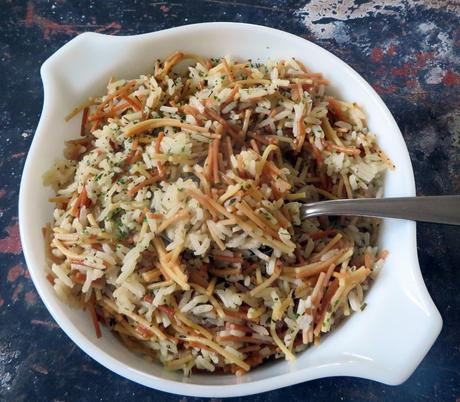 Print
Italian Rice Pilaf

Yield:
6
Author:
Marie Rayner
prep time: 10 Min
cook time: 16 Min
inactive time: 5 Min
total time: 31 Min
This buttery rice dish is nicely flavoured and easy to make. It goes very well with most things!
Ingredients
2 TBS butter
1 cup (100g) short cut vermicelli
1 cup (165g) jasmine rice
4 cups (960ml) water
2 TBS chicken boullion powder
pinch crushed red chillies
1/2 tsp dried basil
1 tsp dried rosemary
1 tsp dried oregano
1 tsp dried thyme
2 tsp dried parsley
salt and black pepper to taste
Instructions
Melt the butter in a large skillet. Once it begins to foam add the vermicelli.  Cook, stirring until it turns golden brown. Add the rice, stirring it to coat. Add the water, chicken stock, and all of the herbs.  Bring to the boil, then reduce to a slow simmer and cover.
Cook for 15 to 16 minutes until the rice is tender and all of the liquid has been absorbed. Remove from the heat.  Taste and adjust seasoning with some salt and pepper if need be.  Let rest for five minutes.  Fluff with a fork and serve.
Did you make this recipe?
Tag @marierayner5530 on instagram and hashtag it #EnglishKitchenCreated using
The Recipes Generator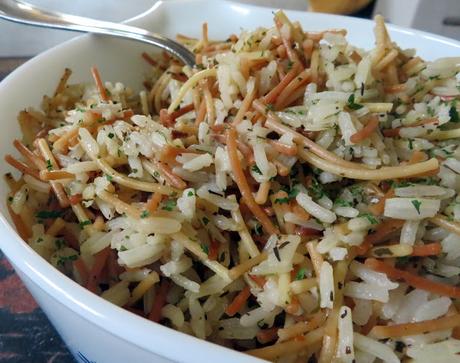 This content (written and photography) is the sole property of The English Kitchen. Any reposting or misuse is not permitted. If you are reading this elsewhere, please know that it is stolen content and you may report it to me at: mariealicejoan at aol dot com Thanks so much for visiting. Do come again!