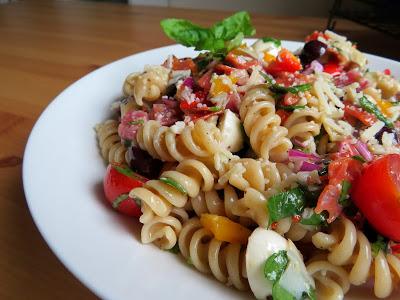 I have an absolute fondness for pasta. It is not a fondness that is shared with my husband, but he will tolerate it from time to time.  I love pasta in any way shape or form!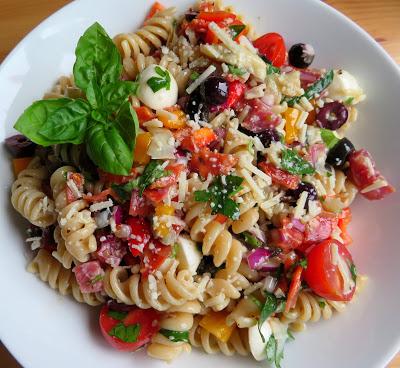 I like pasta hot in the winter with sauce, and in the summer months I love to enjoy it in quick and easy pasta salads!  This Italian Pasta Salad is one of our favourites and I have small-batched the recipe for just two.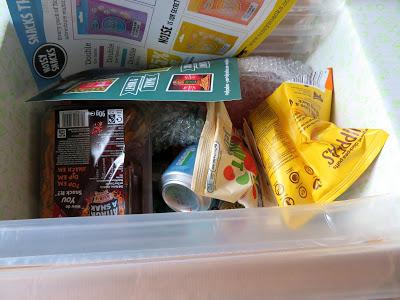 As those of you who have been reading me for a while know, I am the lucky recipient of the gift of a Degustabox each month. Once a month, around the middle of the month, I am gifted with one of these lovely
boxes
which contain a delicious
assortment
of all things foodie.  I just love these boxes.  Each one is always a lovely surprise.   Opening each one feels a tiny a bit like
Christmas
to me. Always a surprise, and always filled with things that pique my interest and desire to try.
Degustabox
is a monthly foodie subscription service that sends out a range of 10 to 15 specially selected foodie
products
. I even have a code that  can give you which will  give you a £3 discount off of your first box. I will tell you about that at the end. I have been getting these boxes for a couple of years now and I have to say I have never been disappointed.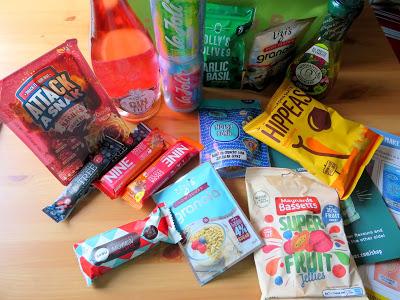 This month's box theme was the June Picnic Box, filled with lots of goodies to enjoy at a picnic or just as a snack.  From the moment I saw Newman's Own Dressing, I was inspired to want to use it in a recipe, but first a little bit about the rest of the contents of my box.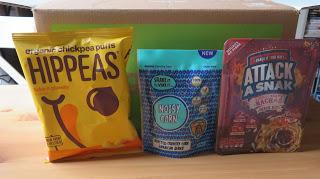 HIPPEAS
1 X £1
Light and crunchy with a serious punch of protein and fiber. HIPPEAS Organic Chickpea Puffs are less than 90 calories, certified organic, gluten free, contain no MSG and are totally vegan and totally delicious! With less than 90 calories, 3 grams of fiber and 4 grams of protein per single-serve bag, HIPPEAS are the new go-o choice for consumers who demand tasty snacks made with high-quality ingredients. 
NOISY SNACKS
   1 X £ 1.49 
Noisy Snacks is a sensory adventure waiting to happen. Noise is our secret ingredient because every time you shae a pack, you activate the extra flavours at the bottom of the bag. Most snack companies add 4% flavouring, we add 8% flavouring. Double the taste. Double the fun.
*Available at www.noisysnacks.com and coming soon to supermarket chains. 
ATTACK A SNAK
Chili Heat Nachos Snack Kit with Chipotle Dip v&Sour Cream Sauce1 X £1.50
Meet the newest member of our Nachos range. Chilli Heat nachos snack kit with chipotle dip and sour cream sauce.  Each nacho kit contains chill heatwave tortilla chips, a smoky chipotle dip and cooling sour cream & chive sauce. Simply top 'em, dip 'em and snack 'em!
*Available at Morrisons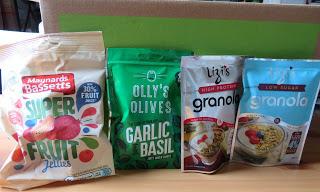 MAYNARDS BASSETTS
Superfruit Jellies 1 X £1
Maynards Bassetts Superfruit Jellies are new soft jellies that come in a variety of flavours - papaya, pomegranate, blueberry and cranberry. It offers higher fuit content and added benefits. Each unit contains 30% fruit juice and every six sweets contain 15% of the recommended daily intake of vitamins C & E. 
*Available at major supermarket chains
OLLY'S OLIVES
Basil & Garlic 1 X £1.50
Olive The Dream!  The finest Greek Halkidiki  olives dressed in a mouthwatering basil and garlic marinade for the ultimate olive snack experience. Our pouches contain no messy oils, no stones and no artificials whatsoever. At less than 75 calories per pouch, they are the perfect healthy snack or meal topper!*Available at Sainsbury's and online on Amazon, ollysolives.com, Ocado & Musclefood.  
LIZI's GRANOLA
  High Protein/Low Sugar 2 X £0.75 
We know a good breakfast. That's why you'll find nature's most nutritious ingredients inside our cereals. Expertly blended for a perfect balance of long-lasting nutrition and fantastic taste. Per serving, our Low Sugar granola includes only 1.9g of sugar and our high protein includes 27% of your daily protein needs.
*Full size packs of 350g High protein and 500g Low Sugar available in the major supermarket chains.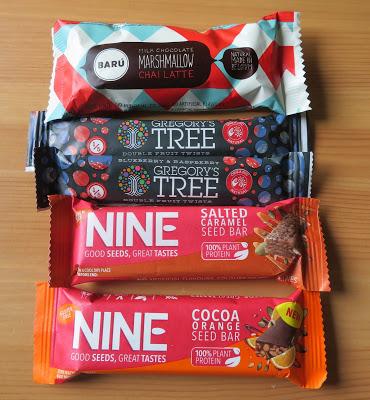 BARU
Chocolate Marshmallow Bar  2  X £1.69
Gourmet Vanilla Bean marshmallow bar with a chai latte topping and smothered in milk chocolate. made with bourbon vanilla bean, real spices and honey. 
*Available at Whole Foods Markt and a variety of Gourmet Shops
GREGORY'S TREE
1 X £0.69 
At Gregory's Tree we want to give an extraordinary new twist to snacking with more inspiring, healthier, tastier fruit snacks for everyone on the go. Our Blueberry & Raspberry and Strawberry fruit twists have no added sugar or other funny stuff.  They are naturally great tasting, organic and gluten free. 
*Available on Amazon, Morrisons, Whole Foods Market & As Nature Intended. 
NINE Seed Bar 2 X £1.29 
With NINE, taste and nutrition go hand in hand with the added health benefits of super seeds, sunflower, pumpkin, and sesame. A naturally high in fiber and source of magnesium snack. Proudly vegan, gluten and wheet free and 100% plant protein.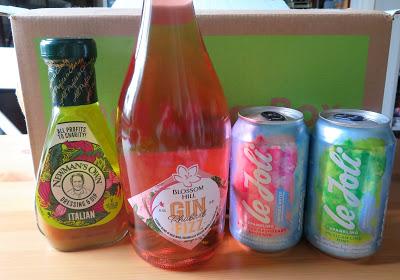 LE JOLI
2 X £1
Le Jolie is a great tasting sparkling water infused with just natural flavor for a clean and refreshing taste. No artificial ingredients, sweeteners or sugar. Available in three flavours; Mexican Lime & Mint, Sicialiana Lemon & Mandarin, and Scottish Raspberry & Rhubarb.
*Available at Tesco WHSmith, Whole Foods & Ocado.
BLOSSOM HILL
Gin Fizz  1 X £9
A bubbly blend of wine and botanically infused water with a dash of gin! Serve with a slice of lemon or orange.
*Available in the major supermarkets. 
NEWMANS OWN
1 X £1.65
Newman's own gives all profits after taxes to Newman's Own Foundation. We continue Paul Newman's commitment to donate all profits to a broad spectrum of organizations dediated to educational and charitable purposes.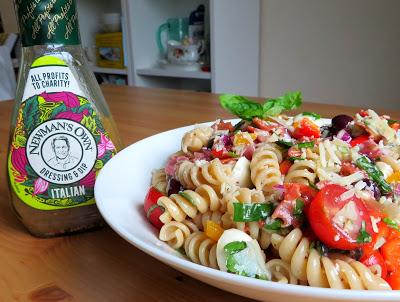 You could of course make your own from scratch Italian Dressing to enjoy in this salad, but I really love the flavours of the Newman's Own dressings and so why now use something you already enjoy!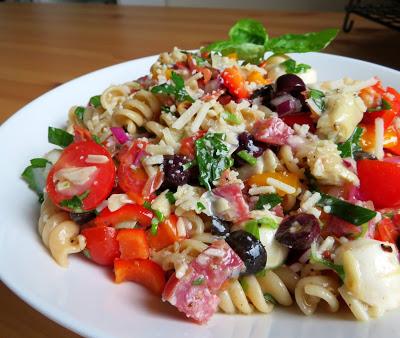 Italian Pasta Salad is actually a pretty versatile salad. Basically you can add any Italian style ingredients you wish.  I used a hard Italian Salami today, but you could also use bite sized bits of pepperoni!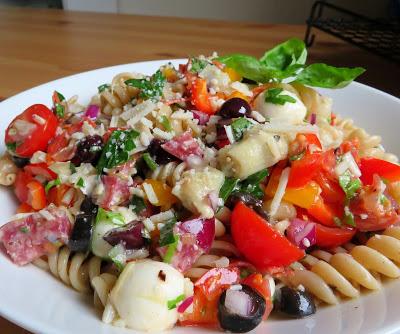 Don't care for black olives?  Leave them out and use pimento stuffed green olives, or even garlic and herb green or black olives. If you don't like olives at all, think of some other tangy salty  mediterranean ingredient you could use in their place. How about capers?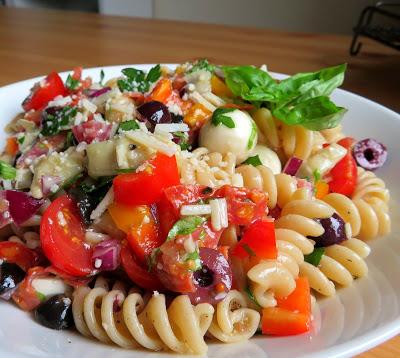 Today I used mini mozzarella balls, boccochini, but you could just use cubed mozarella, or evern smoked mozzaarella!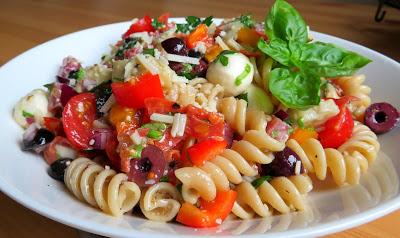 I used a mix of orange and red bell pepper, but normally I would use green. I jus didn't have any green and during lockdown I don't have the luxury of having my husband pop off to the shops to pick things up for me.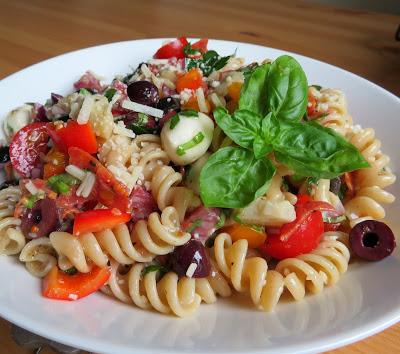 I had some marinated artichoke hearts so I used them as well. I love artichokes and they go really well in a salad like this.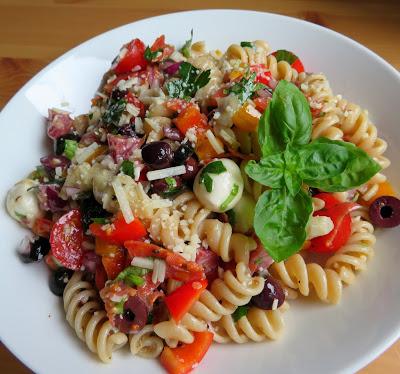 I also used some fresh herbs.  Julienned fresh Basil and chopped fresh Flat Leaf parsley.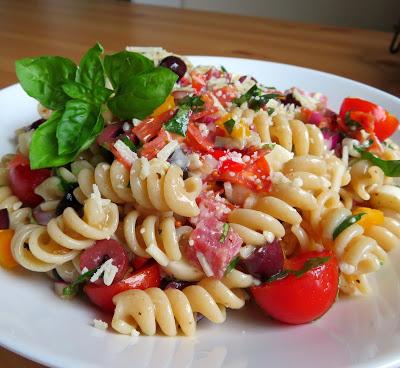 I chose to use chopped red onion.  Red onion has the sharpness of onion you want, but it is not so strong as regular onions, or as mild as green onions.  You want to taste them but you don't want their flavor to overpower the salad.  Red onion is the perfect balance of sharp and mild.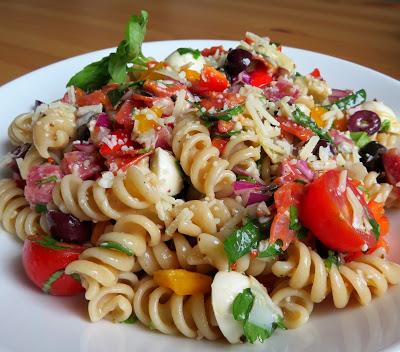 I use whole wheat pasta. I really can't tastte the difference between that and regular pasta.  Whole wheat pasta is better for me as I am a Diabetic and it has a lower GI than regular pasta.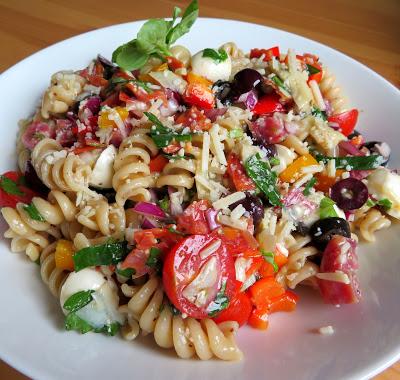 Cherry tomatoes.  I had some really nice sweet ones. You could use baby plums as well, or heirloom cherry tomatoes. They add texture, flavor and contrast.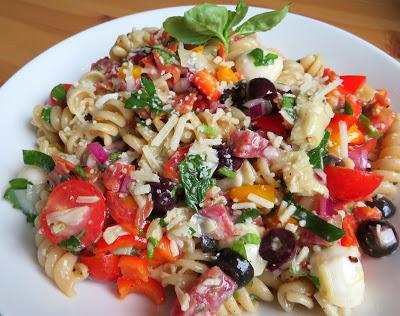 And then the dressing  . . . beautifully flavoured with just enough garlic and herbs and tang! I alway like to add a sprinkle of Parmesan to finish it off. Salty and tangy also. If you wanted to you could also add some toasted garlic croutons to garnish this.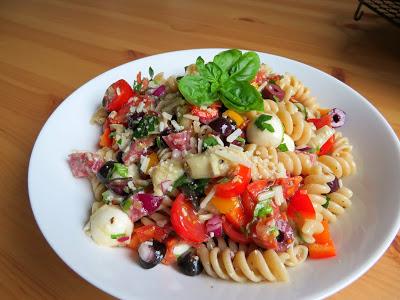 This really is a beautiful summer salad. Perfect for lunch or as a side for a BBQ supper.  Perfect also to take to picnics. If you are taking it on a picnic, pack it in an airtight container and bring along a bit of extra dressing to toss it with when you get there!
Italian Pasta Salad
Print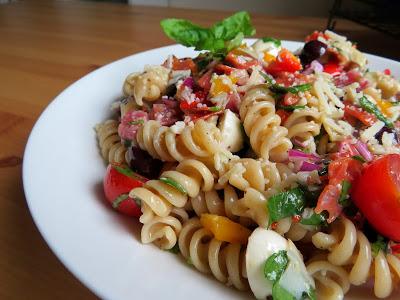 Yield:
2
Author:
Marie Rayner
A deliciously simple Pasta Salad, perfectly sized down for the smaller family.
Ingredients:
115g dry pasta (1 cup), cooked until al dente according to package directions
12 cherry tomatoes, halved
8 bococchini, halved (mini mozzarella balls)
1/2  each red and orange bell peppers, trimmed and chopped
1/2 medium red onion, peeled and chopped
12 kalamata olives, halved
6 large leaves of basil, rolled and slivered
a small handful of fresh flat leaf parsley, chopped
2 ounces hard dry italian salami, diced
6 marinated artichokes, quartered
120ml of Italian Salad Dressing (1/2 cup)
3 TBS coarsely grated Parmesan Cheese
Instructions:
Combine all of the ingredients in a bowl and toss together to combine.  Cover and chill for half an hour to allow for the flavours to meld.  Divide between two serving dishes and enjoy!
Did you make this recipe?
Tag @marierayner5530 on instagram and hashtag it #EnglishKitchenCreated using
The Recipes Generator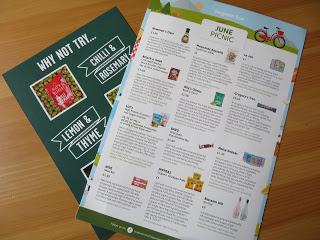 I really
DO
make great use of and enjoy many of these fabulous products I am sent each month to try out. 
Many thanks to Degustabox UK for gifting me this box. I have to say I really look forward to getting my box each month. There are always lots of things in it to enjoy and new products to try out. I highly recommend. You can also tailor the boxes to your own likes and dislikes by filling in your own Taste Profile.  If you like the sound of this box, why not sign up now! I find them to be really good value for money spent and I really enjoy trying out new products that I have not tried before.   Included is also a detailed

information

card  which tells you all about each

product

included, and other extras such as recipes, etc.   
Follow them on Facebook 
Follow them on Twitter  
So, that was the June Degustabox - a nice selection of products as always. We loved it. The price of each Degustabox is £12.99 (including delivery). To order your box, visit www.degustabox.com 
Use the code 2ROE0 to get £3 off your first Degustabox, free delivery – enjoy! 
I was gifted with the box free of charge, however any and all opinions are my own.  
Follow my blog with Bloglovin