Some thoughts on this recipe & post~~
I love meatloaf~~especially the leftovers & making sammiches.   I love bison and wanted to infuse this meatloaf with Italian flavors.  I love comfort food & this is in my top 10.  I love mashed taters, I mean real mashed taters.  I love watching the Oscars.  I served this dinner at the coffee table during Oscars 2014.  I love cooking and serving from the same skillet(s) and in this case you see my three thrift store finds of copper cookware~~score!  There were three of us for dinner~~Gary, our neighbor, Ben {hubby}, and me!  Unbeknownst to me was that meatloaf and mashed taters are Gary's most favorite because he said it reminds him of growing up and his grandmother!  We had good wine with this dinner.  Did I say I love meatloaf?  That's all~~ xoxo ~~peace & nameste~~ ally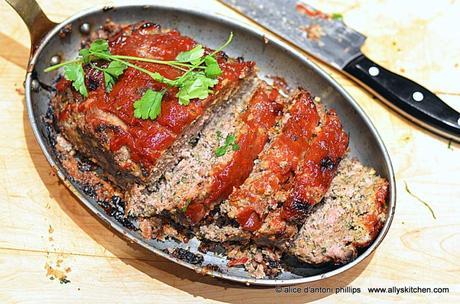 Serves: 6+
Preheat oven to 375
What you need:
1 lb ground bison
1 lb ground pork
2 beaten eggs
1 tbl minced garlic
2 tsp sea salt
2 tsp dried basil
2 tsp dried oregano
1/3 cup chopped fresh parsley & cilantro
1 tbl stone ground mustard
½ tsp red chili flakes
½ cup ketchup + more for drizzle when baking
2 tbl Worcestershire
½ tsp sea salt
1 tsp hot sauce (your choice)
1 ½ cups Italian bread crumbs
1 tsp ground cumin
4 tbl extra virgin olive oil (divided)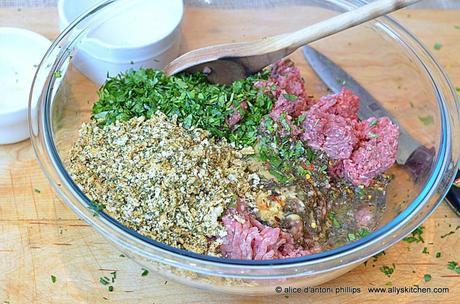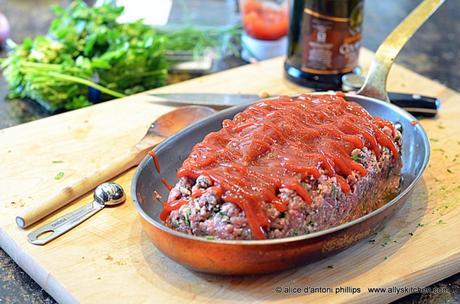 What you do:
Crumble the ground meat together in a large mixing bowl.  Set aside.  In another small bowl, combine the beaten eggs, garlic, salt, basil, oregano, parsley/cilantro, mustard and chili flakes and blend. Blend this mixture into the meat then add the bread crumbs and blend well.
Form into a meatloaf.  Drizzle half of the olive oil in a skillet or baking dish and place the meatloaf in the pan. I created an oval shape about 3-4" deep in the center-most part.
Combine the ketchup, Worcestershire, salt, hot sauce, cumin and remaining olive oil in a small bowl and blend.  Pour this on top of the meatloaf and spread to cover the top.  Drizzle (zigzag) with some more ketchup.
Bake in a preheated 375 oven for about 60-65 minutes.  Remove and let it rest about 15 minutes before cutting and serving.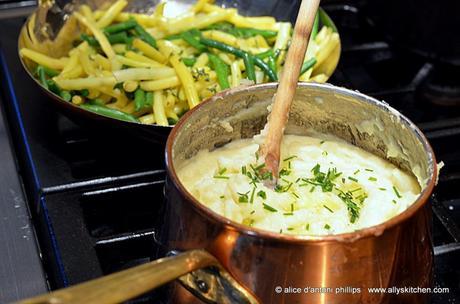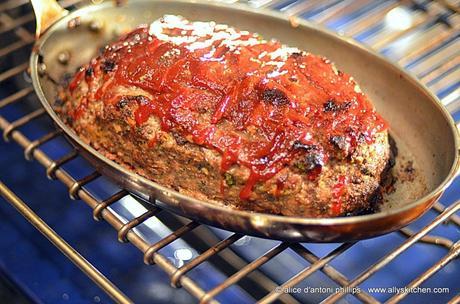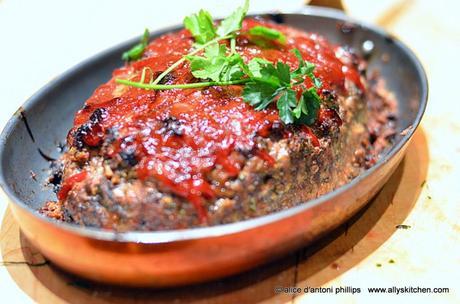 ©alice d'antoni phillips  www.allyskitchen.com