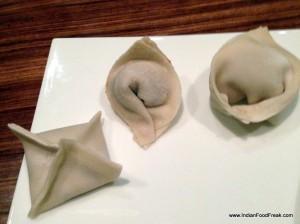 What do Selena Gomez, Lady Gaga, Hulk Hogan, Robert De Niro and Paneer Penne have in common? They all have a certain percentage of Italian in them.
I was thrilled to be a part of the chef's table event at Sheraton Bangalore Hotel a few days back. Chef Béla K. Rieck, Executive Chef, was hosting Chef Carlo Molon from Sheraton Milan for this event. It was such a charm to meet both of them and get to talk about the common thing we love and hate- Bangalore weather and traffic. Bene, the Italian Restaurant, shall be home for the chef till the 30th of this month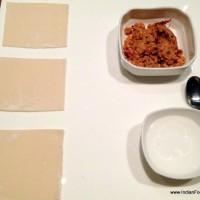 Chef Molon demonstrated the pasta dough kneading two ways- Eggless and with Egg. He treated his dough like a precious gem. We also got an opportunity to see the pasta machine at work. It rolled out the dough like a satin sheet. This was then cut into squares for the Ravioli. At the bar counter, there were individual plates available for all of us to try our hand at folding the ravioliIt was then our chance to taste the fabulous food that the Chef had arranged for us to taste.
The starter was a Barley salad with Sun dried tomatoes, sautéed Zucchini, onion Jam, Pepper Coulis and ricotta cheese with chives. Such a humble grain got elevated to another level with the coulis and that onion jam. We had to order for an extra helping of the jam itself. The beautiful herbs from the hotel's kitchen garden added not only aesthetic beauty to the plate but to the palette as well.
Primi Piatti or the dish between the Antipasti and the mains was a Buffalo Mozzarella cheese ravioli with dried tomatoes served with yellow sweet pepper cream. Most of us were missing the mandatory butter sage sauce for the ravioli but the Chef insisted that we try his version. Here I learnt something new – each ravioli stuffing has a complementary sauce that might not be overwhelming but certainly adds a zing to the whole dish. While the filling in spinach and ricotta, butter and sage was the way to go; however in this case the pepper sauce won me over.
The main course was Crunchy philo-pastry sheets layered with potatoes, green beans and basil pine nuts pesto. This was sadly my least favorite dish of all. By the time the dish reached us, the philo had lost its crunch and was looking like a blob of once-upon-a-time-crunchy-philo. The filling was stunning nonetheless and we all polished that bit off.
There was another option for the non vegetarians Oven roasted imported lamb loin in a herbed bread crust, basil crushed potatoes. There was a mixed reaction to this one as well as it was undercooked for a few and perfect for others. Over all it was decently received.
Let us get to the dessert. Being the foodie that I am, I have never had such a stunning combination of all things great on one platter. Cheese cake di ricotta, Meringara a la crema Chantilly and Pere vino rosso. One bite of that nutty meringue and I forgot about everything I had eaten before that. It went really well with the Chantilly cream. It had the perfect bite and the perfect sweetness. I was in dessert heaven. The cheese cake was a little tart for me but I was not complaining. I polished the plate like no one ever ate in it.
The festival is highly recommended and worth the money that you shall spend. Like they say – Dove c'e Gioia c'e Cibo, Dove c'e Cibo c'e Gioia! Where there is happiness there is food, where there is food there is happiness.
Ratings: (out of 5)
Food: 4.0 | Ambience: 4.0| Service: 4.0 | Overall: 4.0
Address: The Sheraton Bangalore at Brigade Gateway,  26/1 Dr. Rajkumar Road,  Malleswaram-Rajajinagar,  Bangalore