Been wasting alot of egg whites lately because I done some bakes with only egg yolks.
Decided to give this Italian Cookie a try since I have 3 egg whites after my bake and I do have some almond meals on hand and best of all, this recipe is extremely easy to put together.
This recipe reminded me so much of macaroons which of course I have not been baking for a long time.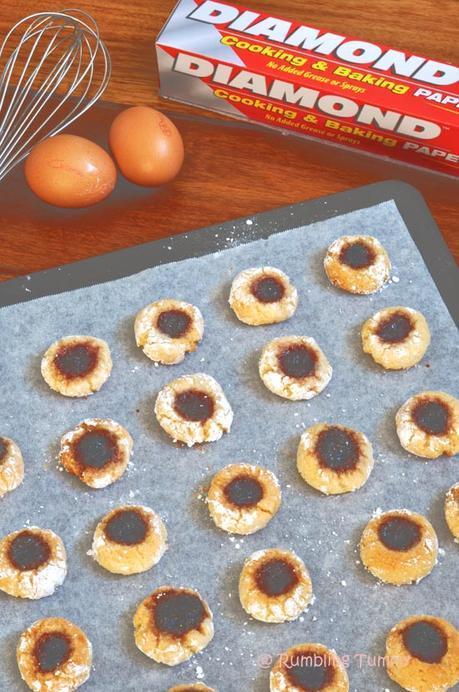 Findings: I quite like this as it is not sweet.  It has a chewy texture which I like as well.
What you need:
250g icing sugar
300g ground almond meal
2 tsp runny honey
110g egg whites
Method:
In a mixing bowl, whisk icing sugar and ground almond meal together.
Add in honey and egg whites and whisk until it is combined.
Cling wrap and chilled in the fridge for 30 mins.
Using a small ice cream scoop, scoop dough out and form into a ball.
Add into a bowl of icing sugar.  Coat it roughly.
Preheat oven to 170 deg.
Place onto a baking sheet lined with baking paper.
Using a small measuring spoon, make an indent.
Scoop some jam into the indent.
Bake for 15 mins until the sides turned golden brown.
Cool on baking sheet for 10 mins before transferring onto rack to cool completely.
TGIF!
If you have enjoyed this post by Rumbling Tummy, be sure to follow this Rumbling Tummy on Facebook, Instagram, Pinterest, Twitter and Google+.