This post may contain affiliate links. Please read my disclosure.
This simple Italian Chickpea Soup with Tomato and Rosemary is healthy, nutritious, comforting and easy to make. Low in calories, and can be made vegan, this gluten free soup will be a hit with the whole family!
I don't think there is anything more comforting than a warm bowl of soup! On cold winter days it warms you from the inside out. It's like a big hug!
I love how easy and fast it is to make a delicious pot of warm soup. The color and flavor of this Italian Chickpea Soup is so rich. It makes a great option for lunch or serve it with some crusty bread and a salad for an easy weeknight meal.
This soup is full of goodness and low in calories - enjoy!
Kitchen Tools and Equipment You'll Need to Make Italian Chickpea Soup
How to Make This Italian Chickpea Soup with Tomatoes and Rosemary - Step by Step
Step 1: Heat oil on medium heat in a large pot or Dutch oven. Stir in the carrots, celery, onion, and garlic. Sauté until tender and fragrant, about 6 to 8 minutes.
Step 2: Add the broth, tomatoes, chickpeas, salt, and pepper. Add the rosemary, basil and bay leaves. Cover and cook on low for 30 minutes.
Step 3: Add the spinach. Cover and simmer until wilted, about 2 minutes.
Step 4: Remove the bay leaves, rosemary sprig, and season to taste with salt and black pepper. Ladle soup into bowls and top with parmesan cheese if desired.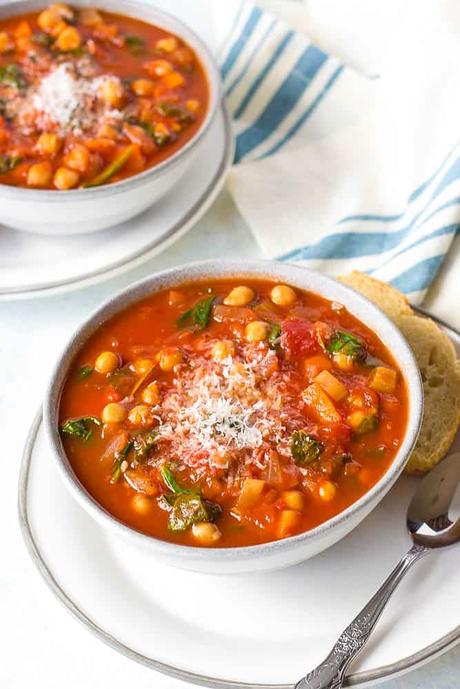 What makes this Italian Chickpea Soup healthy?
Low in Fat and Calories: One serving of this hearty soup has only 254 calories and 5 grams of fat.
Rich in Vitamins and Nutrients: The carrots, celery, tomatoes and spinach are nutrient dense foods. Carrots contain Vitamins A, K, Potassium, and B6. Tomatoes are rich in lycopene (an antioxidant). And spinach is a superfood, loaded with potassium, calcium, magnesium, B vitamins, Vitamin E, C, K and Iron.
High in Plant Protein: Chickpeas are an excellent replacement for animal protein. Once serving of this soup has 12 grams of protein. That's about 30% of your recommended daily protein intake.
High in Fiber: Chickpeas are also high in fiber. With 12 grams of protein you're getting half your daily recommended fiber. Fiber is important to include in your diet as it helps with digestion, and keeps you feeling fuller longer.
Will kids enjoy this Italian Chickpea Soup?
Kids will enjoy the subtle flavors in this soup. The herbs give it a well balanced flavor that isn't overpowering with spice. It's loaded with veggies so you'll feel good about the kids eating a few servings of their recommended veggies in just one bowl of this comforting soup. My kids enjoy dipping whole wheat bread and sopping up the broth.
How do you make this Italian Chickpea Soup vegan friendly?
To make this soup vegan, simply omit the parmesan cheese when you serve it. This is a well balanced one pot meal. The chickpeas provide lots of fiber and plant protein to keep you satisfied!
What other recipes can you make with chickpeas?
Chickpeas are delicious in soups as in this recipe, but they are an extremely versatile and healthy addition to many recipes. Here are some ideas of other recipes you can make with chickpeas.
What To Serve With This Chickpea and Tomato Soup
Sprinkle with parmesan cheese on top and serve with crusty whole wheat bread. This soup would go perfectly with a winter spinach salad or grilled cheese sandwich on sprouted wheat bread - lovely!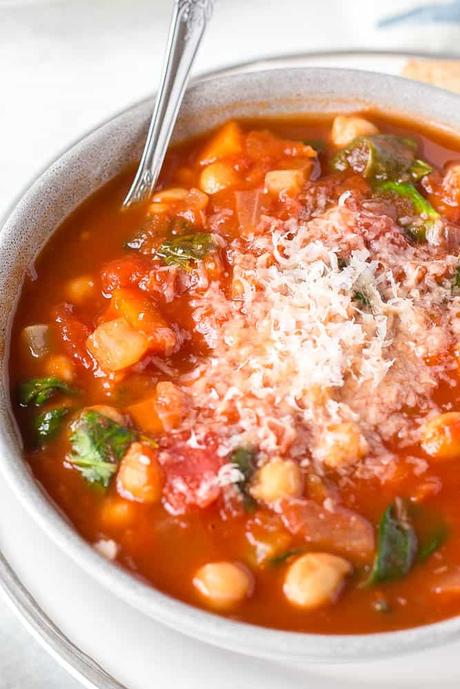 Top tips for making Chickpea Tomato Soup
Use the freshest veggies you can, and organic if possible.
Dice the vegetables fairly small so that they soften quickly.
The soup can be frozen easily (will keep in the freezer for up to 4 months), or kept in an air tight container in the fridge for a few days.
Make sure you remove the bay leaves and rosemary sprigs before serving.
Top with some Parmesan and add some fresh herbs as a garnish, if you like another layer of flavor.
Add a dollop of sour cream, or Greek yogurt for additional creaminess.
To make vegan, omit the parmesan cheese.
To make gluten-free - serve with gluten free bread on the side (the soup itself is already naturally gluten free!)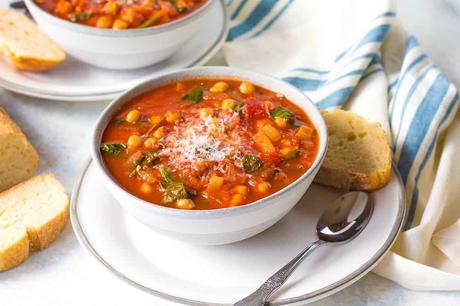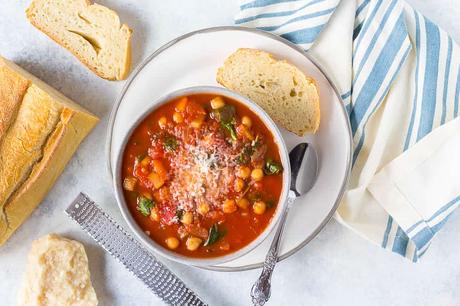 If you have tried this Italian Chickpea Soup recipe, or any other recipe on my blog, then please rate it and let me know how it turned out in the comments below! You can also FOLLOW ME on FACEBOOK, TWITTER, INSTAGRAM and PINTEREST to see more delicious, healthy, family friendly food!
Be sure to check out these other healthy soup recipes!
Italian Chickpea Soup with Tomatoes and Rosemary