Italian Basil Pesto with Pine Nuts inspired by Marcella Hazan is like having gold in your fridge; it's rich and indulgent and makes everything it touches taste better.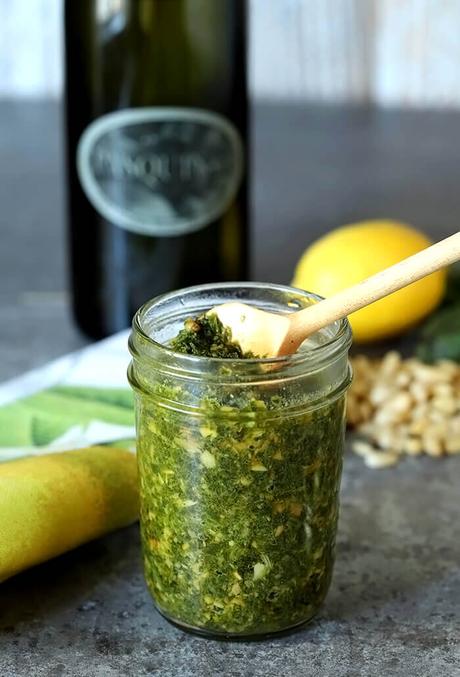 I've grown basil for years in my garden in the summer, but it's only been in the last couple of years that I've planted enough to be able to use end of the season plants to make this amazing Italian Basil Pesto with Pine Nuts. Sure I'll buy some from the market in a pinch, but nothing compares to the do it yourself version.
Last year my basil was not particularly cooperative and when a neighbor contacted me and said she had to go out of town and needed to give me some basil, I knew exactly what I would do with it. Pesto baby...absolutely! I made mine using a recipe I had used for years that we love. Maybe the only thing included in mine that was at all different from a lot of recipes was the addition of a small amount of lemon juice. I think it both made the taste a bit brighter but have no doubt it also helped to keep the jar I had fresh enough to use it down to the very last drop. That day was sad.
This year I planted 4 plants and should have had plenty for pesto. But no, nope, a total fail. They are scrawny and skinny and never really produced much. I blame it on the weather...and me! I have to wait til June 1st in Colorado in a good year to avoid a late freeze but as soon as the weather started to warm the rains started to come and my poor garden did not get in until the end of June. No muy bueno.
July was too hot and though I tried to water plenty, it simply never managed to get a good foothold and the leaves have remained scrawny and thin and it started to bolt within a week of going in. Bummer. So this year it was the farmer's market to the rescue!
I also discovered Marcella Hazan's recipe for pesto and it has a secret ingredient...BUTTER! Yes, butter. Not only that but though Marcella is gone, her husband Victor has assured legions of American's cooks that using a blender is totally acceptable contrary to what some Italian Nonna's might insist. I have a mortar and pestle for a prop but I don't love using it for 'reals,' carpel tunnel always rears it's ugly little head. No thanks.
Other than the butter, our recipe is very close; I prefer my pine nuts and garlic to be cooked; I'm pretty sure whoever shared a recipe with me originally must have been reading Marcella's book...so I've just traveled around a bit to get back home. I'll still using lemon juice though...just because I liked it!
This elixir of the Gods is remarkably easy and doesn't require any fancy ingredients. Good ingredients like olive oil and cheese are critical but there is nothing fancy about them. I don't always have both cheeses on hand though so a good Parmesan is a must. Many recipes put in both raw garlic and raw pine nuts and you can too. I personally prefer the flavors of Roasted Garlic and Toasted Pine Nuts but it's up to your preference...and timing. What I had never done before this year though was to add butter. Yes, BUTTER! I mean, isn't everything better with butter?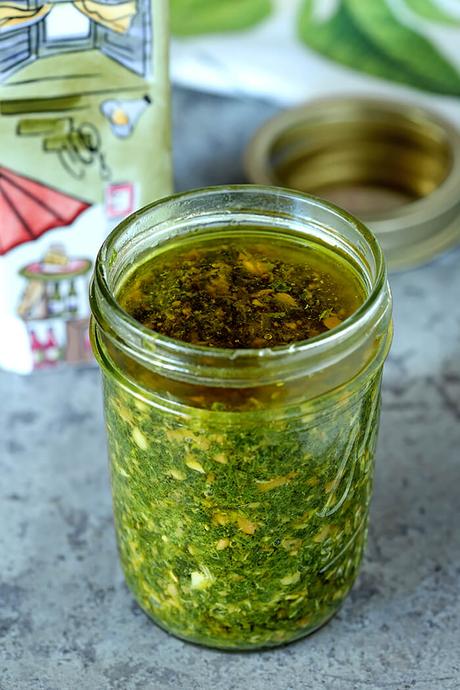 I trusted Marcella on this one though...hadn't I added butter to a simple sauce of tomatoes and onion and found Heaven on a plate. Her Tomato Sauce with Onion and Butter is simple and exquisite; it's the one my daughter's want when they come home and that's fine with me. SO easy...so very, very good!
Honestly this Italian Basil Pesto with Pine Nuts alone is reason enough to plant basil...but if you haven't check out your local markets now too; it takes a fair amount so forget about those little packets in the grocery section. And if not this year...then plan for next. Plant lots and lots of basil so you are assure lots and lots of pesto!
PIN 'Traditional Italian Basil Pesto with Pine Nuts'