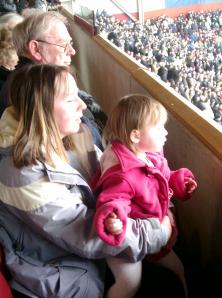 A rare Isabella picture at Football
I've watched a few games in my life.  I reckon I am nearing the 1,500 mark, which is pretty impressive I think.  Added to this is probably another 2,500 or so on TV and I reckon I have seen almost all there is to have been seen with regard to football.  I have seen championships won, relegation confirmed, games abandoned, riots take place and even John Jensen score for Arsenal.  But some games stick in the memory for more memorable reasons.
I've watched games in bizarre places as well.  I saw David Beckham score the winning goal from the penalty spot in Japan 2002 in a bus station in Jeonju, South Korea with a hundred or so locals, crowded around a small TV.  When the game finished each man shook my hand and called me Beckham.  A few asked for autographs.  I once watched a game in a brothel during Germany 2006.  Not that I was partaking in any services but with all the local bars full for the Germany v Poland game the enterprising ladies saw an opportunity to offer up their "boudoir" for male pleasure – beer, sausages and football.  Oh and a quick hand shandy if you wanted (which I didn't of course).
But eight years ago today, on Wednesday 16 April 2003, I watched a game in possibly the most surreal circumstances.  The game in question was the Sky Sports beamed clash between Arsenal and Manchester United from Highbury.  It was coming towards the end of the season and both teams were still in the hunt for the title, laying in first and second respectively.  It was, as Richard Keys (remember him after just a few weeks away?) billed it, "Super Wednesday".  My companions for ninety minutes of nail biting excitement – three men I had never met before in my life.
Nothing too unusual about that you may say, after all normally when we watch a game in the pub there are people who we've never been acquainted before around us.  But I wasn't in the pub.  I was sitting in my front room.  And instead of cold beers in our hands, we were drinking tea.  We had to turn the TV up quite loud as the noise from the next room was quite distracting.  Again, nothing too out of the normal so far – we lived in a small cottage with wooden floors which didn't isolate the sound particularly well.
Richard Clarke, writing for Arsenal.com's US webpage summed it up almost perfectly.
"In terms of the Premiership title, this battle of the big guns settled little. But if you wanted pure footballing drama, Wednesday night at Highbury was the place to be."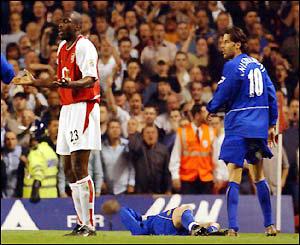 However, if you wanted a heart warming tale then 18 Devonshire Road, SE9 was the place to be that night.  For at the very moment that Sol Campbell earned a second yellow card for fouling Ole Gunner Solskjaer my beautiful daughter Isabella Molly Mae, aka Littlest Fuller, was born in the room next door.  The three men with me?  Paramedics, who were on hand just in case any complications occurred (If someone has a baby at home and there is a danger of medical emergencies 2 ambulances are dispatched – one for mother and one for baby).  Fortunately, out of the four medics dispatched, one had been involved in a number of child births before so we left him to it, put the kettle on and had a cup of tea.
Without going into all the gory details the situation had arisen due to a failing of the health service in sending a midwife, and being a modern man I mucked along as best I could but without any instructions to read (see we do need them sometimes!) I had to call 999.  The original plan of lots of candles, Enya and a calming environment soon gave way to Paul Scholes, Patrick Viera and Ryan Giggs (nothing changes eight years on) huffing and puffing on the screen.  Every couple of minutes I popped my head around the door and asked if CMF needed anything.
"Tea, coffee, hot towel?" Was met with a stern look.  When I told her that Van Nistelrooy had opened the scoring she pretended not to have heard.  When I shouted through the wall that Viera had limped out of the game I heard her say "muck off" (She didn't like him after he spat at Neil Ruddock in 1999) or that is what I thought I heard her say.  When Ashley Cole (later credited to Henry) scored she told me she couldn't give a toss.  Me neither angel – everyone hates Cashley right?  When Henry scored again soon after I think she was delirious telling me that she had no interest whatsoever in the f'ing game.  Women and their moods eh.
But after Giggs equalised I thought I'd better go and see what all the fuss was about.  It wasn't pretty, and I wasn't talking about Sol Campbell's positional sense.  It was the point of no return and thankfully the paramedic who was essentially acting as Doctor, Nurse, Midwife and Interior Decorator ("Nice sofa, although I would maybe add a few more cushions to cover up those stains") directed me on where I needed to be and what I needed to do.  Fortunately he had a safer pair of hands than David Seaman and when Isabella made her first appearance in the world, he did not drop her.
Thirty minutes later and some order of normality had returned to the Fuller household.  Mum was in good shape and enjoying a cup of tea, new baby was asleep and I could enjoy that overdue beer as we settled down for the highlights.  Our moment of piece was interrupted by the long overdue arrival of the midwife.  I explained that my wife had already had our baby and we had actually called for assistance on seven occasions.  "Oh, nobody bleeped me" she said, although I swear to this day I saw an Arsenal shirt on below her uniform.
So we returned back to the match on TV.  I soon nodded off, leaving my two girls to enjoy the game.  When I was prodded awake an hour later Bridget said "That was a good game – did you see Van Nistelrooy's miss?"  No angel I was too busy delivering our daughter.  Women!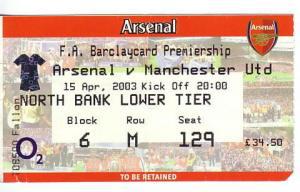 Footnote
– I tried to find a picture of the programme for the game on t'internet but instead came across a ticket from the game showing that it was played on the 15th April 2003….I can assure you there are few events in life you remember in such detail and the birth of a child is one so this is a case of Fuller 1 Arsenal Ticket Office 0