Make your daily commute just a little more festive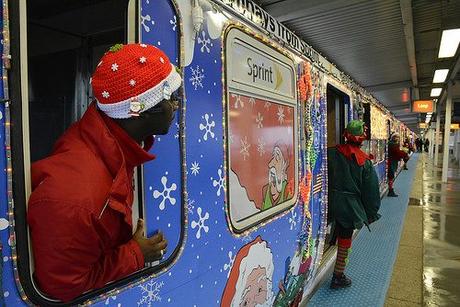 Photo Credit: Transit Chicago
Season's greetings from the Chicago Transit Authority!
What began as a simple holiday-sign on the Blue Line in 1992, this year marks the 26th anniversary of the CTA holiday train. Starting this Friday, November 24th, all eight lines of Chicago's public transportation system will have one, six-car train decorated for the season, featuring thousands of Christmas lights, Santa paintings, snowflakes, ribbons, candy canes, and yes, even a few cheery, Christmas elves.
For those of you who prefer the road, there will also be a holiday-themed CTA bus picking up passengers throughout the city – a tradition that began three years ago.
In addition to providing some much needed holiday-cheer, the spruced up trains and busses will also be delivering boxes of food and donations across the city.
Don't miss your chance to add a little holiday spirit to your Chicago commutes! The CTA holiday bus and trains will operate until December 23. Check out the complete schedule below!
Holiday Bus
Tuesday 11/28 –#56 Milwaukee
Wednesday 11/29 – #56 Milwaukee (photo day)
Thursday 11/30 – #92 Foster, #91 Austin
Friday 12/1 – #22 Clark (photo day)
Saturday 12/2 – #22 Clark/#97 Skokie (photo day)
Tuesday 12/5 – #66 Chicago (photo day)
Wednesday 12/6 – #66 Chicago
Thursday 12/7 – #126 Jackson (photo day)
Friday 12/8 – #12 Roosevelt (photo day)
Saturday 12/9 –#12 Roosevelt
Wednesday 12/13 – #29 State (photo day)
Thursday 12/14 – #29 State
Friday 12/15 – #28 Stony Island (photo day)
Saturday 12/16 – #62 Archer (photo day)
Sunday 12/17 –#62 Archer
Wednesday 12/20 –#X49 Western Exp. (photo day)
Thursday 12/21 – #79 79th (photo day)
Friday 12/22 –#3 King Drive
Saturday 12/23 –#3 King Drive (photo day)
Holiday Train
* = Elves' workshop train will follow
Saturday 11/18 – Red Line
Friday 11/24 –Green Line & Orange Line
Saturday 11/25* – Green Line (photo day)
Tuesday 11/28 – Green Line & Orange Line
Wednesday 11/29 – Orange Line & Brown Line
Thursday 11/30 – Orange Line & Brown Line
Friday 12/1 – Orange Line & Brown Line (photo day)
Saturday 12/2* – Orange Line & Brown Line (photo day)
Tuesday 12/5 – Pink Line
Wednesday 12/6 – Pink Line
Thursday 12/7 – Blue Line
Friday 12/8 –Blue Line (photo day)
Saturday 12/9 * – Blue Line (+ photo-only stop on Pink Line)
Tuesday 12/12 – Red Line
Wednesday 12/13 –Purple Line
Thursday 12/14 –Red Line
Friday 2/15 – Purple Line 1
Saturday 12/16*–Red Line & Purple Line (photo day)
Thursday 12/21 –Purple Line
Friday 12/22 –Yellow Line
Source: CTA