If you're new here, you may want to subscribe to my RSS feed. Thanks for visiting!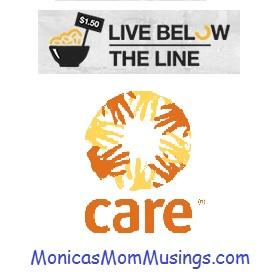 The past two years I have been committing to eat and drink $1.50 worth of food a day for five days in an effort to raise awareness for extreme poverty all over the world and to help raise money.  I had actually forgotten that this is the time of year this is usually done until my oldest daughter, who joined me in it last year, asked me when it was.  So I looked it up and found out it does in fact start this coming Monday (April 28) and goes until Friday (May 2).
Since my daughter was asking about it I figured she wanted to join me again this year.  She said she would.  I asked my 12 year old if she wanted to do it, but she declined at this time.  It's a tough thing to commit to so I get it.  I won't force anyone to do it here so it's just me and my oldest daughter doing this.
And we discovered last year with a little planning it was really very doable.  I haven't told my daughter though that this is going to mean no Moe's Queso (our weekly date together).  We'll have to reward ourselves next Saturday with that.
So what can you do?  Well, you could join me and live below the line.  I have chosen the charity CARE to raise money for. Here's what CARE says they do with the money:
CARE works in 84 countries around the world to support nearly 1,000 poverty-fighting development and emergency programs. These are programs that improve access to proper nutrition, quality health care, economic opportunity and education and don't just help people improve their lives now – they provide people with the tools they need to overcome challenges for the rest of their lives. -
You can either join my efforts or pick your own charity and do your own work towards raising money and awareness towards poverty. Or you can make a donation to mine and my daughter's efforts in this.  Check it out here.  Help me spread the word.  I will keep you posted on our progress.
I will tell you from experience that this is a very eye opening experience.  Knowing that people live on such little, barely able to get the daily recommended amounts of fruits and vegetables and protein a day.  I only do this for 5 days out of the year.  About midweek I am dreaming of the foods I will get to eat when it's over.  For some there is no end in sight.  So that's why it's so very important to me to help out and make a difference in the lives of people I don't even know.  I hope you'll do the same.
Will you be living below the line this year?
CARE works in 84 countries around the world to support nearly 1,000 poverty-fighting development and emergency programs. These are programs that improve access to proper nutrition, quality health care, economic opportunity and education and don't just help people improve their lives now – they provide people with the tools they need to overcome challenges for the rest of their lives. – See more at: https://www.livebelowtheline.com/us/partner/care#sthash.XwiSIfAo.dpuf