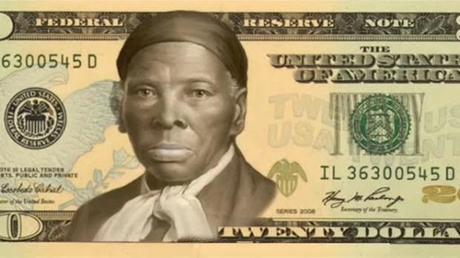 For a while now, the group "Women On 20s" has been working to get a woman on the $20 bill (replacing Andrew Jackson). And to promote the idea, they recently held an online poll to see what woman most people would prefer. The four finalists were Harriet Tubman (hero of the anti-slavery movement), Eleanor Roosevelt (First Lady of the United States), Rosa Parks (hero of the civil rights movement), and Wilma Mankiller (first female chief of the Cherokee Nation).
On Tuesday, the group announced the winner of that survey. It was Harriet Tubman (pictured above on a $20 bill). I had voted for Eleanor Roosevelt, but I have no problem with the choice being Harriet Tubman. She is a true American hero -- and putting her of the $20 bill would solve two problems by putting both the first woman and the first Black on U.S. currency.
I'm sure this will upset racists and misogynists across the country, but I don't care. It is time for a woman (and a Black person) to grace the U.S. currency. Now we need to get busy and start putting pressure on Congress to make this happen.