I live in the land of theme parks, and that land is named: Orlando.
One of the new big things that has come this summer is The Transformers ride to Universal Studios.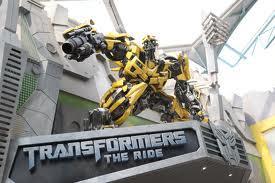 Bumblebee impersonating Tony Hawk.
It's a pretty good ride. I even liked it when it was called Spiderman.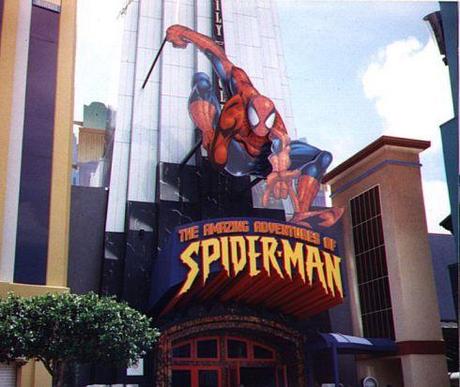 Spider-Man impersonating Tony Hawk trying to hold in a poo.
I know not everyone has made it down to Universal Studios Florida, so the joke there is that they are basically the same ride with different themes.
I'm actually more excited about something different that has come to Universal Studios and that is: Springfield!
They have had a Simpson's ride for a couple of years and it is really good (and different from Spiderman/Transformers), and also the Kwik-E-Mart. When the ride first came, they turned a couple of the local 7/11s here into Kwik-E-Marts where they sold Buzz Cola, Krusty O's, Pink Doughnuts, and Squishees.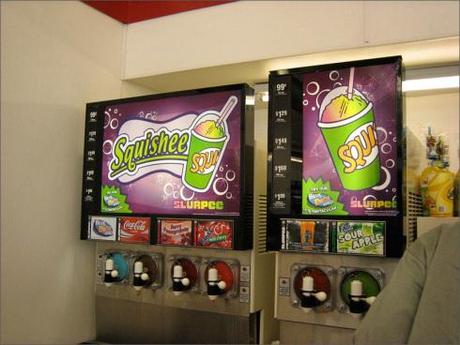 To that ride, Universal has added Moe's Tavern, Krusty Burger, The Frying Dutchman, Luigi's, Duff Brewery, Lard Lad, and Android's Dungeon. As well as a couple show themed places, which I don't think where in the show itself, Cleatus' Chicken Shack and Bumblebee Man's Tacos.
You can correct me if I'm wrong.
I'm kind of weird about the show anyway. I'm actually not that big of fan. However, I think Homer Simpson is one of the best characters ever created. I'm a huge Homer fan. I even have a life size cardboard cutout of Homer that watches over the kids in our game room.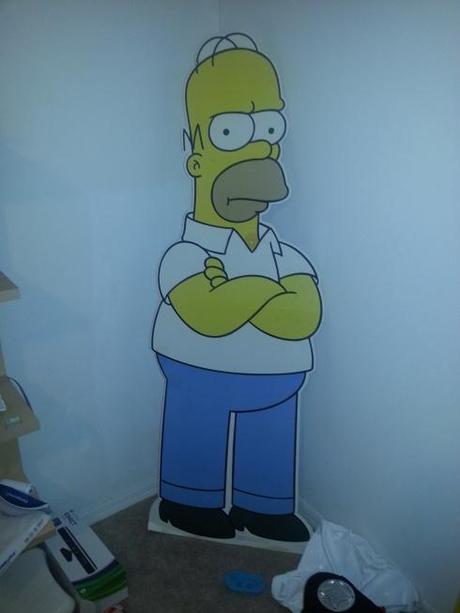 My my my my Homa…Kids you need to stop playing video games and go outside…but not too far outside…
For those who are not visiting me anytime soon, let me take you on a brief tour of the come-to-life Springfield.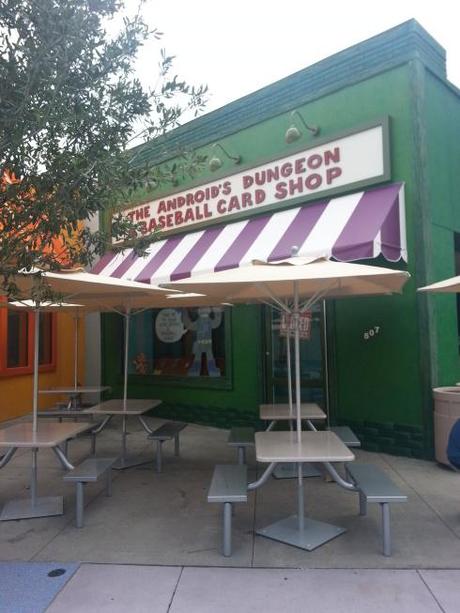 Android's Dungeon is actually not a comic book store but a bathroom. Kind of disappointing, but Comic Book Man did take a piss next to me when I used the facilities.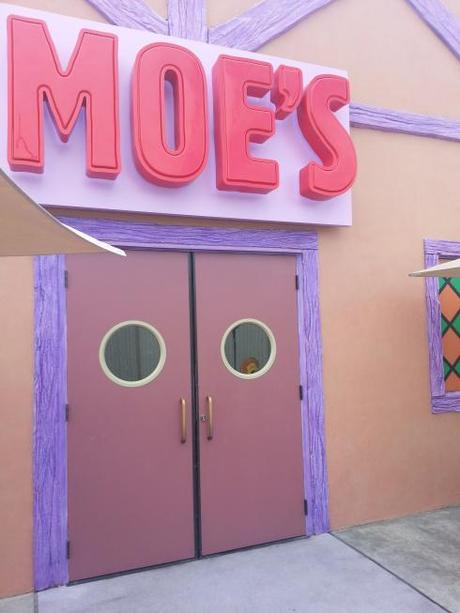 This is Moe's and yes it is a real bar.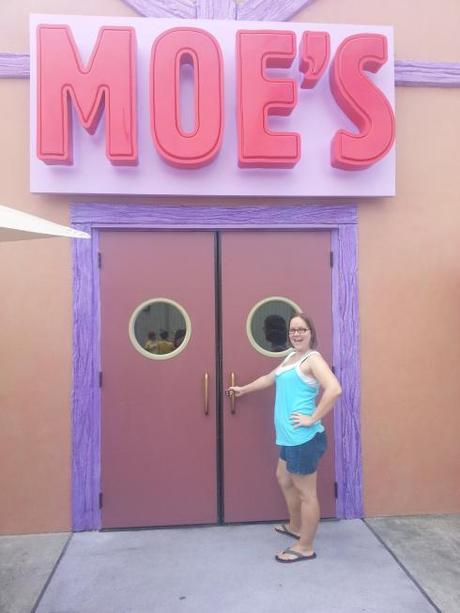 While we were waiting for Moe's to open at 10:30 am…yes, you read that right…everyone would come to the door and take this picture. So the wife had too as well. I don't think the tourists knew this was an actual real bar.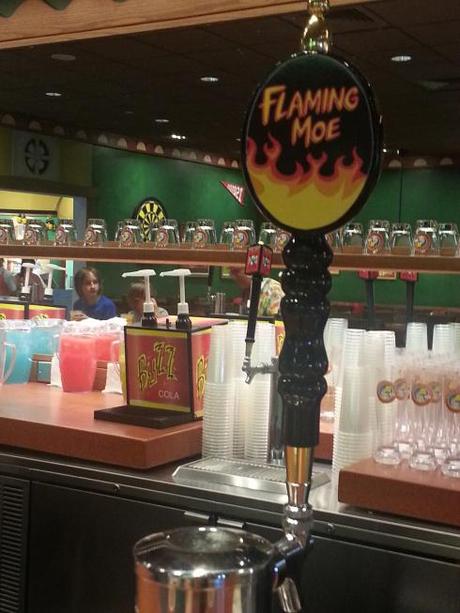 Sitting at the bar. The Flaming Moe is actually nonalcoholic. They put dry ice in the bottom of the drink to make it smoke. It tastes like orange soda. You can also get Duff, Duff Light, and Buzz Cola here.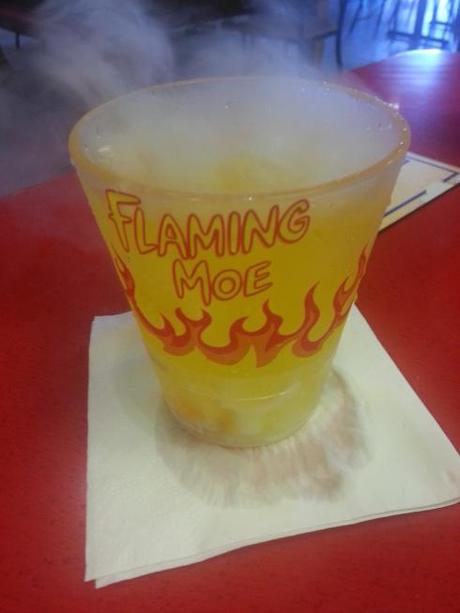 The Flaming Moe up close.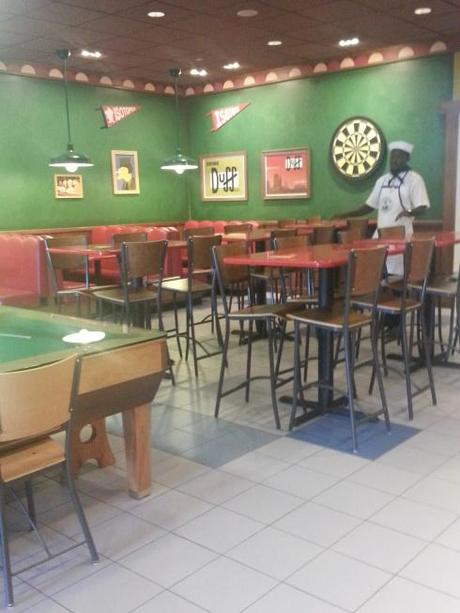 Some more view of the inside of the bar. The guy in the picture works at the Frying Dutchman.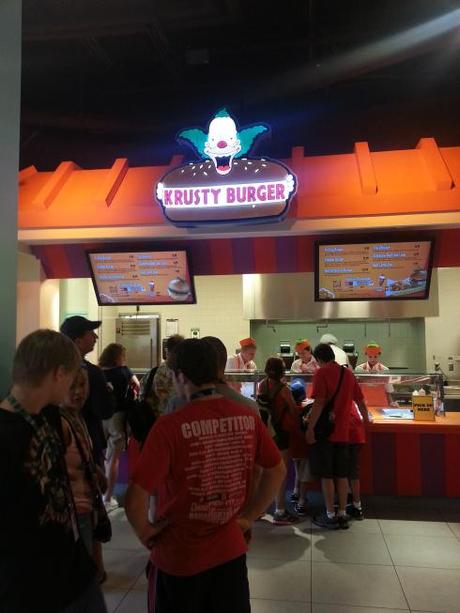 What could almost top Moe's? Krusty Burger of course!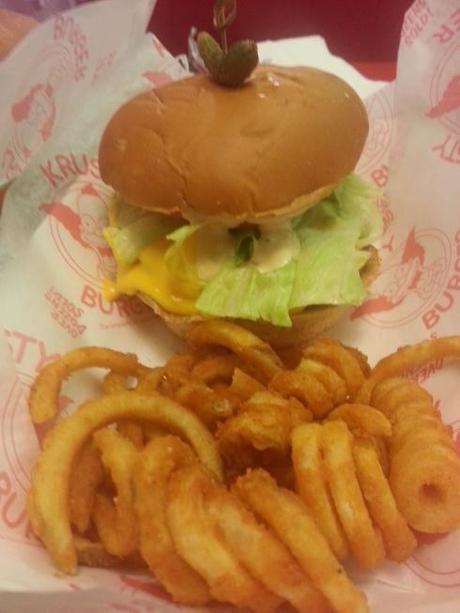 I don't know what the special sauce is, but when they offer it, don't turn it down. Get extra. On the side. It's messy. Delish! Look closely at the paper lining the basket. This is the real deal.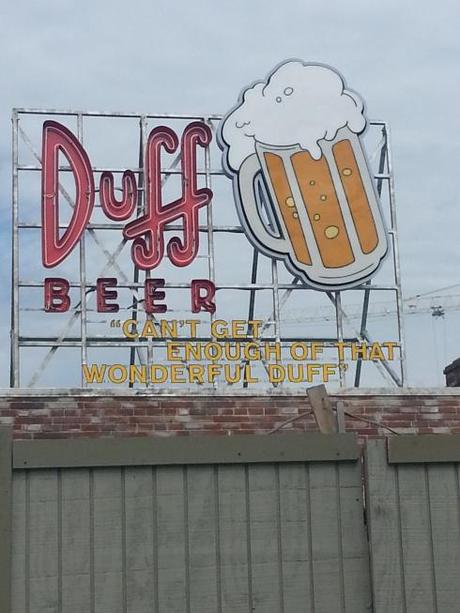 Duff Brewery is going to be an outdoor bar. In addition to the other fine Duff products, it will also offer Duff Dark. It wasn't open the day I was there, but it is now.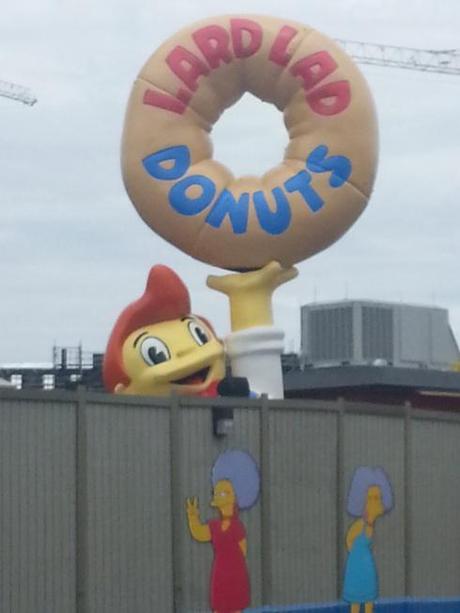 I don't know if Lard Lad will be selling donuts, but you can find pink donuts the size of your head at Kwik-E-Mart.