Baby, you better already know that a lot was going on in my life during the time I lived in Beijing, China! Filled with many plot twists and cast changes, my life in the Chinese Capital continually kept telling me that 'It's Showtime' deserved a post to narrate such chaos! November 2017 saw me making my '北京市' debut, the second year saw the show closed abruptly! Action!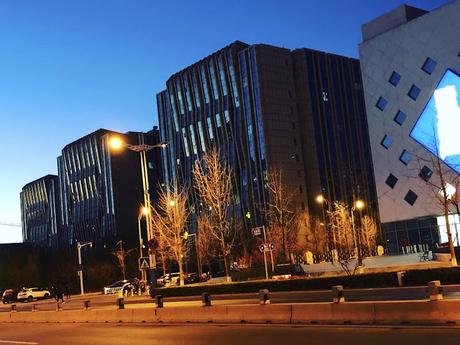 With a Capital set change, I found myself in a seemingly quiet corner of Beijing's vast metropolis. Suburban Shunyi District became my new home, disorientated by the new 'theatrical settings' because Wuhan's Guanggu Square area kept me right in the thick of things! This new arrangement had me looking at some kind of 'new money' situation, I needed to check my script! Had I auditioned for the correct part? Oh, those housing complex's and Tesla's looked fancy pants alright! Clocking the star studded headliners, Shunyi was about to serve two major extremes. Like a musical, this district would show me many different facets of life, you know I saw that 'Overseas Chinese Energy!' My local '物美超市/Wumei Supermarket' had me clocking the 'everyday' nature of those customers, I would be yet to frequent '山姆会员店/Sam's Club' after its 2019 date of completion. Wal-Mart's flashiest super-center served Australian import 'Realness' in an abundance! Caught in a crossfire was I? I floated in between those 顺 extremes. 
My apartment wasn't flashy, it was comfortable with a lesser rent fee for the month, unlike the likes of Chaoyang! No, that wasn't a financial 'horror story' I would have to entertain! Shunyi was like a script in development, so much needed to still be written, well those developments held the plot line! Sure, those new villa complex's and shopping outlets weren't going to transform that Suburban Beijing District without the constant rate of development! I grew to love Shunyi, it gave me a certain anonymity like a 'V.I.P' because I could take my taxi from my apartment into the night, have my Chaoyang night out in the city and then disappear before the sun made an appearance! Like a headlining 'West End' actor, I loved the 'out of the way' vibe that my apartment complex near Capital Airport afforded me. Holidays? Yes, my then '顺义区/Shunyi District' location kept me 'Flying High' with the airport only 23 minutes away from my housing community! 顺义区 life carried on whether you drove a Mercedes or you didn't! 是!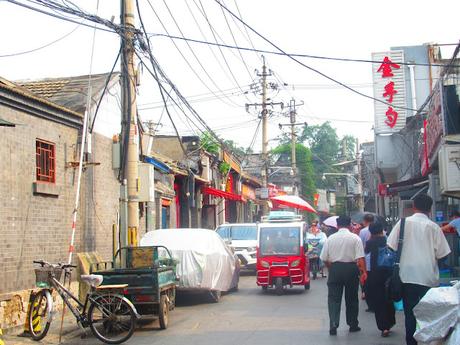 Beijing's winding Hutongs had me captivated, they served a constant pulsing energy, much like a beating heart! Lined up in alleyway formations for the most part, some of these Beijing Hutongs had been beautified with hip coffeeshops and pop up art galleries. Beijing saw me running all over the city, visiting different Hutongs during my two years spent in the Chinese Capital. I loved the understated charm during that '西城区/Xicheng District' Hutong experience that sunny Sunday in July 2018. I found an unassuming yet busy 'Shanxi Noodle House' with a bowl of their finest serving with my name on it! That alley moment had me soaking in a slice of Beijing life during a rather stressful time period, Beijing knew when to send serenity and culture my way! Like a 'ballet', each move throughout that Hutong moment had me feeling balanced. Serving up endless Halal treats, Beijing's own '输入胡同/Shuru Hutong' tantalised my Sunday tastebuds! Located near '牛街', let me just say that Hutong served it up! Oh, 'It's Showtime!' Officially, 北! 
A sober Sunday never felt so good! Embracing that seventh day clear head, I took the 'Beijing Subway' down to '前门/Qianmen'. That thoroughfare was like an 'ensemble' making their way across the stage! Consulting with my maps, I had my sights set to find 'Soloist Coffee Co.' along a side street away from the noise. I loved my romantic rooftop view, releasing the stress I sat with Beijing in my actual sights as I sipped on my coffee and enjoyed my fancy bagel. From that 'musical theatre' setting to a chilled view above a quieter side-street made the perfect transition, Beijing knew when to change the mood. With my Beijing 'finale' growing ever closer, November 2019 took me on both a double Beijing Hutong Food Tour! Breakfast was enjoyed around the '阜成门/Fuchengmen' area of Beijing with many delights I did eat! The evening Hutong experience served '炸酱面' and barbecue with a craft cider finish, I was able to school the tour members about the liquor we sipped on! Doing the most, those 北京 胡同 alleys deserve applause! Get it!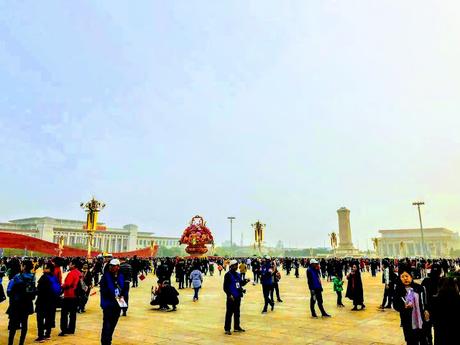 With much trepidation, I put my best foot forward by visiting Beijing's showpiece '天安门广场/Tiananmen Square'. I made sure that my visit happened before my Christmas break in December 2019, I had something big planned for 2020 so a visit to that landmark had to be done swiftly! I had tried to enter from stage left once before but the first time I forgot my passport and second time I didn't want to front the audience-like crowd. Third time lucky without much time remaining in Beijing before that planned exit, I booked up a private guided day tour with 'China Highlights' because that Tiananmen situation stood as something greater! Meeting my tour guide and the remaining members of that informal group situation, we passed through the stagedoor entry points onto the vast cultural space. A true symbol of China and Beijing's governmental heart, it was beyond to see the sea of visitors who were all taking their photos, much like 'paparazzi' at a red carpet film premiere! It was like the 'Wembley' of squares! 
The 'National Museum of China' had originally been a hotspot for me to visit, I remember clocking its location on a map whilst I was still living in Wuhan. Much like London's 'Natural History Museum', that arena of information will remain open for me to revisit from 2023 and beyond. I made sure that I had a snap with a 100 Chinese Yuan note, matching up the 'Great Hall of the People' had me looking at China's own version of England's 'Houses of Parliament', that was a sight to remember! With the famous portrait of 'Mao Zedong' displayed in front of me, that was when I knew it was time to walk through the gates of the 'Forbidden City'. An Imperial spectacle the Forbidden City posed to be, that landmark and Beijing icon also teemed with excitable visitors. Sure, the walled beauty of Beijing's 'Jingshan Park' definitely signified the final act of my Beijing day trip had been played out. Serving up several epic crescendo moments, there's no doubt that Beijing's Tiananmen Square will forever be a 'showstopper!' Serving it all! 
A Capital Showcase! 
Desperately Seeking Adventure