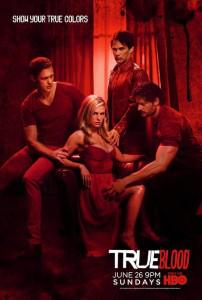 We already really knew this from all the statements made recently by Alan Ball, but now it's official, HBO has renewed True Blood for a 12-episode fifth season.
The renewal of the show was announced today by Michael Lombardo, president, HBO Programming. Created by Alan Ball, the series will begin production of new episodes later this year in Los Angeles, with debut set for summer 2012.
"I am thrilled that True Blood continues to enjoy a phenomenal reception from both subscribers and critics," noted Lombardo. "Alan Ball and his gifted team have devised the greatest thrill ride on TV."
"I remain amazed and delighted by the enthusiasm of our viewers," says Ball. "I can't imagine having more fun than this."
The 12-episode fourth season of True Blood, which launched June 26, has inspired critical raves, with USA Today calling it "exuberantly entertaining," as well as hailing the "superb crew of writers and actors," while the Washington Post called the show "a rollicking good scream" and "addictive."
True Blood recently received four Emmy® nominations, including Outstanding Guest Actress in a Drama Series (Alfre Woodard).
source: spoilertv.com