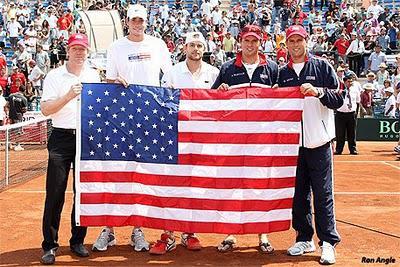 Last week, it was finally and officially announced by the USTA - the 2011 Davis Cup World Group Quarterfinal tie between the United States and Spain will be played July 8 through 10, 2011 in Austin, Texas. My reaction to this? Yay!!! Austin in only a 3 hour drive away so I plan to make this tie a mini-vacation-getaway for myself and at least one other lucky friend this summer. While I think that lucky friend will be my husband, we'll see if he can work up the necessary enthusiasm to be invited along to an event of this magnitude.
If you're interested in getting in on the action, I recommend you visit the USTA's David Cup web page, found by clicking here: USTA - Davis Cup Austin. Tickets don't go on sale until April 4, but you can sign up for e-mail updates and hopefully get good seats by purchasing tickets early.
Should you be unable to attend - it is my intention to be there and give a full blow-by-blow report to my Tennis Fixation followers. It will be the next best thing to seeing Andy and Rafa face off in person!
DON'T FORGET: Leave a comment on this post to enter the Tennis Fixation giveaway for a super cute black and white tennis skort from the www.4allbyjofit.com New Orleans collection. And go this post - What's Black And White And Cute All Over? - for info on how to get more entries for this great giveaway!
BONUS: 4all knows how you're ready to update your athletic wardrobe for spring. So, from March 28 to 31, they're offering a 20% discount on skorts ordered off their website (click on this link: www.4allbyjofit.com to start shopping). Just use the code SPRING11 at checkout.
Photo via www.usta.com.


© Kim Selzman 2011 All Rights Reserved