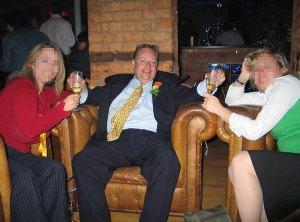 Paddy Ashdown's former press advisor Jo Phillips has popped up in today's Daily Telegraph to advise women they should "toughen up". It's the most ridiculous comments I've read throughout the whole scandal over allegations the Lib Dem's former chief executive Lord Chris Rennard groped up to ten women.
Well, not the most ridiculous. That prize has to go, as ever, to Rod Liddle of the Spectator who wrote today that its' okay to sexually harass "lithesome bints" if you are good-looking. Just as well no-one takes this bottom-dwelling pond scavenger seriously.
But returning to Jo Phillips, her comments really made my blood boil. She said:
"If you're going into politics, you're going into a very tough world. It's tough for men and women. There's a lot of bullying, there's a lot of nastiness, there's a lot of appalling behavior that you'd never get away with outside politics so you do have to toughen up a little bit."
In other words if some powerful but oily creep squeezes your derrière don't cry and get upset, pull yourself together. It's how politics works. It's a man's world, you know.
Phillips is effectively giving men a green light to carry on with their macho culture and telling women to put up with it.
She also appears to forget that standing up to unacceptable behavior is the toughest thing to do. Keeping your head down and tolerating sexism is the easy way out. As such any woman that comes forward to complain about mistreatment by a man deserves to be applauded and her actions should not impact on her career.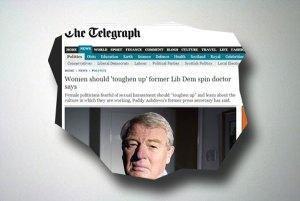 What makes it harder to challenge harassment is when colleagues choose to keep quiet. And certainly in the case of Lord Rennard there are questions as to what extent women in the party who knew what was going on – and men for that matter – stood up to be counted. Certainly the former MP Sandra Gidley was conscientious enough to raise the matter in person with Nick Clegg but if others had taken a leaf out of her book would this issue have lain dormant for so long before exploding years later during a crucial byelection?
I've no wish to make life any more difficult for women in the party though. The most important issue for me is not so much 'who said what to whom and when? but getting to the root of the problem. And that is not merely failures in procedures but addressing the whole question of macho culture in politics.
Of course this issue is far from exclusive to the Liberal Democrats. Every party is plagued by it. But as the Lib Dems are currently investigating what happened I'd certainly like to see the wider cultural issue explored. If there were failures to properly investigate claims at the time or attempts to dissuade women from taking the matter further to what extent was this caused by a 'canteen culture' of Alpha-maleness?
In many ways it is the same question that some Black and Asian party members want answered when it comes to the failure of the party to give racial diversity the priority it deserves.
As well as looking at wider cultural attitudes towards women this is an ideal opportunity to have an open debate about mechanisms to improve gender balance in the party.
While around half of the target seats which have selected candidates for the next general election have picked women, in reality no-one is expecting the Lib Dems to gain any seats in 2015. The only question is how many of the current sitting MPs can hold onto their's. And presently just seven of them are women.
Worse, the New Statesman has reported that most of the current seven women MPs have tough battles to hold onto their seats. The magazine says:
"Back in 2011, research by the Fabian Society showed that five of the Lib Dems' seven female MPs, including Sarah Teather, Jo Swinson and Tessa Munt, hold seats among the party's 12 most vulnerable, while none hold any of the 20 safest.

In addition, the two 'safer' seats held by Lib Dem women – Cardiff Central and Hornsey & Wood Green – are vulnerable to a Labour challenge. As Sunder Katwala noted, "both were gained in 2005 from Labour, through appeals to students and voters disillusioned with Labour over Iraq and other left-of-centre issues.""
In other words it doesn't so much matter how many women are selected in target seats the party doesn't current hold, we need to save the women we have.
And the same is true when it comes to BAME representation. Yes, running in target seats will give Black and Asian hopefuls valuable experience for the future but if we want to make a breakthrough in 2015 – and we must – then some sitting MPs will have to make way.
If they don't then the outcome is clear; the Lib Dems will continue to have an all-white Commons team after the next general election and Clegg's pledge early in his leadership to consider all-Black shortlists "the election after next" will come to the fore, because that election-after-next will have taken place.
Similarly, if we want more women in the Commons then some sitting MPs – particularly those in 'safer' seats – ought to get up and allow women to sit down.
Looking at the Fabian Society's figures the worst case scenario is that the Lib Dems end up with an all-male as well as an all-white set of MPs. Anyone who thinks that's scare mongering just needs to cross-reference the prospect of losing half the current seats with where the women MPs are.
Some women in the party oppose the notion of all-women shortlists, which Labour have run since 1997 and are still doing so. But I'm firmly in favour of them as a short term measure. They work and, as Labour can testify, they have helped change the macho culture of their party.
Why? Because a critical mass of women gain strength from each other to push forward an agenda to combat sexism inside politics and also to promote more female-friendly policies to the voters.
It is on these issues that the Lib Dems needs to "toughen up". Because as welcome as new anti-harassment procedures would be, they won't in themselves change the wider macho culture. That can only come about by determined action to improve gender balance in the party.
By Lester Holloway @brolezholloway