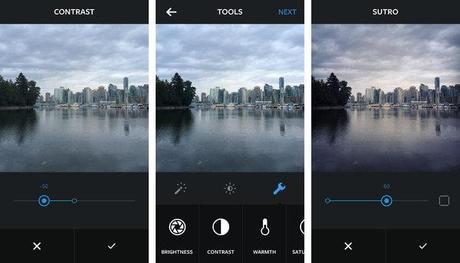 'Click and Share' has become the most instant and world-wide accepted form of communication in today's tech-savvy world. No matter what you have in mind, a click ornamented with the hash tags is enough to portray all kind of emotions you are going through. Instagram is one hot buzz in the town. With this app, everyone stands above the average. This fashion device enabling you with multiple features of photo sharing is a parade to all from perfectly cut mornings to wondrous moonlighting bed and all that comes in between.
Now, the tech savvy strivers exploring the realm of urbanization would be even more amazed with the unrealistically amazing looks of the pictures on Instagram. The service of Instagram is rolling out a perfect combination of unbeatable and powerful new set of tools that will allow the users to enhance the images clicked, easily and quickly.
Instagram goes beyond its gauzy filters!
Unlike the old style of Polaroid, filters used to enhance the images come along with Instagram's hallmark as it was founded in the year 2010. Various tools like highlights, contrast, shadows, and brightness of the picture and the other distinct adjustment facilities of character and picture optimization make this one and only one app flawless and popular among almost all the age groups. Its intuitive controls on screen, provides users with perfect resolution and manipulation features.
Newly added tools for Instagram to justify the editing purpose with absolute finesse, is compatible with the iOS and Android Operating System. Most of the editing tools used over smart phones and desktops to enhance the images and photos could be compared on similar lines; more or less. But, the features offered for the photo-editing by the Instagram service are the best of all. This can be a supported notion by many of the people because of its easier and sophisticated novelties of technology that could not be seen in most other relevant applications.
Kvin Systrome who is the co-founder of the Instagram application says that Instagram will open new realms of both technology and photography for people. Facebook acquired Instagram in the year 2012 and since then, even more and more additional features were summed up into the service for its betterment and brighter future. Lavish resources of Facebook have leveraged the service of Instagram to raise its standard rapidly. With more than 200 million users, the popularity of the app has redefined the way of communication majorly.
Not really perfect nature of the mobile photography are highlighted and then polished to well acceptable perfection to spread and flaunt with kith and kin. With great efforts of Systrome, the app has become a buzz for all.
All of it is done in few simple steps. Once a photo is clicked, import it from your phone's library and tap on to the panel of image. After this polish your image with all the advanced functionalities and well, you are ready to go!