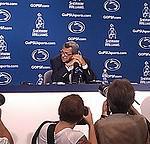 It has been confirmed that 8 boys were victimized by former Penn State defensive coordinator, Jerry Sandusky.  The victims were forced to engage in oral sex, fondling, and/or forced to have anal sex.  Graduate assistant coach Mike McQueary walked in on Sandusky having anal sex with a boy who looked to be 10 years old.  That graduate assistant reported it to Penn State football coach Joe Paterno, Paterno reported it to athletic director Tim Curley and VP for Finance Gary Schultz, and the buck continues to pass.  Amazingly, no one reported any of this to the police.
Paterno and Penn State University President Graham Spanier have been fired for their inactions so naturally the students at Penn State protested and rioted in response.  Please see video of riots and student sentiments below:

I find it incomprehensible under any circumstance that I could have knowledge of a man having anal sex with a child and I not report it to the police or I not make some attempt to stop the action.  Now to the rioting idiots: you've got to be kidding me right?  About 1 minute and 2 seconds into the above video, a man goes off on a tangent about good ol' Paterno. "You call him a legend treat him like a legend."   Another quote, "Jo Pa should not be taking the fall for this."
Read the grand jury's report.  Warning: it is graphic and disturbing to say the least.  I, for one, could not get through more than 2 pages.  Read the grand jury findings and tell me how we should treat the legend and who should take the "fall for this."  I don't give a flying fart about Paterno's legacy. 
Victim after victim after victim of this sick bastard Sandusky had to recount their tragedy to the grand jury and the students riot in support of Paterno? Really?  The students rant on about the media.  The victims plight only comes into play when a reporter forces the subject.   There will be more victims who will come forward or maybe not.  But we all know that there are more victims. 
To make this about Paterno is a real slap in the face to all those who have been scarred by Sandusky.  Little boys who have had their bodies, minds, and spirits assaulted because a grown man forced sexual contact on them, that's the news story here.  Not another word about Paterno's legacy; it's officially screwed by this scandal so get over it.  Children were abused and adults stood by and did nothing.
Riot about that.