Today is
Halloween
. I hate Halloween. I really loathe it. There are too many reasons to go into. Some involve me being an Asperger's person dealing with costumes, masks and makeup, not to mention parties and being among masses of people. Some reasons involve the open invitation (one that
I
didn't issue) to come to my house. Some objections involve being a teacher and having strangers offer candy to children. And most of my reasons are spiritual.
I grew up in New England, not too far from the
Salem Witch House
.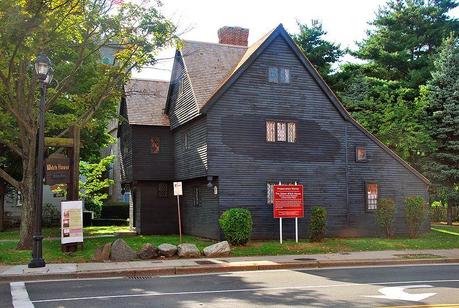 I went to college in Bangor and lived lived in Maine most of my adult life, where Stephen King's wrought iron fence in Bangor adorned with bats, spiders and three-headed dragons was part of the neighborhood landscape.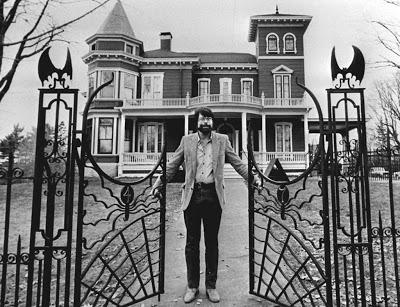 Stephen King opens the new gates to his bat-guarded Victorian home
in this November 1982 photograph.1982 BDN photo by Carroll Hall
Michael Jackson's Thriller scared us to pieces when it first came out on MTV.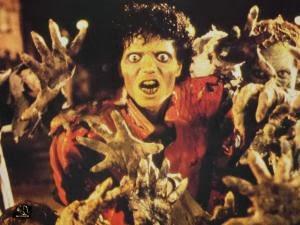 I'm well aware of the origins of Halloween, and I'm pointedly aware of the holiday's occultic embeddedness on secular people. That's why I'm always conflicted over Halloween when it comes to church activities. John MacArthur has a good
essay on it here
.
Anyway the whole zombie thing was on my mind. What
are
zombies, anyway?
Wikipedia
has a nifty definition.
"
A zombie is an animated corpse raised by magical means, such as witchcraft. The term is often figuratively applied to describe a hypnotized person bereft of consciousness and self-awareness, yet ambulant and able to respond to surrounding stimuli.
"
You've seen it, the shuffling walk, the ghostly rotting flesh, the audible groans. Zombies.
The zombie's rise in cultural consciousness has grown to the point of the notion of the
zombie apocalypse.
"
Intimately tied to the conception of the modern zombie is the "zombie apocalypse"; the breakdown of society as a result of an initial zombie outbreak which spreads. This archetype has emerged as a prolific subgenre of apocalyptic fiction and been portrayed in many zombie-related media after Night of the Living Dead. In a zombie apocalypse, a widespread (usually global) rise of zombies hostile to human life engages in a general assault on civilization
."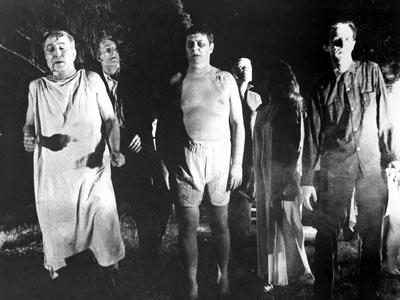 George A. Romero's Night of the Living Dead is
considered a progenitor of the fictional zombie
of modern culture.
Walking corpses. Does that remind you of anyone? The animated dead. Still nothing coming to mind?
Animated dead people, conscious and able to respond to outward stimuli?
Lost people.
Every person on the planet who does not believe in the name of the resurrected Jesus Christ as Lord and Savior, is a zombie. They are alive, but they are dead.
"And you, who were dead in your trespasses and the uncircumcision of your flesh, God made alive together with him, having forgiven us all our trespasses," (Colossians 2:13)
Please always remember that those without Christ are just as empty as the fake zombies appearing in movies and television. They do not have the hope of Christ in them. Only Christ makes us alive!
"
Therefore, if anyone is in Christ, he is a new creation. The old has passed away; behold, the new has come.
"(2 Corinthians 5:17)
"
I will give you a new heart and put a new spirit in you; I will remove from you your heart of stone and give you a heart of flesh.
" (Ezekiel 36:26)
Even the description of the zombie apocalypse sounds like the conditions will be like on earth immediately after the rapture, when no true believer is left. In those moments after the rapture, the entire earth will be populated with zombies: lost people who are dead in their sins and trespasses, robotically walking around and unknowingly or knowingly submitted to satan, who roams the earth looking for those whom they may devour.
I don't need to 'celebrate' Halloween, not when every day I see a lost person in their hopeless state and I am in agony for them. Not when I am being attacked at every turn by false teacher zombies holding out hands grabbing for my money, or putting books full of poisonous false teachings into my and my friends' hands. I don't need to pay any more attention to Halloween than it deserves, because on earth, every day is Halloween. Why look at costumes of bloody people when the only blood that can re-animate dead corpses was shed on the cross at Calvary? Blood that has been and is forever once for all shed?
The earth is a graveyard of sin and death, lost people are un-animated corpses needing to be born-again, and the costumes we wear are the soiled garments of unrighteousness.
Jesus Christ is the Light, the only Light in a dark, dark world. What we should celebrate is being born from above and entering the kingdom of heaven This is what we can and should celebrate. Why look at death, zombies, and hell, when heaven is available to each and every person on earth during this age of Grace! Let grace reign, look to Jesus. Look up, our redemption draweth high!
But he said to me, "My grace is sufficient for you, for my power is made perfect in weakness." Therefore I will boast all the more gladly of my weaknesses, so that the power of Christ may rest upon me."
(2 Corinthians 12:9)
"
And from his fullness we have all received, grace upon grace.
" (John 1:16)