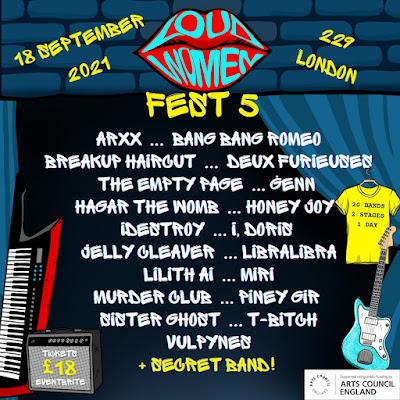 We are beyond excited to be welcoming you back to LOUD WOMEN Fest this Saturday at 229 The Venue. After two postponements, our 5th Fest is effectively 'LOUD WOMEN Fest 2020!'. It's an amazing lineup, at a really brilliant venue - right by a tube station, totally accessible, and open to ages 14+. Thanks to funding from Arts Council England, the Fest will be our biggest and best yet.
Looking forward to seeing you at 229 on Saturday!
Tickets for LOUD WOMEN Fest are available for £18
Full line-up:
ARXX
Bang Bang Romeo
Breakup Haircut
deux furieuses
The Empty Page
ĠENN
Hagar the Womb
Honey Joy
IDestroy
I, Doris
Jelly Cleaver
LibraLibra
Lilith Ai
MIRI
Murder Club
Piney Gir
Sister Ghost
T-Bitch
Vulpynes
+ a special performance of 'Reclaim These Streets' by the Loud Women All Stars supergroup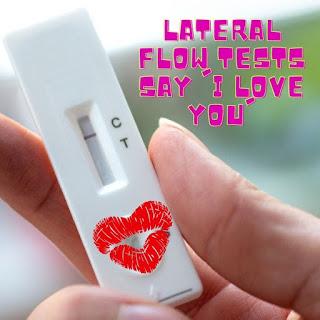 #takeatest #letthemusicplay
We want to make sure that we keep everyone - our crew, our artists, our audience and the venue staff - as safe as possible during this awesome event.
Let's all look out for each other with sensible precautions - giving people space, and choosing to wear a face covering if possible in confined spaces.
It's good form to take a lateral flow test on the day of the festival. Encourage friends coming with you to do likewise.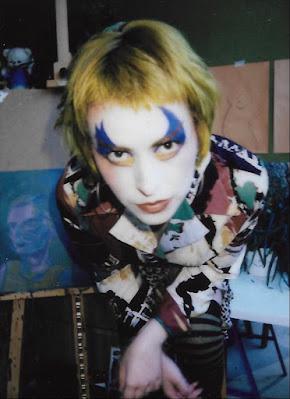 Afterparty with DJ Kat Hudson
If you're coming to LOUD WOMEN Fest 5 this Saturday, at 229 Great Portland Street, you'll be treated to 20 awesome bands between 1pm and 11pm ... but the fun doesn't stop there! From 11pm onwards we welcome DJ Kat Hudson to step up to the platters that matter and keep us dancing until the patriarchy falls ... at least, probably until about 1am, whichever comes first.
Kat Hudson is a local London artist, curator and DJ. Kat recently co-curated the Rebel Dykes Art & Archive Show with Atalanta Kernick at Space Station Sixty-Five in Kennington and has been DJing on the queer scene since 2018 when she founded club night Femmetopia with Phoebe Patey-Ferguson! Kat also recently founded LGBT+ arts and nightlife zine Lesley Magazine and can habitually be found spinning records at the West-End's favourite back alley gay bar, The Retro.
Expect all your favourite disco, pop, electro trash and riot grrrl tracks to ride off the back of all that fabulous LOUD WOMEN live music energy and dance your way into the night!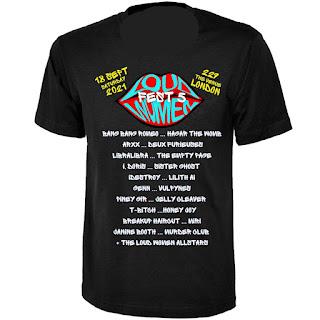 Limited edition LOUD WOMEN Fest T-shirts!
As well as our gorgeous new assorted rainbow coloured t-shirts, we've also pressed a limited number of LOUD WOMEN Fest 5 t-shirts - with the LOUD WOMEN Fest logo on the front, and this year's lineup of a band names on the back!
We'll be bringing them to the Fest on Sat, but if you want to make sure to grab your fave colour and size, order now on Bandcamp and we'll put it aside for you to take at the Fest (we will refund your postage if you take this option)
Sizes from XS to XXXXL 💋❤️💛💚💙🖤💗