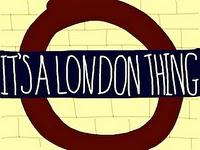 It's a London Thing is our Wednesday series in which we turn the spotlight on a unique aspect of London – perhaps a curious shop, sometimes an eccentric restaurant, a hidden place, book or oddity. The subject matter will be different every week. The running theme, however, will remain constant: you have to come to London to enjoy it. It's A London Thing.

A word about

The Mothership

– www.walks.com.
It really is an extraordinary resource, you know.
You can dash in for a quick wash and brush-up – find out, at a glance, in 12 seconds flat, whatever, what walks are on, say, tomorrow afternoon.
Or you can have a good old soak – take a bubble bath in it because it's well written, lovingly written. And because it's got an Aladdin's Cave quality to it.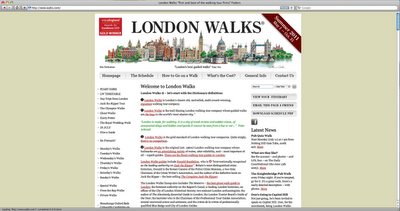 We hear it all the time – "the London Walks leaflet – the London Walks website – has got to be the most literary production of its kind ever". We think that's probably true. For several reasons. One, the brochure – and the websites – are written by people who can write well. Two, they're very well read. Three, they're magpies.
Add Two and Three together and the Famous Five you get is this: in that voracious reading of theirs they come across something really special that connects up or "fits" it'll get worked into the weave of the website (and sometimes the leaflet, though space is more limited on that single sheet of paper).
Here's a case in point – the kind of thing you find if you have a good mosey around – take the bubble bath. It's a popup – one of the bells and whistles – on the British Museum Tour page. Indeed, it's a brand new popup. Which is by way of saying, David's been hanging out of late with Uruguay's greatest novelist!
The Parthenon Sculptures. Here, surely, are the most lapidary words ever written about them. Words – they're by the Uruguayan novelist Eduardo Galeano – that keep company, in several senses, with Keats', Thou, silent form, doth tease us out of thought…
"When Lord Elgin filched what he filched, the Parthenon had already been devastated by weather and war. Erected to the eternal glory of the goddess Athena, it endured the invasion of the Virgin Mary and her priests, who eliminated several figures, rubbed out many faces, and mutilated every penis. Many years later came the Venetian invasion and the temple, used as a powder house, got blown to pieces.
"The Parthenon was left in ruins. While the sculptures that Lord Elgin took were broken and remain so, they speak to us about what they once were:
"that tunic is just a piece of marble, but in its folds sways the body of a woman or a goddess,
"that knee walks on in the absent leg,
"that torso, decapitated, bears an invisible head,
"that bristling mane conveys the missing horse in full whinney, and those galloping legs how it thunders on.
"In the little there is, lies all that was."

And there's more where that came from. Have a root around at www.walks.com
The Mothership – www.walks.com. It's A London Thing.
To follow us on

Twitter

,

Facebook

,

Bebo

or

MySpace

, to watch

London Walks

Films on

YouTube

, to send us an email or simply to catch up on the latest

news

from www.walks.com, click on the appropriate icon below…