You may get run over if you're not careful backstage at Toronto Fashion Week. Being backstage is like watching a highly efficient anthill. Everyone knows their role and where they are supposed to be. Make-up artists busily apply make-up on models three hours before a show and chat with them on the side. In an amongst her very busy Fashion Week schedule, I was able to watch a beauty presentation with Maybelline Canada Lead Make-Up Artist, Grace Lee. Here's what she had to say about the beauty look she created for the VAWK fashion show and the beauty trends to come this Fall.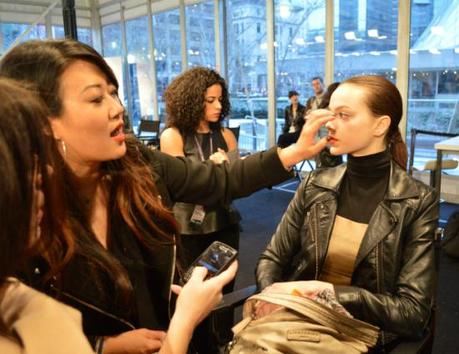 Collaboration is key
When Grace explained the beauty look that she created for the VAWK presentation, she was sure to mention that it was in conjunction with designer, Sunny Fong. The highly anticipated show is always a crowd pleaser and this is partially because the looks are complete from head to toe including the perfect make-up. To create the look for VAWK, Grace took Sunny's vision of Nordic style beauty and created a look that was monotone with a palette of pale skin but place emphasis on bold lips and brows. She emphasized the paleness of each model's natural skin tone, no matter their shade, and stayed away from blush and bronzer.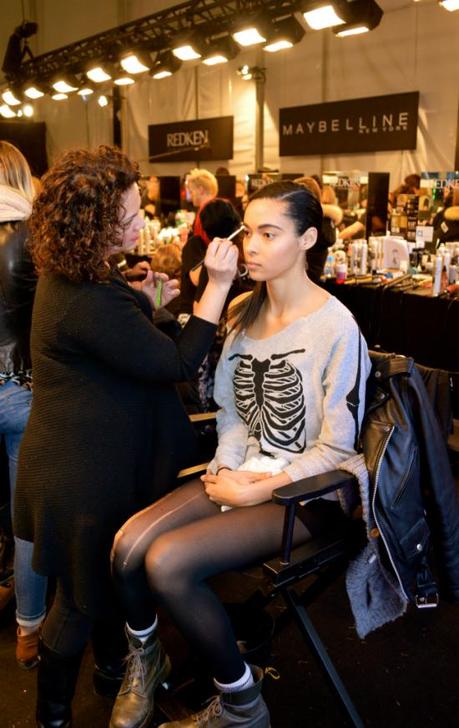 Skin is in
I asked Grace what Fall and Winter beauty trends we should look out for this year besides the full brow a la model Cara Delevingne and she said that skin is always in.  Natural looking skin, freckles and all, are what people will be going for. Grace uses Maybelline 'Baby Lips' lip balm in 'Quenched' to add a dewy glow to the skin and to accentuate cheekbones and draw attention to brow arches.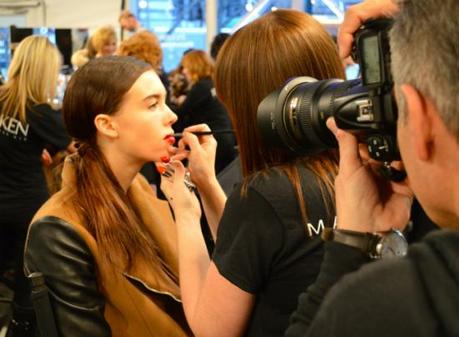 Try streetstyle colour
Whether it's your nails or your lips, color is still an essential part of your make-up routine. When I asked Grace about whether streetstyle beauty trends influence the work that she does for fashion shows, Grace quickly said yes! When listening to Sunny's vision for the VAWK, Grace created a look that both played up the streetstyle beauty trends of a full brow and a bold red lip, and brought to life the Nordic beauty through the flawless pale skin. With a wide array of colours to choose from in Maybelline's lipstick collection, changing up your lip color for Fall is a simple way to update your look.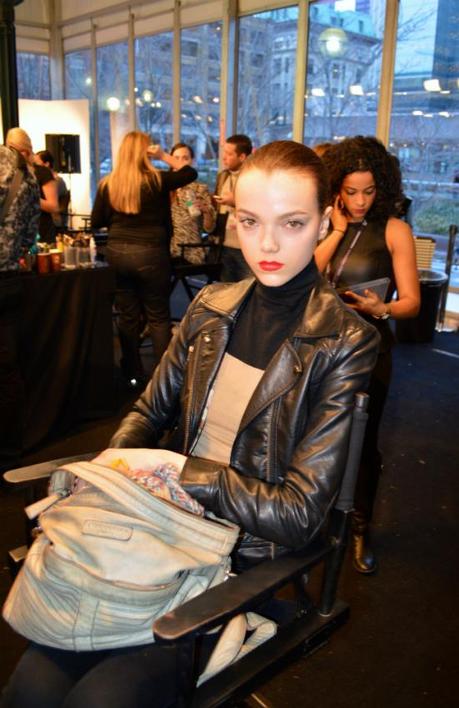 Go au naturel
Natural skin looks best when complimented with a natural hair style. The models for the VAWK show make have been rocking a sleek, deep side pony, but their hair was also frayed out at the ends in a fan shape. This fraying effect plays on the natural crimp that some of us have in our hair. So consider being comfortable with your natural hair next rain day and embrace your natural texture.
Beauty this Fall seems to be all about contrasts – play up your natural skin and brows but add interest with a bold lip. For more beauty updates from Grace, follow her on Twitter @graceleebeauty.