In the blink of an eye, baby Ansel has turned one year old.
Yup, it still seemed like yesterday when my water bag burst unexpectedly and I gave birth to this strong, healthy baby boy when he was just 35 weeks old. We overcame high jaundice, a
frenotomy
and his initial refusal to drink from the nipple in the first couple of months before settling into a comfortable routine. Every day, I am thankful for this little miracle who came into our lives and brought an immeasurable amount of joy and blessing to our humble family.  Born during the pandemic, this precious little one turned one year old just a few weeks after he and his siblings recovered from Covid. With all the rules and limitations in place, we were not able to hold a grand celebration for him but that's not to say we couldn't do anything special, right? Firstly, we came up with a theme and that wasn't hard considering how much he loves dancing to Baby Shark these days. Next, we sprung into action, did the DIY decor together and I came up with game ideas for the kids. 
Here's sharing all about Ansel's 1st birthday party and how we had a soaking good time all in the comfort of our home.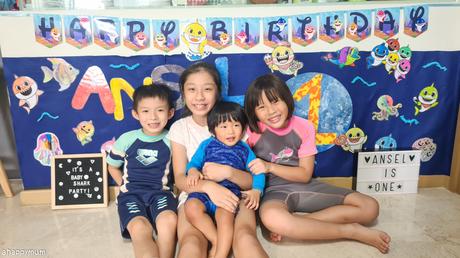 LET'S DECORATE 
I love that every birthday party gives us a reason to come together to do some art and craft. For Ansel's party, we decided to transform our wall into something that looks under the sea so as to be in line with the theme.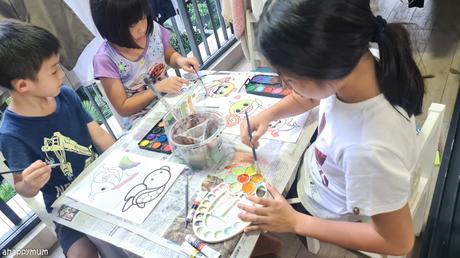 The "Happy Birthday" bunting was printed using our printer and I added the shark family onto a seabed background. I printed out colouring pictures of the sharks as well as sea animals and got the kids to work! Hee. They were only too happy to get creative with paint, markers and crayons.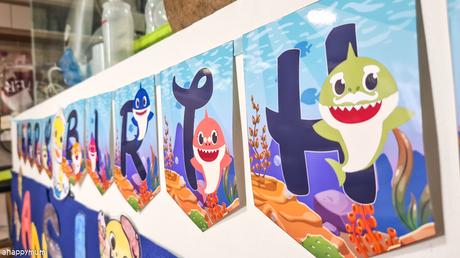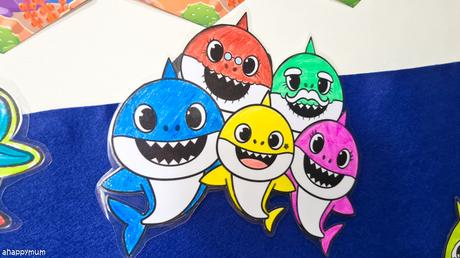 The sea turtle done by Asher is one of my favourites! I love how he wasn't afraid to experiment with colours and the rainbow hues turned out to to be beautiful. He also splattered some small dots of brown paint onto its face and I thought it looked natural and nice. My other favorite is the Baby Shark which was done using scraps of yellow paper by Ariel. Creative and cute!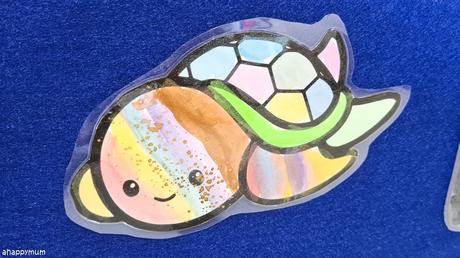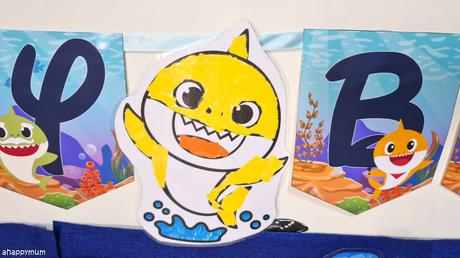 The big girl took charge of drawing bubble letters for Ansel's name since she has the neatest handwriting. The sister and I then proceeded to paint each of them and she told me she was so happy that she got to do painting with Mama, awwww. Yup, each of us had a different role to play but it was heartwarming to see how everything came together bit by bit.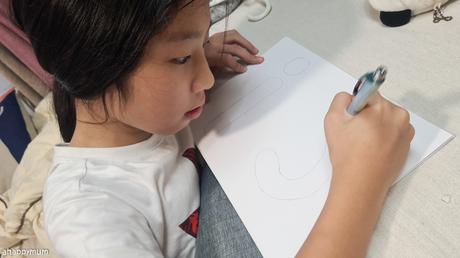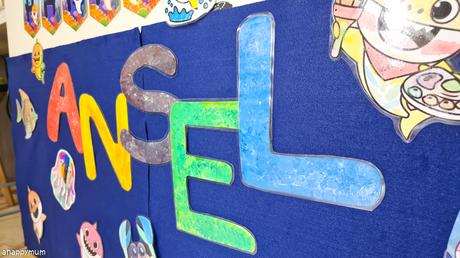 One of the highlights is the gigantic number "1" and this took time and effort from all of us. While the three of them painted the backdrop with varying shades of blue and white, Asher and I then did a paper collage with yellow and orange paper for contrast.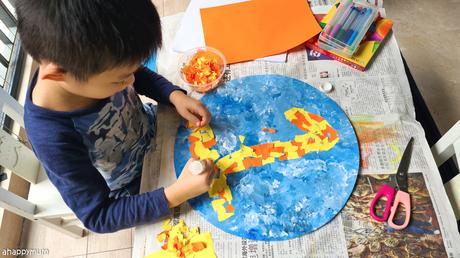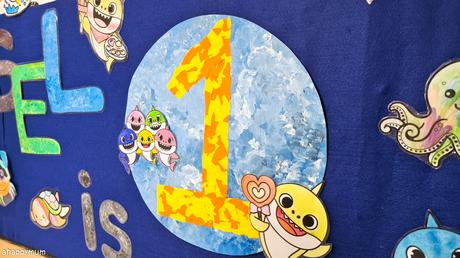 There, here is our completed wall! The dark blue backdrop is done using felt bought from Daiso and the waves are made with crepe paper. Pretty good effort for a DIY wall, right? Every element contains our love and well wishes for the baby and that is why this wall is truly priceless and one-of-a-kind.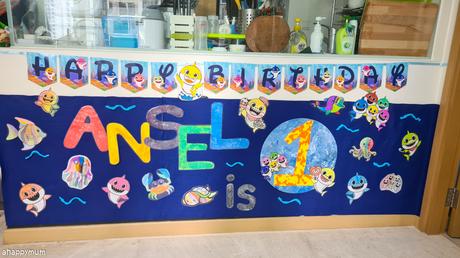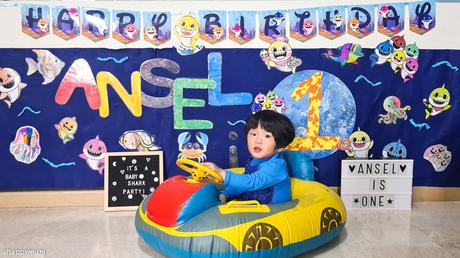 LET'S SET UP  
The party was held on his actual day which was a Wednesday so while the kids were in school, I set up the whole balcony to surprise them. It took me some time to clear away the laundry rack and the mess that we usually have so this wasn't as straightforward as it seemed.
I also surprised them with a huge inflatable pool so we could have our own mini onsen right in the comfort of home. That was the best part of the party and the highlight of it all. Yup, totally worth the time and effort spent in inflating it! How did I fill it up with water? Well, after the past few water play sessions where my back ached from all the lifting and carrying of heavy buckets, I decided to invest in a hose this time and it was such a lifesaver. Phew!
Add a mini bathtub that belongs to Ansel, a few buckets and empty bottles, an inflatable float, our mini slide, some fishing toys and water guns, and we are ALL READY!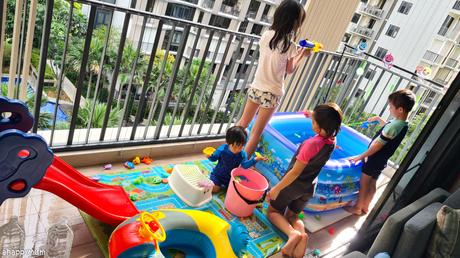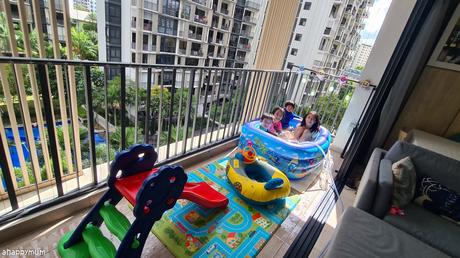 That's right, all five of us got into the pool together! It was a bit of a squeeze but a warm and happy one. Literally because we put warm water inside and metaphorically because our hearts were so full of joy and gratitude. I was half thinking that I would spoil the pool but no way was I gonna miss soaking in this onsen with my kids and letting them know that Mama isn't too old to join in the fun.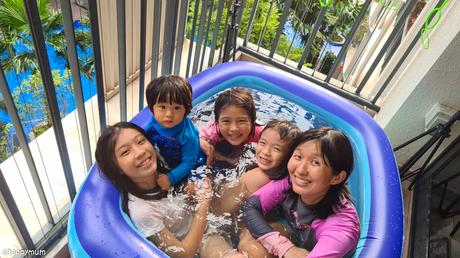 LET'S PLAY

Time for the games! Yup, no party is complete without some fun so I racked my brain to come up with activities for the kids to enjoy. It's not always easy as my kids have quite a big age gap but the good thing is even though the kids are getting bigger, they still enjoy simple activities and will never hesitate to play kiddy games with the baby brother.
1) Hunt for the Sharks
 The first challenge was to hunt for the sharks and scoop them up with a net within the fastest time. This was made harder with the addition of dozens of other fishes so you have to have a good eye and quick reflexes to be the winner.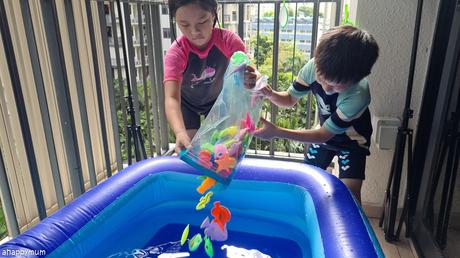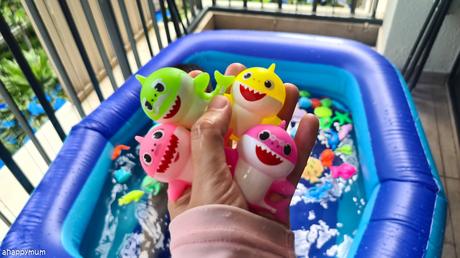 2) Hook-a-fish
My kids love the hook-a-duck game at carnivals so I decided to let them do a fish version at home. I used a permanent marker to write random numbers onto every of the fish and these would add up to be their points. While the first game was totally by luck as they couldn't see the numbers from where they stood, the girls subsequently remembered in the second game which fish had the highest number (5 was the max) and would try to compete to fish those while Asher happily continued to choose his randomly. Haha.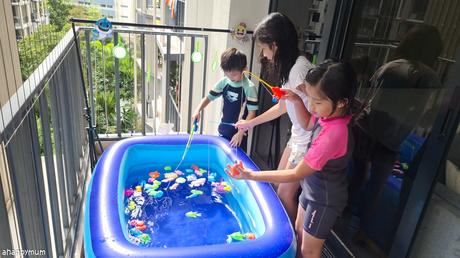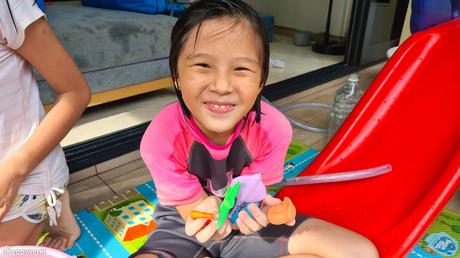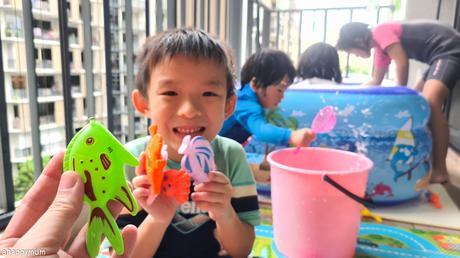 3) Aim and Shoot
This was a fun game that they loved! I got these fishing nets with tracing paper from Daiso and used them as shooting targets by hanging them from a stand. Good idea, right? There was extra paper provided in the pack which made this game a cheap but fun one. The kids just had to stand from a distance and shoot with their water guns! The highlight was being able to change your normal gun to a power Super Soaker for 10 seconds after every minute so you gotta make full use of that extra bonus and see who shoots the targets in the shortest time.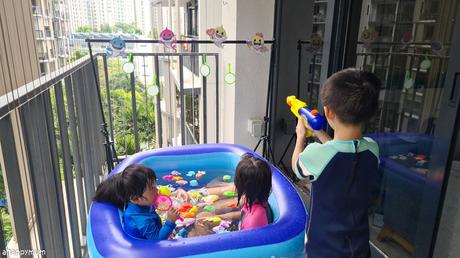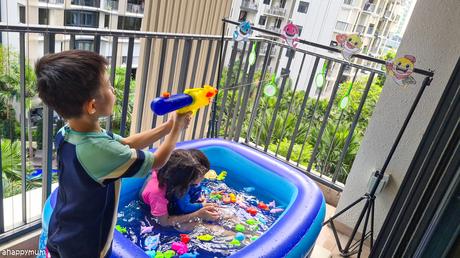 4) Let's Draw

It's always fun to draw and create so for the next activity, the kids were tasked to draw their own version of Baby Shark onto a kitchen towel. They had to do it carefully so as not to break it. Ta-dah, see their final masterpieces below!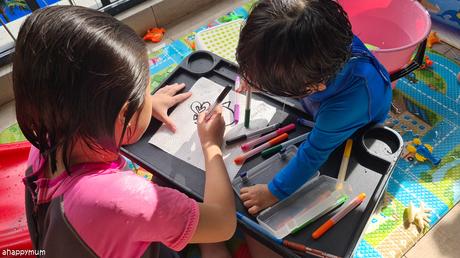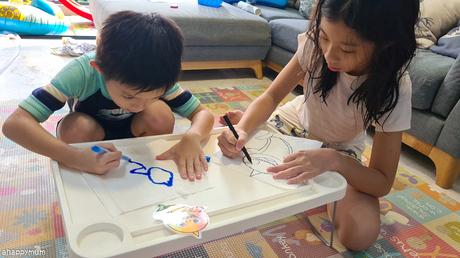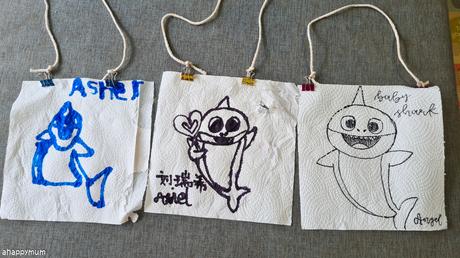 5) Run Away
Guess what the artwork was gonna be used for? Well, the sharks are gonna run away!
Each of them took turns to be the 'shark' and had his/drawing hung in front of the chest. The other kids would then take the water guns and shoot away! You gotta wiggle, dance and spin around to protect your shark from getting wet or destroyed. See their funny antics in our video below, we had such a good laugh from this despite the fact that the ink smudged and stained the water in the pool and I had to change all of it halfway. It was still a joy to to see them happy!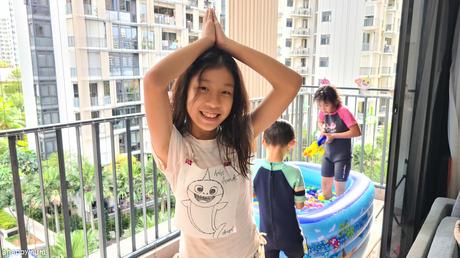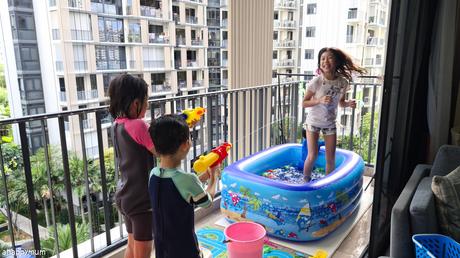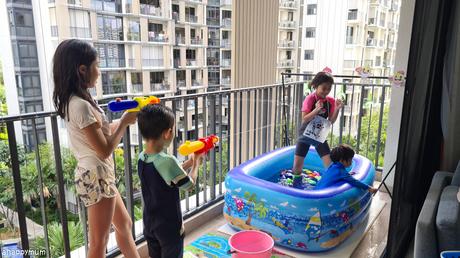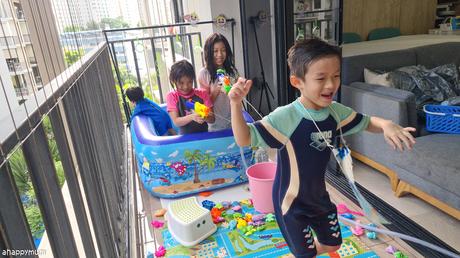 6) Let's Dance
Of course, we can't miss out on doing the iconic Baby Shark dance, can we? This was a mum-and-kids moment to remember and I hope we will always be able to dance together.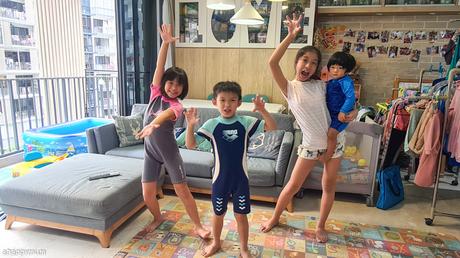 While the birthday boy might not have been able to join in all the planned activities, he had a blast that afternoon. He loved the slide and went on it umpteen times, he was contented to play with a bucket of water and keep scooping fishes, he laughed when we danced and he was the happiest baby that day especially when we had the cake cutting ceremony. 
FAMILY MATTERS
 At night time, the hubby made an effort to come home earlier so that he could join in the ceremony too! Ansel is at the age where he loves hearing the birthday song, attempts to blow a candle even though he can't really do it yet, and then just keeps clapping and looking around in joy when we sing
"Happy Birthday."
It's such a joy and blessing to be able to do this with you, dear baby boy.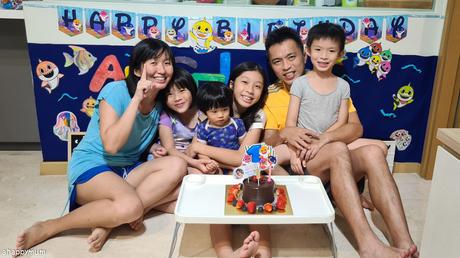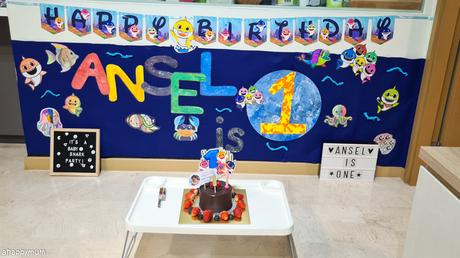 We make it a point to celebrate every of the kids' birthdays with our parents so it was no exception this time round. We had a cosy, delicious homecooked meal, thanks to the hubby chef, and the grandparents had a good time catching up with one another too. Sometimes, the kids would say that the grandparents only keep chatting during gatherings and don't play with them at all so I tried to include a Bingo game where everyone could take part together. Each person forks out $2 to get a Bingo card and the winner takes it all! Simple but fun, right? We ended up playing a few rounds because everyone from young to old enjoyed it.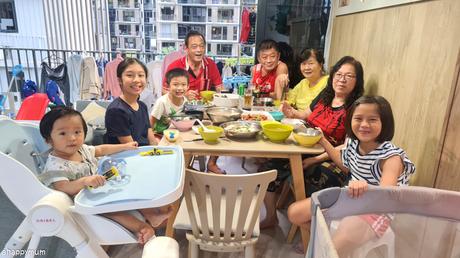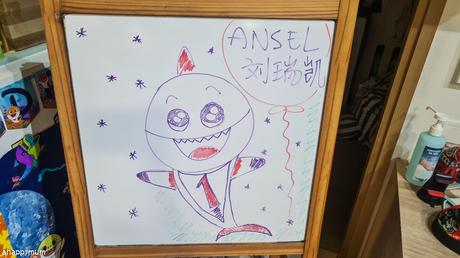 Check out Ansel's special Baby Shark cake from Piece of Cake! Yup, this was where we got all the toppers and then used them as props for our games during the party, hee. I reckon he should at least get a prettier and nicer cake since it was his first birthday after all. He had a taste of it afterwards and it was his first ever cake! Makes it even more memorable, right?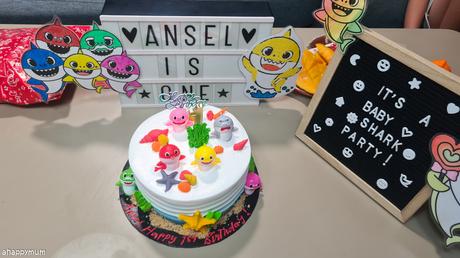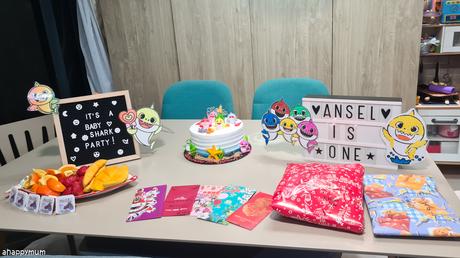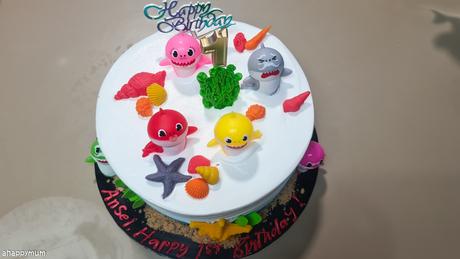 Big thanks to the parents for taking time off to join us. to the hubby for cooking for everyone, to the kids for being the best siblings to Ansel and for taking care of him, doting on him and loving him to the moon and back. Just as we are blessed to have in our lives, he is also fortunate to have the three of you as his Korkor and Jiejies too. I sure hope everyone joined the Baby Shark Party and had lots of fun!
Ending off this post with a photo gallery because there are just too many precious pictures that speak to my heart. Yup, my last baby is officially a toddler, pardon me while I shed a few emotional tears.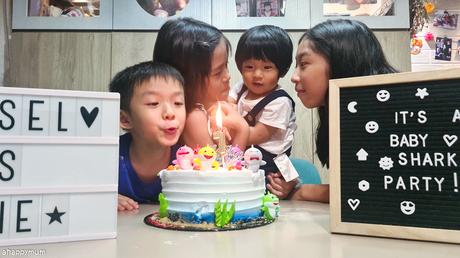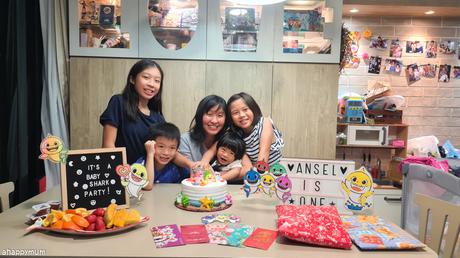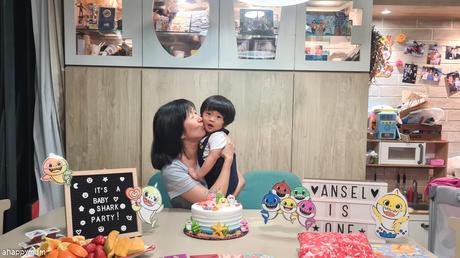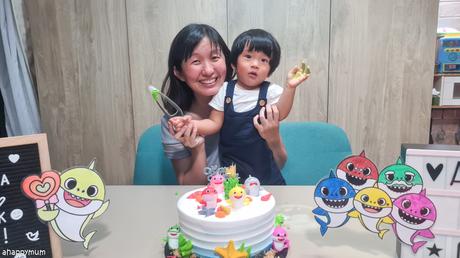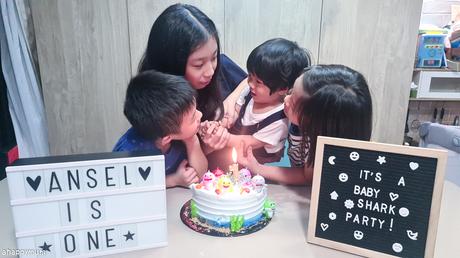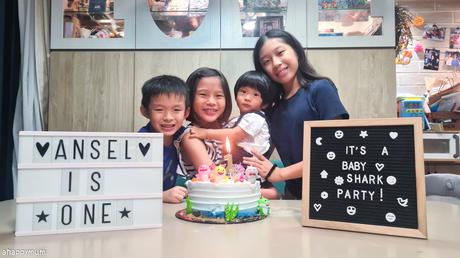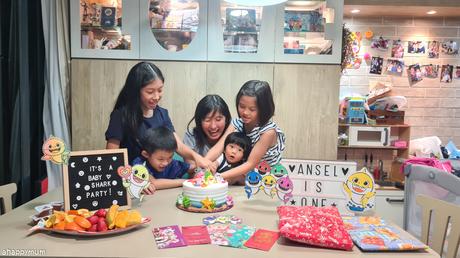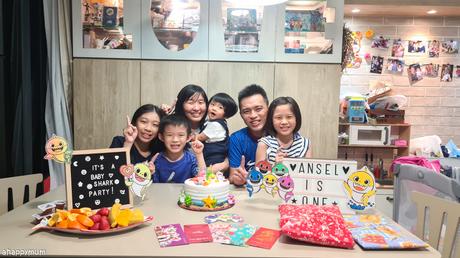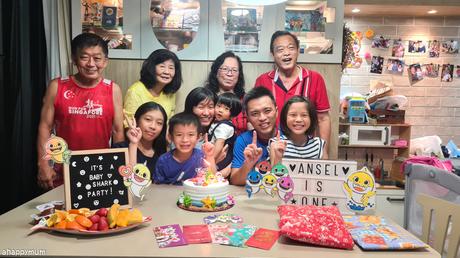 ****** Oh, and we have a video for those who wanna watch more of the party, this was the reason why it took so long for me to publish this post but compiling these priceless memories to keep for life is definitely worth it. I hope it makes you smile like how it makes my kids happy every time they watch it!
Till our next DIY birthday party!