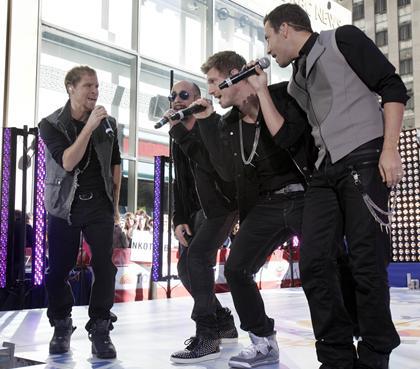 [Image from usatoday.com]
In 1993, five boys – AJ McLean, Howie Dorough, Brian Littrell, Kevin Richardson, and Nick Carter – came together to form the iconic boy band, the Backstreet Boys. Since then, the guys have released seven studio albums, been named the best selling boy band of all time, and are slated to earn a star on the Hollywood Walk of Fame in 2013.
Earlier today on the Today Show, the Backstreet Boys announced that they would be back again to release an eighth studio album sometime in 2013. This album will be their first album as a quintet since Richardson's departure after the Never Gone tour. (Two studio albums were recorded after Richardson's absence: Unbreakable, and the New Kids on the Block collab, This is Us.)
In the wake of countless other boy bands coming up in the business, especially the wildly successful UK group One Direction, it is amazing to see that BSB has achieved longevity in their careers that not many entertainers ever see. The Backstreet Boys have appealed to audiences for nearly 20 years now, and I, personally, cannot wait to finally see the Backstreet Boys – all five of them – on tour.
While waiting on their upcoming single, feel free to do a victory dance to their 1997 single, "Everybody (Backstreet's Back)".