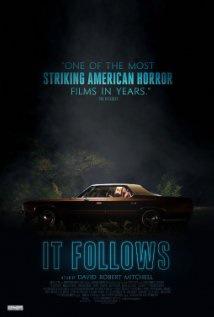 Director: David Robert Mitchell
Writer: David Robert Mitchell (Screenplay)
Starring: Maika Monroe, Lili Sepe, Olivia Luccardi, Keir Gilchirst, Daniel Zovatto, Jake Weary
Plot: A young woman is followed by an unknown supernatural force after getting involved in a sexual encounter.
There may be spoilers the rest of the review
Verdict: Horror Film of the Year
Story: It Follows starts in the suburbs where we see a girl running from a house in fear of an unseen threat. We watch how she gives her final farewell to her parents before morning comes and her body is left broken and beaten on a beach.
Time to meet our next victim Jay (Monroe), a teenage girl who seems to be living a normal life, who is getting excited about her latest date with Hugh. The date starts going well until suddenly Hugh starts acting strange when he sees something that isn't there, leaving the cinema to continue on their date. The date wasn't the best but Jay gives Hugh another chance and the young couple go all the way for the first time. But this a horror film after all and we get to see how Hugh drugs the Jay and leaves her tied up explaining to her what will happen. Hugh explains that he has passed her something with the sex in the car that he actually got from someone else.
Jay gets abandoned back at her house with her friends and sister putting the events down to a bad sexual experience. We start to see the early changes in Jay as the figure starts to turn up in her life, Jay remembers the rules about carrying on moving and always have two exits but the figure has targeted her now. Jay turns to her friends for help and they turn the night into a sleepover watching for anything strange. Jay continues to get haunted by her follower and decides to track down Hugh for the answers to what is actually happening to her before it is too late.
It Follows manages to take the horror genre back to the very basics again, saying doesn't mean it is a bad thing though. Too many horror films try to over complicate scares and add in too much complicate behind the scares. The story is so simple to follow as we see one girl being haunted by a slow moving demon that she and we can see but her friends can't, think the effects of Paranormal Activity with actually seeing the horror. Taking the idea of pre-marital sex and bringing it back into horror does work but I don't think it adds enough because the lack of fear behind it isn't around anymore. I think a big bonus of this film is the fact we never really know the time period it takes place. I would unfair to only be positive about this film but I do feel there is a way to get around what was happening which never really gets explored but that is being picky. This is one of the best additions to the horror story ideas for a long while. (9/10)
Actor Review
Maika Monroe: Jay Height is our teenage girl who thinks she might have found a perfect gentleman only to find out that he has cursed her with something she can't explain except that it is slowly walking towards her. She must face the tough questions of running or passing it on to somebody else but also knowing that if that person gets it and dies it will return to her. Maika does a great job in this lead role showing she could become a new icon in horror. (9/10)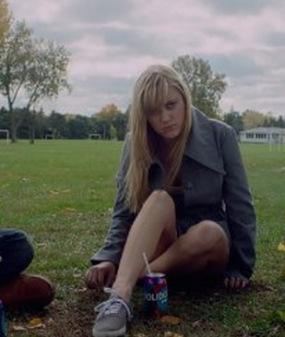 Keir Gilchrist: Paul is one of Jay's friends who clearly has a crush on her and as the film continues starts to consider taking the curse off her. Keir does a solid job in the supporting role but his character didn't get enough screen time to truly develop. (6/10)
Support Cast: It Follows has a group a friends who try and help Jay through her problem, each member of the group helps in their own way coming up with ideas even if they don't work. We don't really have many other characters in the film which does help make us care about the main group more.
Director Review: David Robert Mitchell – David does a great job bringing us a horror film from out of nowhere to actually have a constant intense suspense about it. (9/10)
Horror: It Follows lets the horror builds up but when it actually hits you will be left in real fear throughout until you see what the demon actually is capable off. (9/10)
Mystery: It Follows gives us a mystery but we never seem to have the mystery solved or even looked at. (5/10)
Settings: It Follows gives us an average day setting making the horror feel like could happen to anybody. (9/10)
Suggestion: It Follows is a must watch for all horror fans out there, it simply can't be missed. (Horror Fans Watch)
Best Part: The constant suspense.
Worst Part: Hard to find one.
Oh My God Moment: The ghost in the house, pure shock moment.
Scariest Scene: Heading out for the plan in the pool.
Believability: No (0/10)
Chances of Tears: No (0/10)
Chances of Sequel: Could easily have one.
Post Credits Scene: No
Oscar Chances: No
Box Office: $14 Million
Budget: $2 Million
Runtime: 1 Hour 40 Minutes
Tagline:  It doesn't think. It doesn't feel. It doesn't give up.
Overall: It Follows could be the game changer in the horror genre, bringing back actual scares over mindless gore.
Rating