This post contains affiliate links which means I receive a commission if you make a purchase using the links in this post.
Hello Glam Fam! I want to tell you a story about this little girl. She loved dressing up and always started with accessories. She remembers the first time she laid eyes on a Chanel bag. It was a quilted circle bag. She was in elementary school, and that was the beginning of a bag love story. Fast forward decades later, and the bag that started her obsession is now back!
Y'all they have recreated the Chanel circle bag!!
Of course, I must pay homage to the bag that started it all. I've rounded up some of my favorite vintage and current Chanel round bags. Also, I threw in a few look for less too! I LOVE how everything comes full circle in fashion.
This is my birthday month. Maybe I should give Mr. S some hints! ;) Just kidding!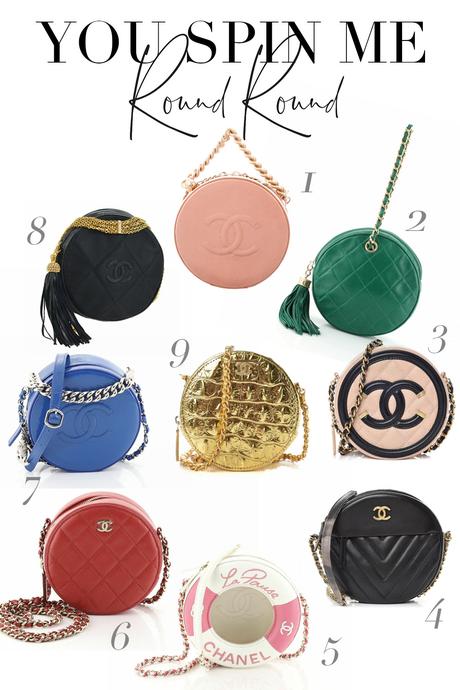 These are a menagie of vintage and current Chanel Circle Bags! The one that started my Chanel obsession looked like Bag #8. It was quilted black with amazing tassels! LOL! I loved them even back then!

Turn on your JavaScript to view content
Here are a few of my fave look for less circle bags!

Turn on your JavaScript to view content
(SUSTAINABLE) STYLE Rx:Buying second hand is a fabulous way to take care of the environment AND find designer deals! You can read all about it in this post!
Are you crazy for the circle bag like I am? Or is it NOT your thing?

Happy Friday Y'all! Hope y'all had a fabulous week! I'm still playing catch up! Maybe, that is just life when you have little ones! I'm off to a Girl Weekend at my friend's lakehouse and will be back in time for a birthday party on Sunday! Also, I finally got a new computer after mine died! It's been seven years and I'm thankful that my computer lasted as long as it did. Now, my phone has the "green line of death" on the screen according to Google. Oh technology!
♥︎ ♥︎ STAY GLAM, DO GOOD ♥︎ ♥︎
Thank you so much for stopping by and supporting SOS!
JOIN THE #GLAMFAM // SIGN UP FOR THE NEWSLETTER BY CLICKING HERE.
CHECK OUT MY INSTAGRAM SHOP HERE TO SHOP ALL OF MY INSTAGRAM LOOKS!