David concludes his post on great tour guiding…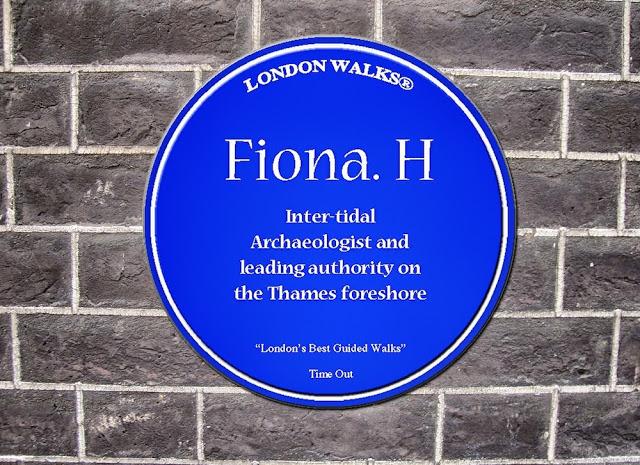 Talked about that Madridleano guide yesterday. The preparation – the work – he's put into creating – into setting up – his Tapas Tours. Let's segue to London and run a subset of London Walks – and a London Walks guide – through the same filter.
I'm thinking about Fiona, her Thames Beachcombing tours. The "preparation" she puts into them. Well, for starters – some starters – there's the years she spent at university turning herself into an Intertidal Archaeologist. And years is the mot juste – BA, MA, Ph.D. And the years practicising her craft – being a working archaeologist. That's why she can do what she can do – and no schlubber, no charlatan "who's read a book or two" (or less than that) can emulate it. Why, for example, she can identify – shed light on – any bit of this or that you pick up on the foreshore and take to her and ask, "what's this?"
But in addition to that – well, to get it right she's of course got to consult the Thames Tidal Tables (which most people have never heard of). Can't do a Beachcombing Walk when the foreshore is under walk.
The Tidal Tables.  Well, I knew about them – because I have to use them to get the timing right for my Strand on the Green walk. What I didn't know is that Fiona is also consulting the schedule of the Thames Barrier and factoring that into her calculations about when's the very best time to do her Beachcombing forays.
Well, you get the idea.
And that's to say nothing about her intimate knowledge – her hard-won  expert knowledge – of the Thames foreshore. Knowing exactly which patches are likely to yield up the best finds – and the points on the foreshore she's going to take our walkers to. And indeed the sequence. Getting the sequence right "combing" the Thames foreshore  is every bit as important as it is Tapas-ing in Madrid. Like the Tapas Tour, a Thames Mudlarking walk is a composition. Situational awareness. Great guides – expert guides – have it. Schlubbers don't.
Maybe just add her supplying, giving – the time and expense – each of her walkers a brand new pair of rubber surgical gloves to wear when they're down there. The professionals wear them and so do Fiona's walkers. It's just another one of the little things that add up to getting it right, doing it right.
It's the London Walks hallmark – fronting walks with accomplished professionals. It what sets London Walks apart.