Dwell traveled to Turkey's most cosmopolitan city for the first annual Istanbul Design Biennial, discovering a modern heart beating within ancient walls.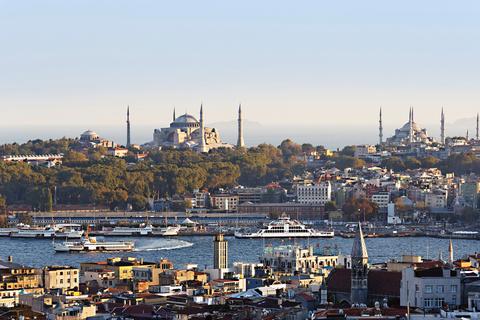 Looking at Istanbul's old city from the trendy neighborhood of Beyoğlu, one can see the Hagia Sophia at left (rebuilt for the last time in the 6th century) and the 17th-century Sultanahmet (or "Blue") Mosque with its six minarets at right.
Istanbul is a city of chaos, impro-visation, and irony, where a canon of calls-to-prayer ripples through a secular republic five times a day. Megaprojects born of an unsustainably strong economy rule the day: 
The city is carving a 30-mile canal—
a second Bosporus—from the Black Sea to the Sea of Marmara and a cross-continental metro tunnel, from Europe to Asia, beneath the strait. Last fall, Turkey's first design biennial took imperfection as its theme and gave the world its most comprehensive catalog of Istanbul's rich polyphony 
of ad hoc design. This city of 13 million may be one of the oldest in civilization, but its history of modern design is just getting started. Here we take a look at some of Istanbul's established and emerging talents, along with 
the design destinations they favor.  
Ayasofya Hürrem Sultan Hamamı
Cankurtaran Mah., Bab-I Hümayun Caddesi, No: 1, Sultanahmet/ 011-90-212-517-35-35 Built by chief Ottoman architect Sinan in 1557 and later used as a makeshift jail and then a carpet bazaar, this bathhouse was returned to its original purpose in 2011 after a 101-
year hiatus and a $10 million facelift. Picture snowy marble surfaces, blond wood, gilded accents, 
and opulent geometries. ayasofyahamami.com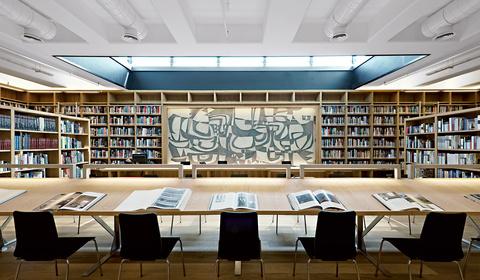 The Vitali Hakko Creative Industries Library offers a handsomely stocked and up-to-the-minute catalog of visual culture for scholars and the public.
Vakko Library
Kişbakişi Ca. No: 35 Nakkaştepe, Istanbul/ 011-90-216-554-08-54 Inside the tumbling cubes of the REX-designed Vakko Headquarters and Power Media Center, the Vitali Hakko Creative Industries Library offers a handsomely stocked and up-to-the-minute catalog of visual culture for scholars and the public. vakko.com