Travel Memories, Istanbul, Turkey, April 12-19, 1992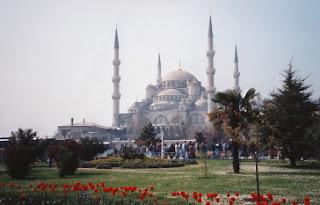 Rolex!  Izod!  Chanel!
As an engineering student way back when, I had little free time to read history books.  But between my bachelors and PhD degree programs, I took correspondence courses on ancient history.  I remember being fascinated by the history of Constantinople and the Byzantine Empire, and then the rise and fall of the great Ottoman Empire.  So when the chance came recently to visit Istanbul, Turkey, with the IAEA Photo Club, I jumped at it.  Patricia and I packed for warmer weather, grabbed a taxi and went to the airport to catch a charter flight direct from Vienna to Istanbul.  We touched down at Istanbul International Airport a little before 10 PM and were bused to the "Zurih Hotel," in the old section of the city, on Vidinli Tevfik Pasa Caddesi  (something, something street).
Upon disembarking from the bus at the hotel, we were met by a small army of street vendors thrusting objects in our faces and shouting "Rolex!", "Izod!", "Chanel!", and other brand names as we fought our way to the entrance and in to the safe haven of the hotel lobby.  These guys with the sweaters, socks, polo shirts, perfume, watches, and all manner of things were at the hotel entrance whenever we entered or left the hotel, no matter what hour of the day or night.  The most troublesome fellows were the shoeshine boys, who smeared a gooey mass of polish on your shoe when you weren't looking, then followed you down the street negotiating a price to remove it by virtue of a shoeshine.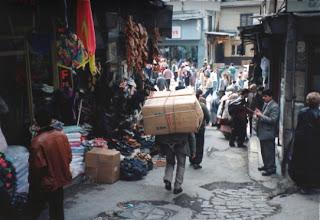 The Turks Mean Business !
One of the most enduring memories I have of Istanbul is the beehive of commercial activity that is carried on in every street, on every corner, in every nook and cranny of the city.  Istanbul is a city of some 10 million people and all of them seem to be out on the street selling something, anything, everything!  As we walked down the dusty, crowded sidewalks, or through the narrow passages of the bazaar, or down the middle of some back street below Suleymaniye Mosque, we were required to maneuver -- wedged between countless others -- around the stalls, the food carts, merchandise spread along a curb, or simply strewn upon the ground, store owners or their salesmen darting out to capture their prey, and men bent double carrying huge loads on their back.  Unbelievably, a vehicle would appear, pushing through the mass of humanity, the driver nonchalantly working the horn in a constant beep, beep, beep, beep, with no real menace conveyed, exhaust fumes mingling with the myriad other aromas of spice and not everything nice.
Take a brief walk with me and check out what these people are selling.  Here is man squatting down with his back against a low wall peeling a potato.  He has spread before him six potato peelers and he is demonstrating their use to no one in particular.  Next to him is a man seated in front of a torn, gray cloth upon which he has spread his wares: a small transistor radio held together with rubber bands, several AA batteries, three bic lighters, a green rubber duck, and the parts to an old, hand-cranked meat grinder.  A little further along is a guy selling two bottles of Johnny Walker Red Label Scotch.  A prospective buyer is carefully examining the bottom of the bottle.  Here's the guy with the sunglasses (I'm sure I saw him in Florence just a few weeks ago), and this guy making his way towards us has a tray full of "Rolex" watches -- men's and women's (how does someone who looks so scruffy come by a couple of dozen Rolex watches?).  Each time we walked down Yeniceriler Caddesi from our hotel towards the Sultanahmet section of Istanbul (where Topkapi, Hagia Sofia, and the Blue Mosque are located) we passed by an old man selling your weight.  He squatted before an old bathroom scale and waited for someone eager to know how many kilos they'd accumulated with their last kebab.  You can find out for 250 Turkish Lira -- about four cents American.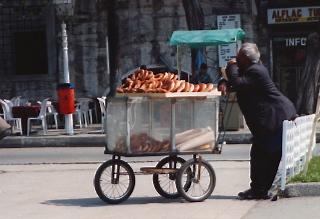 Hungry?  Check out the guy with the cart full of cucumbers.  He keeps spraying them with water to keep them looking fresh and cool.  Buy one and he'll expertly peel and slice it into six spears.  The bowl in the middle of the cart contains a yogurt and garlic mix for common dipping.  Try one?  No.  Then how about a sesame roll?  Follow the sound, like a bird's staccato cry, "simit, simit, simit, simit," to the bread vendor pushing his cart along Babiali Caddesi with rows of the sesame rounds called "simit" hung from the racks.  The chewy rolls, with their tasty, toasted sesame seeds are great still warm from the brick oven.  With a few dollars or lira in your pocket you'll never go hungry in Istanbul.  Literally, there's food everywhere.  Beautiful fruit and vegetables: oranges, pears, bananas, apples, melons, beans, eggplant, greens, etc.  Carts outfitted to barbecue a kebab for you, and others loaded with bread or Turkish desserts.  Let me tell you more about our experience eating in Istanbul.

Turkish Delights: Eating in Istanbul


It is said (read any Turkish travel guide) that Turkish cuisine is one of three great cuisines in the world, the others being Chinese and French.   Although I myself make no claim to epicurean tastes, I am an adventurous eater with an eclectic palate (this is a classier way of saying, "I know what I like").  And I adhere to no particular nutritional ideology -- I eat both meat and vegetables (even broccoli, unlike President Bush), as well as other items from the four basic food groups (fast food, junk food, take-out food, and snacks).  Thus, I might be said to represent typical Western tastes and cultural biases in my approach and liking for foods of other cultures.

Turkish food is quite varied, reflecting the fact that it originates, or borrows from the cuisine of many different cultures, including Middle Eastern, Asian, African, and Balkan.  I have no idea where shishkebab  originated.  I have eaten it (or some facsimile) in Greek, Turkish, Iranian, Moroccan, and restaurants of other ilk.  This is the case for most other dishes that I sampled in Istanbul.  Therefore, I make no claim for Turkey as the originator of any of the dishes I will describe for you.  I only state, for the record, that I ate the thing in Turkey.  Advocates for the cuisine of other nations, regions, continents, or cultures please accept my apologies in advance for any slights.  They are, I assure you, unintended and result from ignorance rather than sinister intent.
Since we arrived at our Istanbul hotel late in the evening and went directly to bed, the first "Turkish meal" I sampled was the hotel breakfast.  This consisted of various kinds of cold cuts, cheeses, bread, rolls, butter, marmalade, and corn flakes, plus green and black olives thrown in for local color.  I decided that except for the olives, this was a breakfast geared to the guest, rather than the native of Turkey.  Therefore, I found myself a native and asked him what a typical, Turkish breakfast was like.  He replied that he usually started the day with a soup of lamb's brains, followed by stewed intestines (I am not making this up).  I accepted this information with the equanimity of a seasoned traveler and, after losing my morning's corn flakes, decided to stick to lunch and dinner in sampling Turkish cuisine.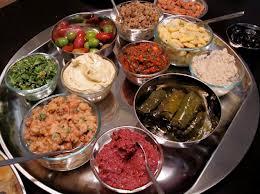 Meze; Dolma, Hummus, Sarma, etc.
One usually starts a Turkish meal with soup or "meze,"   Turkish hors d'oeuvres, consisting of an endless variety of small, hot or cold dishes.  Most of us have probably eaten stuffed grape leaves.  They are a variety of meze called "dolma."   This delicious appetizer, which originated in the Turkish courts of Isfahan and Khorsan, can be made from any number of things in addition to grape leaves, including eggplant, cabbage leaves, tomatoes, artichokes, and so on.  They are stuffed with a mixture of either meat, or rice, pine nuts, currents, herbs and spices.  I think we sampled all of these, plus mussels, fresh from the Bosporus, stuffed with a mixture of lamb and rice.  Other mezeler  include pureed eggplant, fried zucchini, black, oil-cured olives, fava,  mashed, broad bean salad roasted chick peas, and ciroz,  dried mackerel.  The latter was a favorite with my wife, who wore a piece of it around her neck as a kind of amulet to ward off street vendors.  Unfortunately, she was hauled off by the Turkish police as a public nuisance after she attracted several dozen cats in the Grand Bazaar.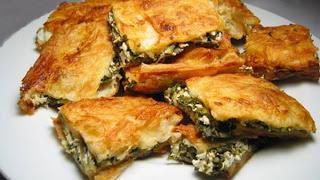 Spinach Borek
Borek  is another type of Turkish dish that can be served as an appetizer or a main meal.  We were served this delicious treat at a seafood restaurant in the charming seaside village of Sariyer, on the Bosporus, just south of the Black Sea.  It is made from the flaky, wafer thin dough known as "yufka"   in Turkey, but better known outside Turkey as phyllo dough.  Borek  are made by rolling or layering yufka around cheese (typically, feta cheese mixed with egg and parsley), spinach (chopped, and sauteed with onions, butter, and seasonings), fish, or meat.  My favorite is Tepsi Boregi,  which is made with alternate layers of feta cheese and spinach.  Served hot and buttery, and accompanied by a glass of Villa Doluca Turkish dry, white wine, these savory pastries are a memorable Turkish delight.  Incidentally, you can buy phyllo dough and feta cheese at Meinl's on the Graben.  Phyllo can be frozen, after which it makes excellent and functional greeting cards ("Happy Birthday from Turkey -- You may eat this greeting!").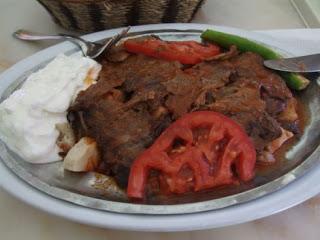 Bursa Kebab
Our main dishes in Istanbul were generally meat or fish.  Just around the corner from our hotel were a couple of "kebab salons," or lokanta,  where we enjoyed a variety of lamb or beef kebabs, including: Yogurtlu Halep Kebab  (cubes of lamb grilled on a skewer, or sis, in Turkish (hence, sis-kebab ), and served with spiced yogurt;  Adana Kebab,  ground lamb seasoned with red pepper and oregano, wrapped around a skewer and grilled; Doner Kebab,  which consists of delicious slices of the meat from a vertical skewer (a common sight in Greek cafes here in Vienna) placed in pocket bread, with tomatoes, onions, and biber,  hot, green peppers; and Bursa Kebab,  which is the meat from a doner kebab skewer heaped over Turkish pied bread and smothered in yogurt, tomato sauce, and melted butter.
On Wednesday, our irrepressible guide, Esra, after a mad dash through the Hagia Sofia and a "carpet factory," took us to a seafood restaurant on the Bosporus for lunch.  We had a wonderful meal, with several mezelers  for starters, followed by borek,  and grilled fish.  The fish was tasty, if a bit bony.  I asked a waiter what kind of fish it was, and he replied, "Turkish fish."  Not to be daunted, I asked another waiter what this fish was called.  He replied, "Good fish, eat it!"  So I did.  I read later that fish indigenous to the waters around Istanbul include lufer,  similar to blue fish, istavrit, a kind of mackerel, cinekop,  also like blue fish, kalkan,  or turbot, and hamsi,  anchovies.  If you want to see the creature fresh from the sea, go down to the docks along Kennedy Caddesi, or walk along the Galata Bridge.  Here, you'll see a vast variety of fish being sold, displayed in fan-shaped arrays of real artistic merit.  If you're hungry, or just curious, try one of the grilled fish sandwiches that are being prepared right there on the bridge as the fish are being hauled from the Bosporus.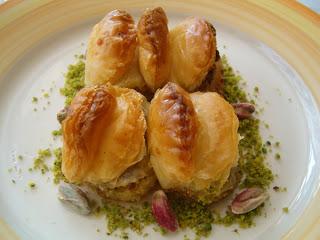 Dilber Dudagi
Turkish desserts are, of course, a favorite among most travelers to Turkey.  And Turkey has more to offer than the ubiquitous Baklava.  You may like to try Kadin Gobegi,  "Lady's Navel," Dilber Dudagi,  "Belle Lips," or Kunefe, which has no suitable translation, and was my favorite.  It consists of a shredded wheat-type pastry, filled with a delicious sweet cheese, and covered with hot syrup -- "good, eat it!"  Since Baklava  is so common, not only in Turkey and the Middle East, but also right here in Vienna, I decided to research the dessert and determine how you could tell a superior Baklava  from a mediocre one.  I visited a well-known Turkish pastry chef, Dis Isen' Tru, and asked him to explain the intricacies of Baklava  quality to me.  He was happy to do so.  He explained that a truly fine Baklava  must be made by hand.  The better Baklava  will have more than 1000 crushed pistachio nuts per square centimeter, and have a pile of phyllo no less than 3.25 cm high.  Always check the underside of the piece to see that the crust is just golden brown, but not too dark.  Of course, explained Tru, what's really important is whether you like the piece or not.


Geography and Culture


Istanbul has a rich history and despite the many battles fought for control of it and the resulting destruction, there remains much to see from the time of Constantinople and the Ottoman Empire.  Our Turkish guide, Esra, was determined for us to see it all.  Near the end of our 7-day tour she exclaimed that, "You have seen things that most Turkish people who live here have not seen!"  At the time, we were in Kanlica on the wind-swept Bosporus, standing in a steady drizzle, shivering with the damp cold while we sampled the "famous" Kanlica yogurt.  We believed her.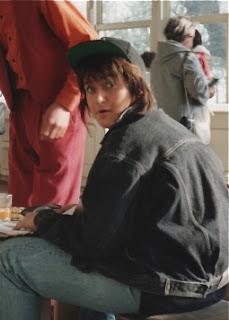 Esra was one of the highlights of our trip.  She was a well-proportioned, five foot seven, dark, green-eyed, attractive bundle of energy , with a  quick wit and sharp tongue.  Her English was marginal but this didn't stop her from talking practically non-stop from the moment we got on the bus to the moment she dropped us back at the hotel.  And when she wasn't speaking in English, she was saying everything over again in German (in which she was quite fluent) for our Deutsche-speaking tour members (even though they also spoke English).  Esra said that she "wanted to be a pop singar, but my muther wooden lit me, so I am tour guide to use tha mickraphone."
Istanbul is a city shaped in many respects by its location between Europe and Asia and its relationship to four bodies of water: the Black Sea in the North, the Golden Horn, the Bosporus, and the Sea of Marmara to the South.  The Bosporus Bridge, an impressive suspension bridge that reminds one of the Golden Gate Bridge in San Francisco, links Europe and Asia.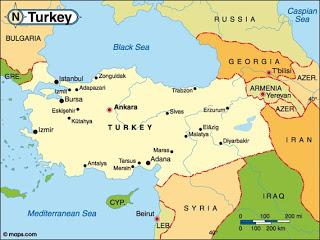 One can get some idea of the cultural flavor of Istanbul by considering the countries that surround  this largest city of Turkey (although Ankara is the capital).  You find Greece and the Balkan States (Bulgaria, Romania, Yugoslavia, and Moldavia) to the West and the Northwest; the Ukraine, Georgia, Armenia, and Azerbaijan to the North and Northeast; Kazakhstan, Uzbekistan, Turkmenistan, Tajihistan, and Kyrgyzstan (before being conquered by Czarist Russia and then divided up by the former USSR, these five states made up Turkestan) to the East; and the Middle Eastern States (Iran, Iraq, Syria, Jordan, Egypt, and so on) to the South.  The people flooding the streets of Istanbul seem to reflect the diversity of its neighboring states.  The Turks are a good looking people, tall, olive complexion.  Most men wear moustaches.  The majority of women dress in the Western style.  Kurdish and Arab men are dark, short and sinewy.  Their women are more likely to wear full-length gowns and shawls, or a chador.  People from the Eastern Block states stand out here.  They are bigger, lighter complexioned, have brown hair, and desperate looks.
Mosques, Churches, and Palaces
We started our tour of Istanbul on Monday with a visit to the Suleymaniye, or Mosque of Suleyman the Magnificent.  It was built in the 16th Century when the Ottoman Empire was at its peak.  It was designed and constructed by the great Turkish architect Sinan, chief architect of the Ottoman Empire for some fifty years.  One is required to remove one's shoes before entering a mosque and a nice little business has sprung up selling knitted booties to tourists eager to insulate their feet from the cold floors of the many mosques on most tours' itinerary.  According to Esra, one of the biggest sins in Islam is to steal shoes left at the entrance to a mosque.  Still, I saw some of the faithful carrying their shoes with them as they entered the holy place.  I left my sneakers at the entrance and wore a pair of bright, yellow booties I bought from an old man running a thriving "booty booth."  From the Suleymaniye we went to the Blue Mosque, which was designed and built by a student of Sinan's between 1609 and 1616.  Both these mosques were beautiful inside and out, featuring multiple, interlacing domes, soaring minarets, stained glass windows, wonderful tiled walls and columns (the Blue Mosque gets its name from the exquisite blue Iznik  tiles on the interior walls), graceful arches, carpets, and exotic calligraphy quoting from the Koran.  It's impossible, really, to describe the effect these places have you.  They are awesome and exotic; a unique experience.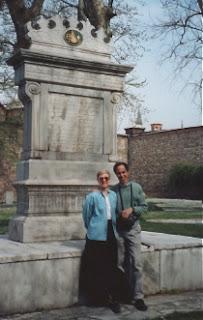 We went from the Blue Mosque to Topkapi Palace.  We didn't get to see much of Topkapi this day because Francois Mitterrand, the French president, was visiting Istanbul and was due to visit Topkapi the next day.  There were Turks crawling all over the place cleaning up, putting out the red carpet (literally), and just acting frantic.  So we decided to come back another day.  We went to lunch, and then to the so-called "Egyptian Bazaar."  This is the main spice market of Istanbul.  It's a covered bazaar filled with small shops selling every manner of spice, herb, seed, nut, and dried fruit, as well as roots, powders, and potions, among other things.  We bought some dried apricots and figs. 
I was awakened Tuesday at about 5:30 AM by the Muslim call to pray.  I rolled over and went back to sleep for an hour.  When I got up, I went to the window and looked out over a city covered in a fine, brown haze, a red sun rising in the eastern sky.  A thick, brown smoke was rising from a building down the block.  They burn lignite coal here.  The air quality suffers and the buildings are covered with soot.  The burgeoning population of cars, and no emission standards, adds to the problem.  After my breakfast of corn flakes, yogurt and black, oil-cured olives, we dodged past the street urchins and climbed aboard the bus, ready for our tour of the Hagia Sofia.  Esra grabbed the microphone and told us to be alert for men leading bears on a chain.  The men would indicate that you should photograph them and their bear.  Then they would charge you an exorbitant price for doing so.  "Doan take a picture of dees bears," said Esra, "tha men are very fierce."  We didn't see any such men that morning, but sure enough the next morning, while I was out by myself early, I saw several men leading bears down the street towards the hotel district.  The bears were a dusty, light brown color, in size a little larger than an American Black Bear.  The poor beasts had a chain through their nose and moved along quickly to keep up with these small, dark men, who, indeed, looked more dangerous than their meekly following bears.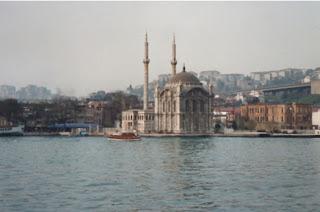 Esra had decided to change the itinerary.  We were going on the "19th Century Tour" today.  So, with Esra talking a mile-a-minute about all the buildings in Istanbul that were being "restorated," we took off for the Dolmabahce Palace on the Bosporus.  This ostentatious place was built in the 19th Century (1843) by Sultan Abdulmecid, who practically bankrupted the State in trying to outdo his European rivals.  The Sultan died shortly after Dolmabahce was completed and his brother, Abdulaziz hated the place so much that he had his own palace, Beylerbey, built across the Bosporus from Dolmabahce.  We visited Beylerbey on Easter Sunday, the day we departed Istanbul, and I found it more to my taste than Dolmabahce, which I found gaudy.  On top of this, the guards at Dolmabahce were officious, kept us waiting an hour to get in, then followed our tour group about demanding that we walk only on the runners and not stray onto the carpets.


We went from one elaborate room to another, trying to take in the elephantine crystal chandeliers (the smallest was two tons and the largest was four and a half tons), fantastically decorated ceilings, the floor to ceiling windows hung with velvet drapes tied with gold braid, 15 ft high carved wood doors with decorated porcelain knobs, and a whole array of "original furnishings" looking quite useless in the huge, empty rooms.  As I walked down one hall, I came upon a seedy looking guard sitting at a table fiddling with his transistor radio.  In all this gaudy display of riches, his radio, held together with rubber bands and copper wire, provided more utility for the lira than this outlandish Ottoman monstrosity that served mainly as a gathering place for tourists and their herders.
From the Dolmabahce, we went to lunch at the Restaurant Ciftnal.  The owner's name was Ahmet Asci.  Asci  means cook in Turkish, so I anticipated a good lunch and wasn't disappointed.  The guvec  here was probably the best we had in Istanbul.  It is a typical Turkish dish of eggplant, zucchini, tomatoes, peppers, and various other vegetables seasoned with olive oil, garlic and paprika, cooked in individual casseroles, with cubes of seasoned beef or lamb.
The primary Byzantine edifice that remains standing in the city of Istanbul is the Hagia Sofia, built by Justinian in A.D. 536.  When the church was built, the walls and ceilings were covered with mosaics.  Others were added later.  Unfortunately, most were destroyed by the iconoclasts after the Muslim conquest of the city in 1453.  However, many were hidden by whitewashing over them, and these are now being rediscovered and restored.  They are remarkable.

We visited Hagia Sofia on Wednesday, shuffling along with our group trying to hear what Esra was saying:  "Deese old staychews doan belong here.  Day were taken from ahther ruins."  Day should leave dem where day belong."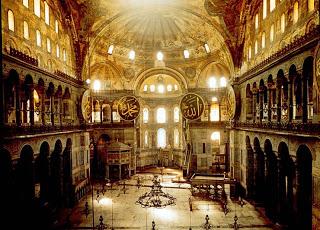 The church itself, now a national museum thanks to Ataturk, is an enormous structure; the dome is still among the largest in the world.  From the outside, Hagia Sofia looks massive.  The blocks of stone are immense, and give the whole structure a fortress-like feel.  The feeling inside is all together different.  The dome is supported by the outside walls; there are no columns to interrupt the travel of the eye to the dizzying heights of the ceiling, or the beautiful, stained glass windows, with a golden light streaming through.  There is a sort of soaring feeling that one gets standing in the middle of this huge edifice.  In the time of Justinian, the church was decorated with gold, ivory, and jewels, but all this was looted by the crusaders in the 12th Century.
Carpets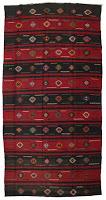 Going from the sublime to the ridiculous, Esra now took us to what she termed a "carpet factory."  This was a place called "Bazaar 54," which was, in fact, a commercial outlet for a variety of Middle Eastern and Turkish goods, including an immense inventory of carpets.  We were herded into this place and separated into groups according to our language preference, English, German, Spanish, French, Italian, or what-have-you.  Quite an operation.  A very smooth character with a well-practice patter presented us a "seminar" on carpets.  "There are three categories of carpet, pure wool, wool on cotton, pure cotton, and pure silk.  Tell me, sir, which do you think is the most durable?  That is a common mistake."  After his twenty-minute talk, and before we could escape from what we knew was coming next, a small army of salesmen surrounded us, seeming to materialize from behind or under the carpets.  "Which carpet do you like?"  I questioned one of the salesmen, a man named Osman Senturk, about the size of the inventory they carried; "twenty thousand carpets."  And what was the yearly turnover?  "Before the Gulf War, between 4000 and 5000 a year."  I guessed that the average carpet here would run $2500.  That meant their business volume in carpets alone was 10 to 12 million dollars per annum.  And had the Gulf War affected business?  "Oh yes.  For a while it was very bad.  Now it is getting better."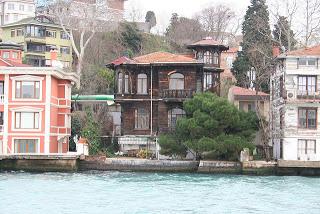 Yalis
On the way back to the hotel we passed some of the old wooden houses termed yalis  (villas) that at one time must have been very charming with their peaked roofs, balconies, and balustrades, but are now leaning gracefully into oblivion, like old barns in the Washington Palouse.  Esra pointed them out to us and said, "Deese are old buildings."  It reminded me of a tour we had in Bratislava, where there were very few sights of interest, historic or otherwise.  As our tour bus rounded a corner in the center of the bleak city, our guide, a cute, young Czech woman, said, "On your right, a gray building."
We had a free day Thursday and Patricia and I decided explore the city and perhaps do some shopping.  We walked down Yeniceriler Caddesi towards Sultanahmet Square, thinking to find the underground cistern that was built by the Romans in the 5th Century A.D. to store water for Constantinople.
The street was crowded with people going off to market, strolling, selling, and just wandering about aimlessly.  One was constantly turning one's shoulders sideways to squeeze through the foot traffic.  At the square, we had a nice view of the Blue Mosque off in the distance.  I hadn't seen the cistern, so I asked a young man nearby where it was.  He said he'd show us and led us a block or so to a very plain looking building, the entryway and ticket booth, that I would have missed without guidance.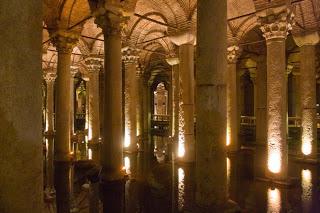 Cistern

While we were wandering about in the eerie place, trying to avoid the water dripping from the ceiling, this fellow found us and asked if we'd like to see "his" carpet shop.  We decided to have a look.  His name was Ersin Sener.  "His" shop was actually owned by a Dr. Erdogan ("call me Edwin") Sasmaz, and it turned out he had dealings in New Orleans and his lawyer lived at 923 Bourbon street, about the same address Patricia used to live when she went to school and worked there at Charity Hospital.  Edwin's business in New Orleans was importing pumice for use in stone-washed jeans.  Sometimes he also brought in carpets for special exhibitions and sales.  We ended up buying a Turkish flat weave carpet called a kilim.


Ersin
It was now lunch time.  I wanted a chance to talk to Ersin about life in Istanbul, so we took him to lunch, not to the very expensive "Hippidrome Restaurant" Edwin recommended, but instead to a little sidewalk cafe where we all ate for the price of one meal at the Hippidrome.  Ersin was 25 years old.  He was an unusual looking Turk; light complexioned, curly, reddish-brown hair and light, hazel eyes.  According to Ersin, this was the result of Norman and Celtic strains in his ancestry.  He lived about 30 Km outside the city.  He had gone to a private school to learn English after high school.  He hadn't gone on to University, because it was very expensive and he had to earn a living.  His father was sick; something wrong with his stomach.  "Was he seeing a doctor?" I asked.  "No, he doesn't like doctors.  He just eats a lot of yogurt; about 4 kilos a day."  Later, I calculated that this was over eight pounds of yogurt!  Either Ersin had his figures wrong, or his dad's stomach problems were due to yogurt poisoning.  Ersin told me that children go to school in Turkey from 8 AM to 1 PM, and that secondary school was free in Turkey.  Still, not everyone sent their kids to school.  "The Kurdish family in my building has six kids and they don't send them to school; they make them work.  And a lot of parents don't send their daughters to school."  I asked him why not.  "They don't see any need to."
Turkish Bears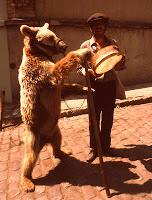 I decided to get a paper Friday morning and see,  since I'd last read one, what further catastrophes were taking place in the world.  I got out a little after 7 and walked down the street towards the Ramada thinking to find an English language paper there.  The Turks were up and about.  The store owners were sweeping the walk in front of their shops; some had water bottles and used them to sprinkle the walk in a futile attempt to keep the dust down.  The shoeshine boys were hurrying down the street towards the hotel district lugging their boxes, polish, rags, and razzmatazz.  Where did they all come from?  And here came the men with bears, first one and then another and then another one.  Three men and three bears (but no Goldie Locks).  The men carried flat boards, about four feet long and perhaps two to three inches wide.  They had a bowl on a strap around their neck that hung down their back.  They had the bear stand with one paw resting on the board when they'd suckered some tourist into taking a photo.  They had the bowl for the bear to drink from, and they also used it to collect money in.
Kariye, Eyup, and the Covered Bazaar
On Friday, Esra had us for half a day and decided to show us the Kariye Museum, Eyup Mosque, and the old city wall built by the Romans ca. 400 A.D.  The Kariye Museum is the former St. Savior in the Country (Chora), a church built by the Romans in the 5th Century.  The church is interesting for its mosaics, which are the most extraordinary in all of Istanbul.  They depict various aspects of the bible and cover the walls and ceilings of the relatively small church.  Our photo club tour members were anxious to photograph these stunning mosaics and lined up at the entrance carrying everything from little point-and-shoot cameras to giant video recorders.

The little Turkish woman at the entrance held up her hand, palm outward, like a traffic cop stopping traffic, and said "no photography!"  An angry cry went up from our group.  There was nothing in the guide book or the official notices that forbid photography, although there was a fee for video recorders.  Esra asked for an explanation.  "Entry is free, because it is tourist week," said the frowning little Turkish woman emphatically.  "So, you can't take photographs because you do not pay."  And she folded her arms across her chest and stuck out her chin defiantly.  Two of our members pushed their way forward and thrust money at the woman, telling her they'd pay so that they could take photos.  "You cannot pay," she said, "it's free!"

While our guide and a few people stood around arguing with the determined woman, the rest of our group filed into the church and started looking around.  Now and then, someone that couldn't help themselves took a photo.  But the little Turkish woman had sharp ears; she heard the shutters clicking and rushed in to stop these people.  For a few minutes we watched this childish scene of grown men sneaking photographs while the Turkish troll chased hither and yon trying to stop them.  Then, our Austrian woman took over.  Frau Schlect is a short, stocky woman with a big bust and square jaw that doesn't take any crap from anyone.  She barreled up to the Turkish woman and walked her right into a corner giving her hell in Deutsche and English.  After a few minutes of this the Turkish woman gave up and retreated to the entrance where she stayed, muttering to herself,  until we left, with all the photos we wanted.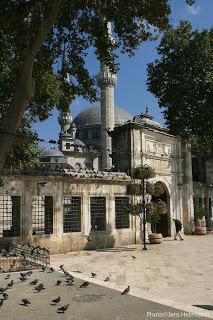 The Eyup Mosque, on the upper reaches of the Golden Horn, is the fourth holiest shine of Islam, after Mecca, Medina, and Jerusalem.  Its status derives from the burial there of Eyup Al-Ansari, a companion of the Prophet Mohammad.  This mosque is somewhat off the tourist trail and is a much-visited shine of the pious Muslims.  We found them there at the fountains, washing their feet before entering the mosque to offer up prayers.  They filed quietly by the holy burial chamber, and stood in the courtyard waiting for friends or relatives.  I found this a different experience than visiting the other mosques, which seemed as much for the tourists as the pious.

We had the afternoon free and Patricia and I spent it wandering about the Grand Covered Bazaar.  It's a jumble of shops selling everything from jewelry and fine carpets to T-shirts.  The shops line each side of narrow passages that wind hither and yon under tall arches decorated with blue tiles or painted Arabic characters.  We stopped at a locanta  (Turkish equivalent of an Italian trattoria) call the Havazulu and had lunch.  It was an oasis of cool peace and quiet in the midst of the crowded, hot, noisy bazaar, and reminded one a little of the set in the movie Casablanca.

Bob and Mavis at the Ramada
That evening, having grown tired of Turkish cuisine, we decided to walk down to the Ramada Hotel and eat at their Chinese Restaurant.  We had no reservation and the hostess was about to turn us way.  However, she offered us a table if we agreed to be finished in an hour and a half.  "No problem," I said, "we're Americans."  While we were perusing the menu, the hostess came back with a couple in tow and asked if we'd mind sharing the table with them.  "No," we didn't mind.  I mean, what can you say when there are two people standing there looking pleasant and expectant?  "I'm sorry, we're expecting four people to join us at any second; actually, two Kurdish men and their bears."
Introductions revealed that this was Bob (Robert V.) and Mavis Towsend of Cherry Ridge, Kilm Close, Prestwood, Great Missenden, Buckinghamshire, England.  I love English addresses; it's as if someone just wrote down all the street signs on the way somewhere and the string of names  becomes the address.  If we did that here, our address would be Alsergrund, Wahringerstrasse, Allemagne Krankenhaus, Liechtenstein Palise, Berggasse, Porzellangasse, Muellnergasse 3/21, Vienna, Austria, Europe.


Bob was short, with a bit of a paunch, ruddy complexion, that wouldn't do at all well in the sunny climes of Turkey, and a full head of white,wavy hair; the sort of hair that give Englishmen of more imposing build that leonine look.  He was wearing a turquoise green polo shirt, slacks and sport jacket.  Mavis looked exactly like what she turned out to be, a school marm.  She taught 10-year olds and "just loved it!"  She was a couple of inches taller than her husband, a bit on the hefty side, light brown hair, and a rather pasty complexion.  They're a jolly couple, full of stories about their travels.  Bob talks about India, Calcutta, Burma: "Haavent bean back since the waa."  "I haavent bean atall, actually," says Mavis.  "Tummy won't take it," offers Bob.  Bob and Mavis have only just arrived in Istanbul this morning.  They walked about a bit.  Mavis says, "I didn't have enough coins for all the little children, poor beggars."  Bob says they stopped for lunch and Mavis asked if they had pizza.  The waiter said yes, but he came back with a fish:  "You think they speak the language, but they don't understand a word!" "Quite," says Mavis.
Mavis has ordered her favorite, crispy duck, and Bob has ordered almond chicken.  When the dinners come, Bob takes the serving platter with the chicken on it and scrapes the whole thing onto his plate.  "Why you selfish man!" exclaims Mavis.  Bob looks up surprised.  "I thought we'd share," Mavis says peevishly.  "I thought you liked duck," says Bob, making the word duck sound distinctly foul.  "So I do, but just the same I thought we'd share," repeats Mavis, sounding hurt now.  "I'd love to," says Bob,  jovially, and trying to save the situation, he reaches across the table and scrapes half his chicken into Mavis's dish, scraps falling here and there.  She protests, but only a little.  Now she's content.
After dinner, finished well within our time limit, we went to a cafe in the Ramada complex and had Turkish coffee.  Bob related a story about an American friend of his, a Marine Colonel, who had invited Bob to speak at his retirement party.  When Bob and Mavis arrived they were seated at the head table, where their place cards read Sir and Lady Towsend.  Bob said, "I think Americans can be more class conscious than the English when it comes to royalty."  I sputtered, and blamed it on drinking the grounds in my Turkish coffee.  The bill came and I insisted on covering it.  Bob said, "But the Americans are a generous lot, aren't they."  We said our goodbyes. Bob and Mavis gave us their address and made us promise to visit them if ever we were in England.  Mavis added, perhaps having second thoughts about the likelihood of this occurring, "It's not a big place, actually."Topkapi Palace

Saturday, Patricia and I revisited Topkapi Palace.  We were approached by a fellow with a name tag that indicated he was an "official" guide. He offered to show us the Harem for 80 Turkish Lira each and we said okay.  His name was Mahmut Zeren, and he spoke excellent English.  He told me he also spoke German and French.  There was a long line at the entrance to the Harem.  Mahmut told us to look around the Palace a bit and meet him back at the Harem entrance in twenty minutes; he'd have "arranged things" by then.
Topkapi Palace was built by Mehmet the Conqueror after his conquest (hence the name) of Constantinople in 1453.  It became the nerve center of the vast Ottoman Empire.  Built on a hill overlooking the confluence of the Bosporus, Golden Horn and Sea of Marmara, the Topkapi is a sprawling complex of buildings that together made up a kind of inner city in Istanbul.  At one time, over 50,000 people lived and worked on the Palace grounds.  It even had its own zoo, where gifts from foreign rulers of tigers, bears, elephants and other exotic beasts were kept.  We walked through the kitchens of the Palace, now converted to a museum for the fine collection of porcelains housed there, but still containing the fire places and huge, copper pots used for cooking.  I was told by our guide that all the chefs at the Topkapi had been men.  The dish ware used in the Harem and by the Sultan and princes was a jade green celadon from China that was said to change color when poison touched it.


We returned to the Harem entrance to find our guide waiting for us.  We went to the front of the long line and were shown in by one of the guards.  The Harem is a complex of nested rooms offering a great deal of privacy, even though interconnecting.  The walls are covered with beautiful, blue decorated tiles, there are stained-glass windows, and the doors and window frames are mahogany inlaid with mother of pearl.  Despite all the finery, it seemed a cold and empty place.  Our guide assured us that in its heyday it was a very lively place.  He said that some 400 to 500 people lived in the Harem, including 300 concubines, all available for the pleasure of the Sultan and the princes.  The Sultan had four wives, the maximum by Islamic law.  The Sultan's mother ruled the roost.

Young girls, barely out of childhood, were hand-picked for service in the harem.  They were of various races; some came from countries conquered by the Turks, some were given as gifts to the Sultan by foreign rulers or potentates, and some were local girls whose parents probably thought they were lucky to be chosen.  According to my Turkish guide book, the girls underwent intensive training after which, "they were graded into certain classes on the basis of their abilities, and only the best were allowed to serve the Sultan."  This book, written by Ugur Ayyildiz, goes on to make the rather bizarre claim that "life in the Harem was not as eccentric as people have been led to believe."  How eccentric is eccentric?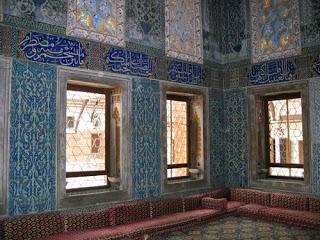 We were shown two beautiful rooms, called the "Golden Cages," where the Sultan's two oldest sons lived, waiting to see who would succeed their father.  During the early Empire, the princes were given provinces and sent out to rule and defend them.  This was thought to be a good training ground for becoming a Sultan.  But sometimes the princes would get a bit rambunctious and try to overthrow the old man.  As a result, in the later days of the Empire the princes were virtually put under house arrest and forced to live their lives in the Harem until the Sultan died and one would take over.  In the meantime, they lived a life of total indulgence and intrigue, leading to a succession of spineless, dimwitted leaders and the ultimate downfall of the Empire.


The Sultan's bathroom consisted of four interconnecting rooms in which all of the Sultan's hygiene needs were taken care of.  Hot water was run under the floors to warm them.  In one room, there was a large wash basin enclosed in a kind of cage.  I asked about this and was told that when the Sultan washed his face and hair he locked himself in this cage so that some one of the attending concubines, in a fit of jealousy, or to help one of the princes to an early succession, didn't stab him to death.


On the Way to Lunch
After our tour of the Harem, we contributed additional money to pay for the bribe Mahmut had given the guard to get us in ahead of the line, and took off for lunch.  We had been told about a very nice restaurant near the Sulymaniye Mosque and decided to walk there, since I had a pretty good notion of how to get there.  We walked down the West Wall of the Topkapi Palace, then behind the Hagia Sofia and North, up Ebussuut Caddesi.


On the map, this looked like a fairly straight shot to the Sulymaniye.  In reality, it wound around and disappeared.  I'd go up to a traffic cop standing in the middle of a narrow street being ignored and ask directions, saying "Sulymaniye," and pointing to the place on the map.  They'd just wave me on in the general direction we were going.

The streets were crowded with vehicle and foot traffic going every which way and following no discernible rules.  We ended up back at the Egyptian Bazaar.  I knew Sulymaniye was Northwest of here so we started out in that direction.  This route took us into the heart of the real commercial district of Istanbul.  A complex of narrow, winding streets so crowded with people, cars, animals, produce, and every manner of thing that we began to despair of ever making our way through to the Sulymaniye.  

Patricia looked as if she felt dreadful (she did), suffering the combined affects of the heat, dust, noise, and smells (e.g., food cooking, exhaust fumes, sewage, and the smell of hundreds of bodies crammed together). We finally broke free of the mob and, after a climb up a hill and past the walls of Istanbul University, we came to the Mosque and very shortly found the restaurant; truly an oasis after what we'd just been through.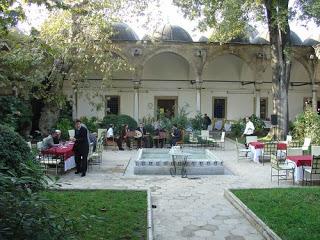 We sat in the cool, pleasant courtyard of the Daruzziyafe Restaurant, sipped a glass of wine, and had a lunch of stuffed grape leaves, baked eggplant, marinated celery root, and stewed chicken with vegetables, followed by a dessert of cream-stuffed apricots, and Etmok Kady'h Kaymakli,  a kind of pound cake soaked in syrup.  A pretty young woman dressed in traditional native garb served us tea.  After lunch, we walked across the street to the Mosque and sat in the garden.  I sketched the Mosque, while Patricia watched the people carry on their lives, then we went back to the hotel and took a well-deserved nap.
That evening, Esra picked up the group at the hotel and we were driven to the seaside village of Sariyer, on the Bosporus just South of the Black Sea.  We had a delicious Turkish seafood dinner and danced with the Turkish folks until late in the evening.  Even though Esra had told us to "feel pitiful for me; I had my tooth fixed dis morning," she danced with four different men and hardly missed a turn.
Departure, But First Yogurt!
Sunday was to be our last day in Istanbul.  Esra had promised to pick us up at 2PM and true to her word she showed up ready to show us a few last sights before our departure late that evening.  She said, "You want to eat some yogurt?  I weel take you to Kanlica, wear you khan eat tha famoos Kanlica Yogurt; tha most delicious in tha world!  And dis place I know has delicious worm bread."  Esra paused and rubbed her chin.  "But it is Sunday," she thought aloud.  "Here I am appetizing you and maybe we can't.  Ah, dis is how we do in Turkey.  We do everyting bad, den we say I'm so sorry and everyting is supposed to be okay."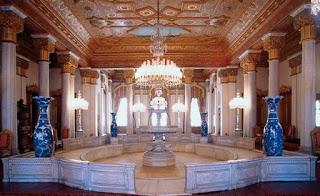 Before our yogurt experience, we visited the Beylerbey Palace, built by Abdulaziz in the 19th Century.  Its extravagance contrasts sharply with the people we saw living in make-shift tents just above the road to Eyup Mosque.  As we drove along the Bosporus towards Kanlica we passed fishermen bringing their boats up to the market at the wharf, where fish of every variety were displayed in fan shaped arrangements.  After Kanlica, we started our long drive to the airport.  We'd been lucky with the weather, but today was cold and rainy.  This didn't stop the boys playing soccer, however.  We passed any number of games; some played on regular fields and others on just empty lots.  Sheep were sharing the field with the boys at one game.  Near another game site, a donkey grazed and chickens strutted about acting like umpires.


Esra said she was going to give us one last shopping opportunity and had the bus stop for a couple of hours at the new "Galleria," a modern shopping mall, much like one you'd find in the U.S.  The products were typical of what you'd find in America.  There were no Turkish handicrafts; a real disappointment for those, like myself, who'd saved some Turkish Lira for the occasion.    Patricia and I had an ice cream at Baskin Robbins and felt as if we'd already left Turkey.
On the bus again, Esra asked if we'd been to the "lady's stores."  She said, "Turkish men are so bad.  They go in deese stores and stare at the underwear and imagine tings. Well," dramatic pause, "in Turkey, for men, life begins afta marriage; for women it ends afta marriage. Dis is true."


The airport wasn't crowded; it was late to be leaving or arriving.  We checked our baggage and sat down to wait for Lauda Air to announce the flight.  They were on time and we boarded and strapped in.  Shortly after takeoff, the attendants began meal service.  Beef with heavy gravy and spatzel.  Now I knew we had left Turkey.