As many of you may be aware, I'm a big fan of music.  Not only am I a big fan of music, I'm a huge fan of live music.  More importantly I'm a gigantic fan of festivals....  

The one I went to last year and fell in love with was the fabulous Isle of Wight Festival.  There was lots of sunshine (and last year showers too!), great music and plenty to do and see. If you haven't been to a festival before or are thinking of trying a new one... I promise you it isn't to be missed.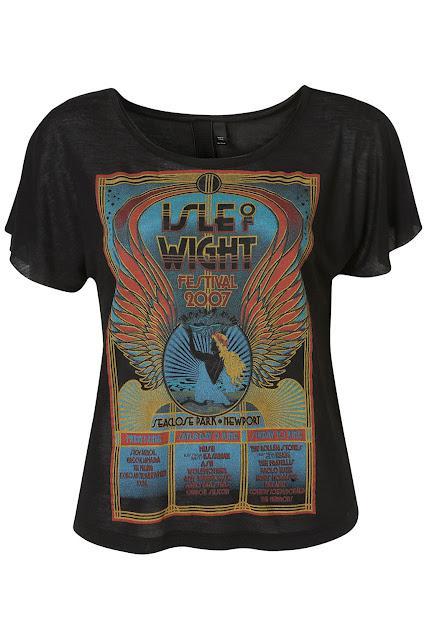 Well the sun's shining and summer is nearly upon us, which means its time to heat up the wardrobe for the Festival season. What better way to do that than with an exclusive Isle of Wight Festival T-Shirt available now at Topshop.
The brand new, must have T-Shirt features the Isle of Wight Festival's iconic artwork, so head to Topshop in store or online to get yours. Available now, the Wight Fest T-Shirt has been designed by And Finally and features 2007's or 2009's legendary line up and artwork. Priced at £22, check out www.topshop.com for more details.
The first major Festival of the year, the Isle of Wight Festival is the place to be and be seen for all fashion conscious music lovers. Stand out in the crowd with some of music's biggest hitters, fashions A-Listers and your best mates for a summer experience you won't forget.
http://www.topshop.com/webapp/wcs/stores/servlet/ProductDisplay?beginIndex=0&viewAllFlag=&catalogId=33057&storeId=12556&productId=4844780&langId=-1&categoryId=&parent_category_rn=&searchTerm=isle%20of%20wight%20festival&resultCount=1

Check out my previous Isle of Wight posts to find out the line up for this year.
Isle of Wight 1
Isle of Wight 2
Isle of Wight 3
Isle of Wight 4
Isle of Wight 5
Isle of Wight 6

xoxo