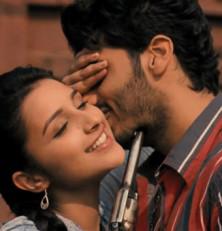 CriticLeo Rating
Direction

Story

Actors

Technical

Entertainment
A lovely pairing and an impressive promo made me wait for Ishaqzaade. Main Pareshaan increased my expectations. So was my wait worthy? Read on.
Plot:
Set in the backdrop of a fictional town Almore in rural UP, Ishaqzaade is a love story laced with political rivalry. Qureshi and Chauhan are MPs-in-waiting for Almore region. Arjun Kapoor plays Parma, a raw and an emotionless guy while Parineeti Chopra plays the rebellious and an outgoing Zoya. Both belong to the families of Chauhans and Qureshis respectively and they too, like their families, love to hate each other. Eventually though, Parma and Zoya fall in love and marry secretly.
Analysis:
The movie starts on a promising note and the first half remains very entertaining. Habib Faisal's direction made this many-a-times told story an intriguing one. He well balanced both the love story and the political rivalry which complemented each other. The rebellious lead pair is busy hating each other initially and you won't find any abruptness in they developing intense liking later. The rural North Indian atmosphere and political backdrop add to the effect of the story which otherwise would have been less impactful.The second half is high on love and emotions and is simultaneously dominated by chase-runs, gun fires et al.
Quick take
What's good:
Performances of Arjun and Parineeti.
Awesome chemistry between the lead pair.
Music.
What's bad:
2nd half gets predictable.
Occasional hiccups in the screenplay.
Though the movie turns predictable post interval, the smart narration, and able performances make Ishaqzaade a worthy watch. Arjun Kapoor charmed in an out and out rustic character. Parineeti was beautiful and performed aptly. There were moments filled with intense love and poignance that will remain with you.  Arjun and Parineeti's chemistry was so brilliant that you'll love to watch them in love.
Gauhar khan was sweet in a noticeable role. Anil Rastogi as a typical politician, Natasha Rastogi as a worried mother, and Ratan Rathore as Parineeti's dad were believable and did their job well.
All the characters were shaped very well. UP flavored dialogues were effective. The movie's atmosphere is such that you won't find cuss words offensive. Background score was apt. Main pareshaan was beautiful. Title song was a great track. Chokra Jawan was entertaining. Hemant Chaturvedi's cinematography rightly captures the raw and rustic flavor of UP. In the second half both the screenplay and story fell at places. Fortunately though, the movie is not dragged for long and ends on time.
Final word:
A touching tale supported by able performances. Ishaqzaade deserves a watch for sure. I'll go with a 3.5 out of 5.
Connect with me on Facebook, Twitter, and Google Plus