Last month, I posted about how important it is in our family that we read a lot with Isabelle, in the hope of encouraging her to develop a love of books. As Christmas approaches and people start asking what we would like for her, one thing I am telling everybody is books. I will never tire of saying this - but you can NEVER have too many books, especially for a child.
I did feel really organised last month when I bought a pack of 10 Julia Donaldson books from The Book People as part of Isabelle's Christmas gifts....but as soon as they arrived they were opened, and I'm so glad as she loves them! Her current favorite is Toddle Waddle, which Simon thinks is silly, but she and I both love.
I know she is still young to truly understand and enjoy many books, but there are some books which I think of as classics from my childhood which I can't wait to read to her. Similarly, there are piles of amazing books out there that I never had, but which I know (hope) she will love, and which I want to get her too. So really, this isn't Isabelle's book wish list....it's mine!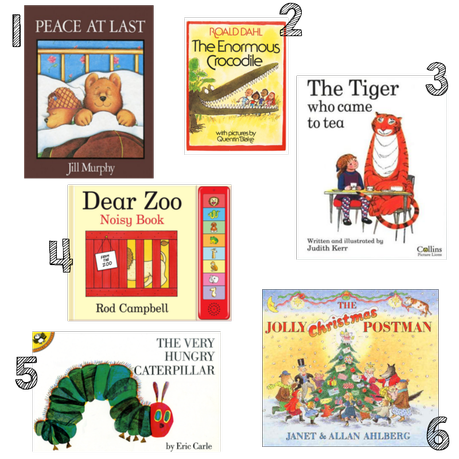 1// Peace at Last - I had forgotten all about this until I saw it in a Book People pack at work recently, and had a quick flick through. It brought back some lovely memories of being tiny and having it read to me
2// The Enormous Crocodile - this is one of my all time favorite Roald Dahl books, and one which I always found so funny. When the crocodile pretends to be the see-saw is something which will always make me laugh!
3// The Tiger Who Came to Tea - an absolute classic, and one which I have bought for my little cousins and my nephew as I love it so much. We definitely need our own copy!
4// Dear Zoo (noisy book) - Isabelle loves Dear Zoo in it's normal form, and she adores noisy books, so I think this will be a reall winner.
5// The Very Hungry Caterpillar - another total classic!
6// The Jolly Christmas Postman - my sister and I had The Jolly Postman books when we were little and loved them. She bought one for Isabelle last Christmas, so now I need to buy her the Christmas book too.
There are so many others which I could add to this list, it could go on forever. Janet Ahlberg in particular is one author who has such wonderful books for tiny people which I remember loving when I was little e.g Funnybones, Each Peach Pear Plum, Burglar Bill.
I want to buy all the great books I loved as a child for Isabelle now - but I know I should hold off on some of them until she is bigger, and they will be more appropriate. I have a set of The Magic Faraway Tree books which I got when I was pregnant, and which won't be opened for years to come! Then again......you can never have too many books.