The last thing missing from Isabelle's playroom was an area where her books were more accessible so she doesn't constantly have to ask for us to get her stories, she can help herself whenever she likes. Isabelle loves stories - she can sit for half an hour or longer and listen to different books, and often she will sit and 'read' them to herself.
We previously had all her books on two shelves in the playroom. One she could reach but had just a few books on it, and the other she couldn't access. Yesterday I decided that the whole bookcase needed tidied up, as the bottom shelf was a mess of board games we never play, and bits and bobs we have collected recently (paper plates, plastic cups, a deck of cards...). I moved all the board games, and our wedding album, upstairs and replaced them with our craft materials which had been on the shelf above. That allowed me to move all Isabelle's books down a shelf so she can now reach them all.
That led to a delightful hour of her pulling out book after book and bringing them to me, before declaring she didn't want them read...she just needed them out.
However, the catalyst behind the whole reshuffle was the creation of a small book wall for her - somewhere that she can see her books and access them easily. Of course, like half the country, to make this I used two Ikea picture ledges.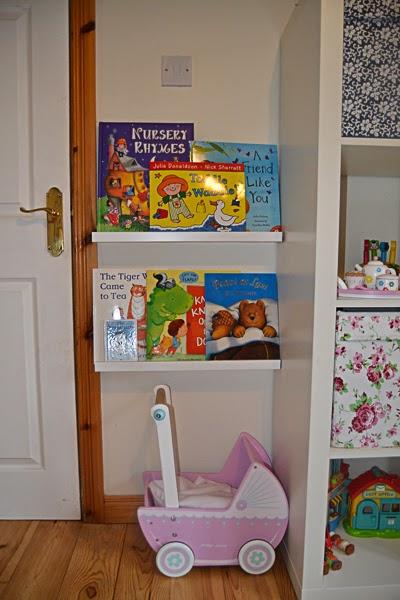 I had initially thought of putting these behind the door, however they didn't quite fit. Instead, Simon trimmed them down to size and he popped them up beside our Expedit unit which houses all her toys. I did buy 3, but after deciding on the height of the first shelf we decided just to use two of them.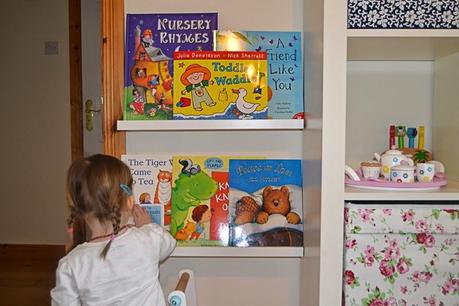 To start us off, I have put some of Isabelle's favorite books up on them - ones she asks for all the time. On the top shelf we have her big nursery rhyme book (which is actually too big to fit on the bookcase shelves!), Toddle Waddle and A Friend Like You. Both Toddle Waddle and A Friend Like You were bought in big book sets from The Book People - we have ended up with so many great books buy buying that way, and it makes buying her books so cheap. Last week I got 20 books for just £16!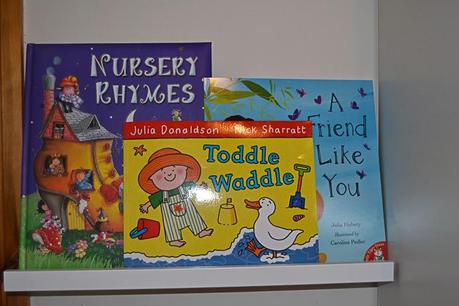 On the lower shelf we have The Tiger Who Came To Tea (her absolute favourite), Peace at Last, The Snowman and Knock Knock, Open The Door! She adores all those books - even though The Snowman obviously has no words so I tell it slightly differently every time!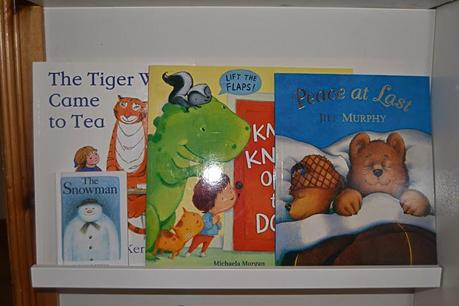 I plan to change the books around regularly to include some of her favourites, any new books, and any we haven't read in a while. I love this little addition to our playroom - which is now absolutely bursting at the seams, and looks totally chaotic even when it's tidy! I am hoping it will help us continue to raise Isabelle as a bookworm, although she is currently well on the way without our help!