It's now been 1 whole week since Isabelle's birthday, and we are still recovering from the excitement and exhaustion of it all! After months of pinning ideas, and quite some time thinking about what I wanted for Isabelle's birthday, I am pleased to say I was thrilled with everything.
As her birthday was on a Thursday, we decided to hold off on her party until Saturday so that my brother, sister and brother-in-law would be able to attend. Of course, we still wanted her birthday itself to be really special, so we decided to do things that she loved all day. In the morning we went swimming with Simon's parents, my nephew and my dad, and she had a great time. Afterwards, my sister-in-law and my other nephew, and my mum, joined us all back at our house for a "mini party". We had lunch, the kids played, and we spent some quality time together with our family. Isabelle opened some presents throughout the day (although she was distinctly underwhelmed by the actual gift opening, so I got to do it all!) as we didn't want to overwhelm her at any point. She did enjoy them once they were opened, and her activity cube is definitely her new favorite. She was lucky enough to get lots of lovely bits from everyone, including a really special book from her auntie - The Little Girl Who Lost Her Name - which was personalised for her. Since Isabelle is quite a long name, the book is quite long which is great! For dinner that night we had pasta, one of her favorite things, and she got some of her favorite snacks during the day - pomegranate seeds and rice cakes! She is a girl of simple pleasures! Since we were saving her party dress for Saturday, I bought her a special '1' top from Olive and Moss to wear, and although it was way too big, it was very sweet.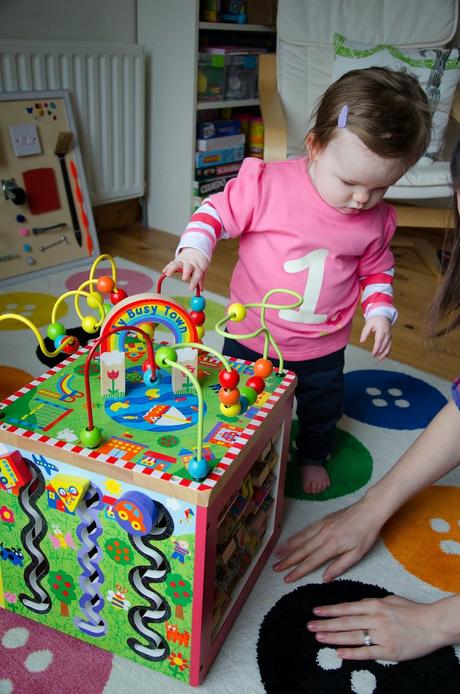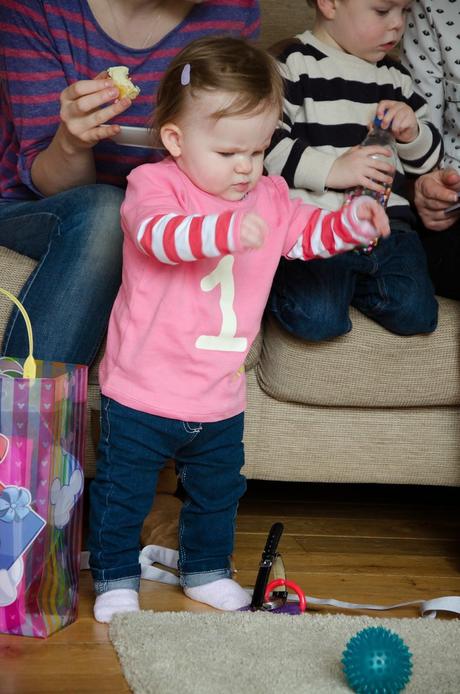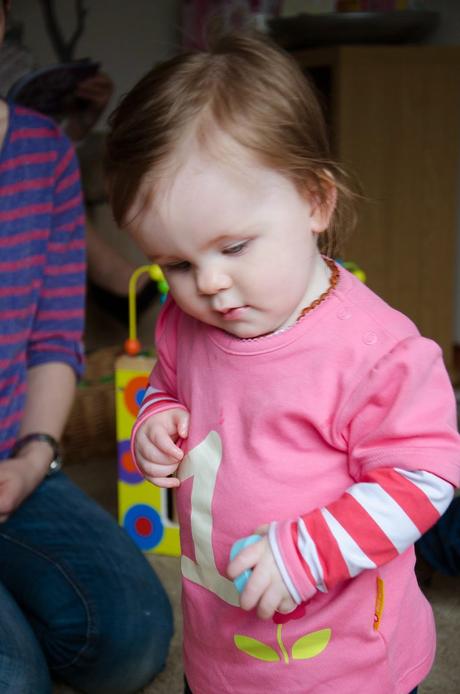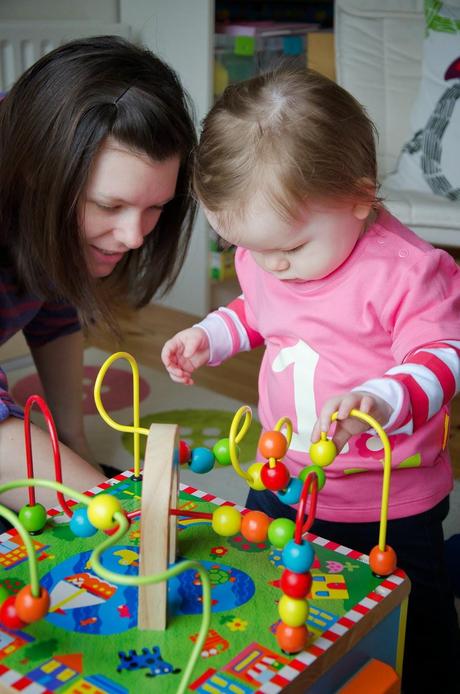 Her party on the Saturday was a family only party - but because I have such a big family there were over 20 people there, so not particularly quiet at all! I didn't have a theme or any huge number of decorations for her party, but all the decorations we had were ones I made myself, and I am ridiculously proud of how it all turned out! I adore bunting, so knew I wanted some to decorate the food table, and the fireplace as well. I made it using some pretty paper and lace ribbon, and a hefty amount of glue! I was so pleased with how well it turned out, it looked so pretty and girly. Even better, it survived the day totally intact so I have now popped some up in her bedroom and in the playroom to remind us of the day.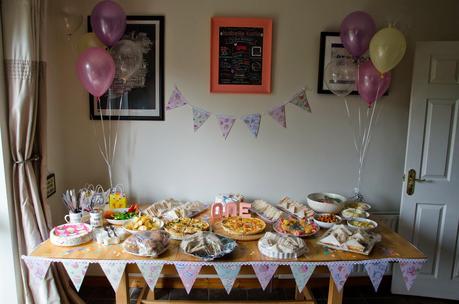 I knew I wanted some balloon bundles as well, either side of the table and either side of the fire place. I had wanted all see through balloons, but couldn't find any that were coloured, see through and a reasonable price! So I bought some clear balloons and some in pastel colours. Once blown up with our helium (just realising we didn't take full comedy advantage of the helium at all!), Simon spent ages getting them into the perfect bundles, with my expert guidance of course! I filled the clear balloons with confetti, but it was hard to see once the bundles were up.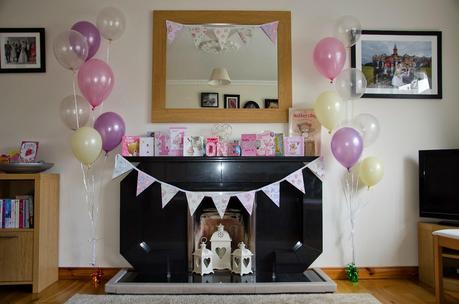 On Tuesday, I posted Isabelle's 1 year update, and showed you the chalkboard I made for her birthday. I had initially thought of buying one, but decided to give making my own a whirl, and I am so glad I did! I was so pleased with how it turned out, and it feels wonderful to know that I did it myself. Simon framed it in a plain wooden frame which I painted peach for a big pop of color. We hung it above the food table, but now the party is ver it will be hung in the playroom. The last thing I made were two 'ONE' signs, just as a little something extra.
I had planned an Easter egg hunt and some games for outdoors, but sadly the weather didn't cooperate. The kids were more than happy playing in the house anyway, so it all worked out perfectly anyway.
Food wise, I did a huge amount of delegation! I made 2 quiches and some rainbow fruit kebabs, and provided the crisps. My family made sandwiches, salads, pasta and much more. In true Gray fashion, there was plenty left over, and my brother-in-law even complained he had eaten too much, so I'd say it was all a success! Simon's mom very kindly made the cake for us, and it was gorgeous! Lots of buttons which I adore, and absolutely delicious as well.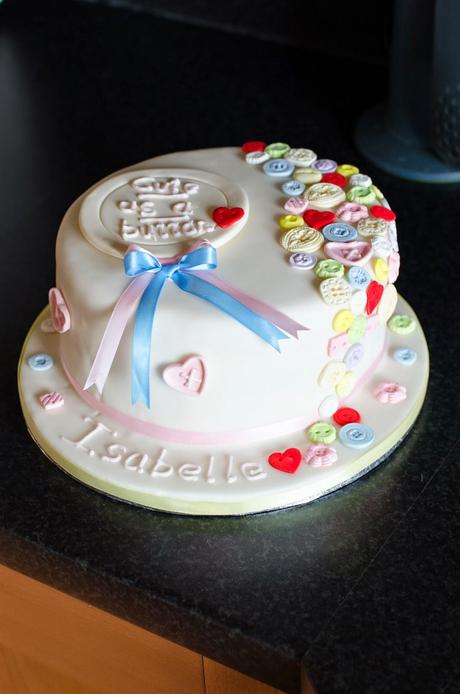 Isabelle decided that 2pm, when the party began, was perfect time for a nap, so she was MIA for 40 minutes, and then slightly wary for a little while, but was soon playing in the ball pool with her cousins, and throwing balloons around with everyone else! She wore a gorgeous little party dress which my wonderful friend Brooke and her daughter (also Isabelle!) sent us from Australia at Christmas. It was so perfect for her party teamed with a little pink cardigan as it wasn't overly warm, and she looked adorable as always.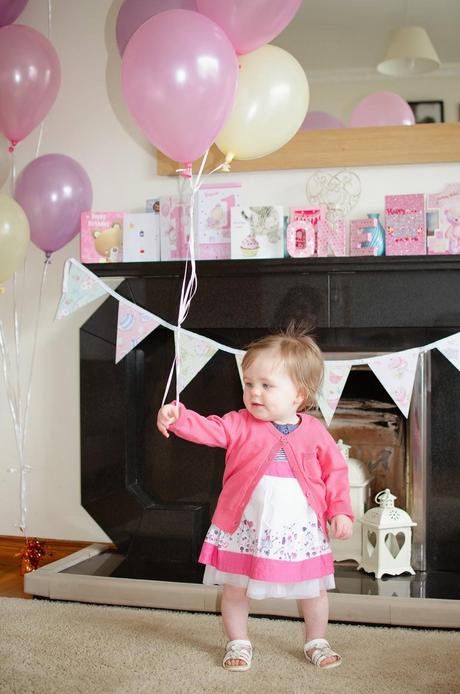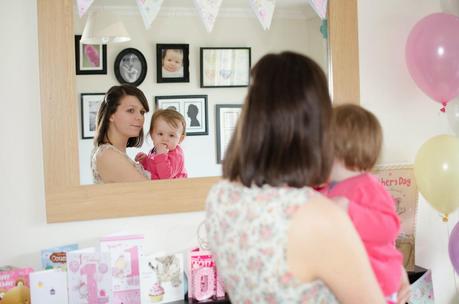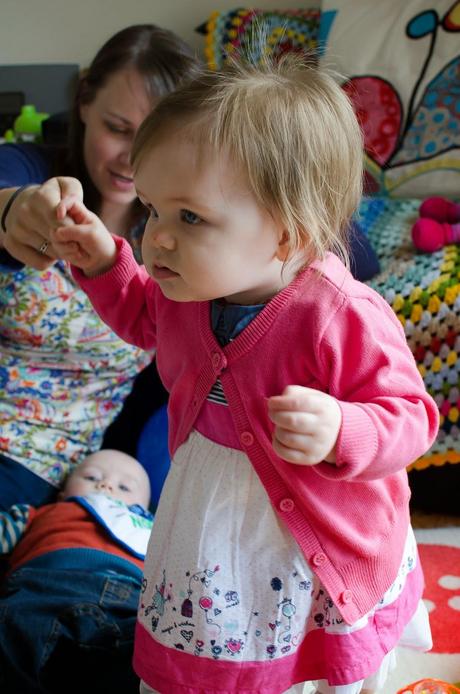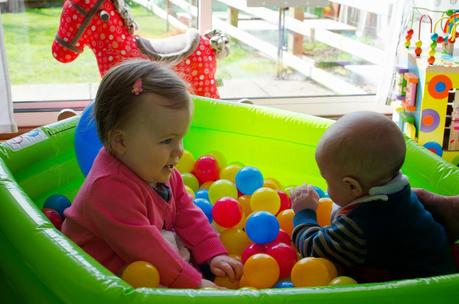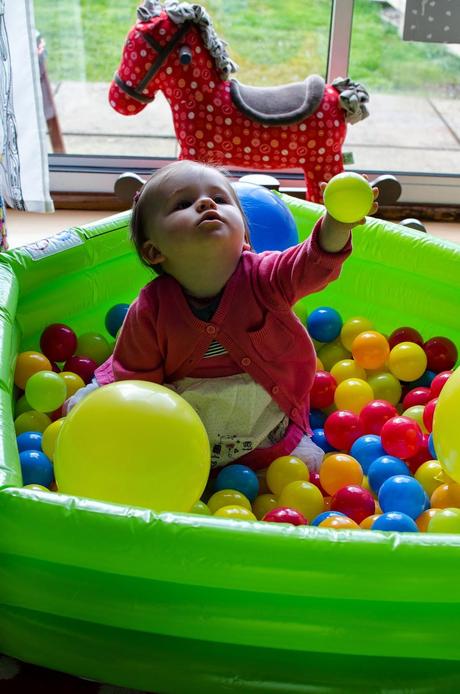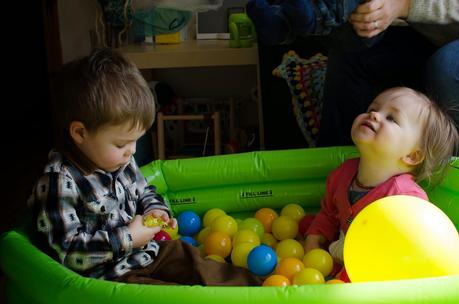 Overall, her party was relaxed and family centred, exactly as we had planned. It is definitely the last big birthday we will be throwing for a long while as we were shattered afterwards, but it was so worth it to have the perfect day for our special little lady.