Have you noticed your blog getting any less traffic in the summertime? The lazy days of summer will soon be upon us. Is your blog summer-proof? Several website owners answered the question on Quora about summertime web traffic.  Most agreed their web traffic did decline during the summer months. Most noticed the traffic drop beginning in the month of May. Holidays like Memorial Day and July 4th are another time when web traffic may take a nosedive.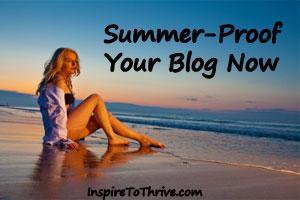 What is it about the summer months that makes us lazier? Summer weather may reduce both our attention and our energy levels. According to the psychologists quoted in the
New Yorker
, our brains really do
wilt
in the summertime. It is a time of reduced productivity. When the sun is shining and the skies are blue people tend to think of leisure activities. They find it harder to concentrate on mundane tasks. Even any thought provoking activities take a dive. Studies from Harvard University and in Japan found similar patterns. On bad weather days people tended to work an extra half hour per day than on good weather days.
On the good weather days people were thinking about what they wanted to be doing instead of concentrating on work. Some call it Spring Fever. But it really happens more during the summertime months.
4 Ways To Make Your Blog Summer-Proof
Pre-Write – Have your blog posts ready in advance for the days when you are ready to shut down the computer. You may want to head to the beach or park.
Plan Time to Promote – Save a little time each day to promote your posts and others. Remember the 80/20 rule. Only share 20% of your own stuff, the other 80% should be others.
Give Yourself a Break – Don't let yourself burn out this summer. Give yourself a little vacation and time away from online activities. You will feel refreshed and better able to get back into the groove.
Mobile Ready - Be sure your website is mobile friendly! This is an important blog summer-proof tip. More people will be using their mobile phones to access your website or blog this summer – more than ever before!
Does Mobile Make A Difference To Making Your Blog Summer-Proof?
Mobile devices have made some difference in web traffic. More and more people are relying on their mobile devices as they move about. "What we're seeing is continued growth in mobile traffic," said Jeremy Lockhorn, vice president of emerging media at Razorfish in New York. According to Pew Research 91% of all adults now own a cell phone. (June, 2013) Did you know that the cell phone is the most quickly adopted consumer technology ever in the world? What an amazing stat!

Explore more visuals like this one on the web's largest information design community – Visually.
What are you doing to make your blog summer-proof this year? What would you add to the list?
Top Image courtesy of Serge Bertasius Photography / FreeDigitalPhotos.net