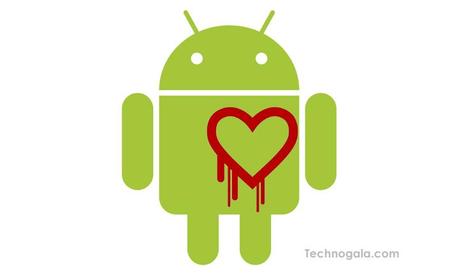 Is your android phone more vulnerable to Heartbleed bug?
With more number of Smart Phones coming in, the fever for remaining hooked to Android OS is also increasing on the other hand. Android has always been successful in attracting and retaining its consumer base towards its OS. Before the launch of the latest version of Android 4.2.2 Kit Kat, majority of smart phones are still running on its predecessor version Android 4.1.1 Jelly Bean. Despite of gaining popularity for all good points, the 4.1.1 Jelly bean version has also become popular for a consistent attack by a virus named "Heartbleed". It is only this version that is being affected, leaving all others. Heartbleed is a virus that penetrates within the system via laptops, smart phones, mobile phones, Tablets, etc… and encrypts the security data with respect to passwords, content, login name, ids, keys, etc… without making the user aware of it. In the midst of this time, the security department at Android had tried to control this virus, but after a few days time it has come back.
Though people have changed their passwords, secured data, etc…. they should be aware about the fact that their smart phone is still vulnerable to Heartbleed. Marc Roger, a renowned security expert at Lookout – a mobile security firm said, "Numerous devices running older versions of Google's Android operating system may be at risk of the high-profile bug." Rogers also informed to The Huffington Post, "People using Android version 4.1.1 should avoid sensitive transactions on their mobile devices because a hacker could exploit the Heartbleed bug to steal their data. The whole device is vulnerable, so you should be cautious about the kind of sites you use. I'd be cautious about doing banking on your phone."
Researchers working on this bug have found out that there is a defect in the functioning of security of the dealings made via online transactions. As a result of which the hackers are able to steal precious information of credit cards, passwords, social security number and much more. It has been known that this bug have affected almost two third of website. It has been speculated that almost 50 million of Android devices worldwide have been or are being affected by Heartbleed. Along with this, several hackers are taking advantage of exploiting websites and security content of users via Heartbleed. Google has been proactive in this case. It has informed its partners by sending a fix to this problem. Hopefully the partners are also working on this and trying to fix up this problem on permanent basis.
However, the Android OS users can ensure and verify about the security and risk of their Android phone. Firstly, the users should check about the version that they are using on their Android phone. Then click Settings  About Phone. In case the phone is affected with Heartbleed, then the user is supposed to update the phone for fixing this issue. The user should click Setting  About  Software Update.
Lookout, the mobile security firm has also developed an app which can be easily downloaded on phone. This app will inform the users about the probability of getting affected with Heartbleed. It will give detailed results about this. Ending the talk positively, Rogers said, "I suspect we're going to be finding these things for some time to come."