After playing Caledonia Golf Club in Pawleys Island last week, Golf for Beginners decided to play her sister course, True Blue. Both are designed by Mike Strantz, beautifully landscaped, have challenging layouts and both are ranked among America's 100 Greatest Public Courses.
Like many sisters, though, these two courses are like different flowers from the same garden. In our link above, we mention the pros and cons of Caledonia; below is our take on True Blue golf course.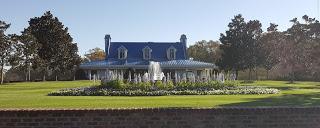 True Blue is neither easy nor obliging for the casual golfer.
Most of the fairways on True Blue are forgiving...conversely, the approaches to the greens are very well protected with water and waste areas.
The greens are fast, deceiving and have subtle breaks, oftentimes looking like they break one way when they break entirely different from your read. To compound the already difficult greens, they were just aerated so, as a tip to all who play any fine golf course this season, call before you make a tee time to confirm that the greens are ready to roll.
Waste areas, not typical bunkers, are found throughout the entire golf course from tee to green. These waste areas dominate the sides of the fairways as well as surround the greens. On True Blue golf course, we mainly drove our golf carts within the waste areas and used wooden ramps to make our way onto the fairway.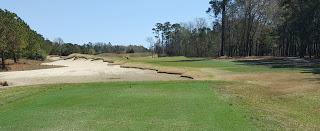 Tips for hitting out of waste areas:
The one major difference between a "regular" bunker and a waste area is that you are allowed to ground your club, take practice swings in the sand, move the ball if it lands in a tire track and remove loose impediments like leaves and rocks.
According to this PGATour.com blog, hit the ball first. If you don't hit the ball before the sand in a waste area, you could "find yourself in the waste bunker for your next shot".
In my Caledonia Golf blog, I asked readers if a relative beginner should attempt to play the course. I will respond to my question for True Blue with a "no". True Blue is definitely a shot-maker's course and is rated "Difficult" by NorthMyrtleBeach.com website.
I would suggest that True Blue not be the first golf course you play this season; get your golf game up to speed first! Then, if you think you have the right shots in your bag, you will find that True Blue lives up to its difficulty level and you will enjoy it.
Thanks to Bob Seganti for the invitation!
Have you played True Blue and/or Caledonia? What were your thoughts on the difficulty of these golf courses? Let us know in the comments section of this golf blog and on Twitter @Golf4Beginners.